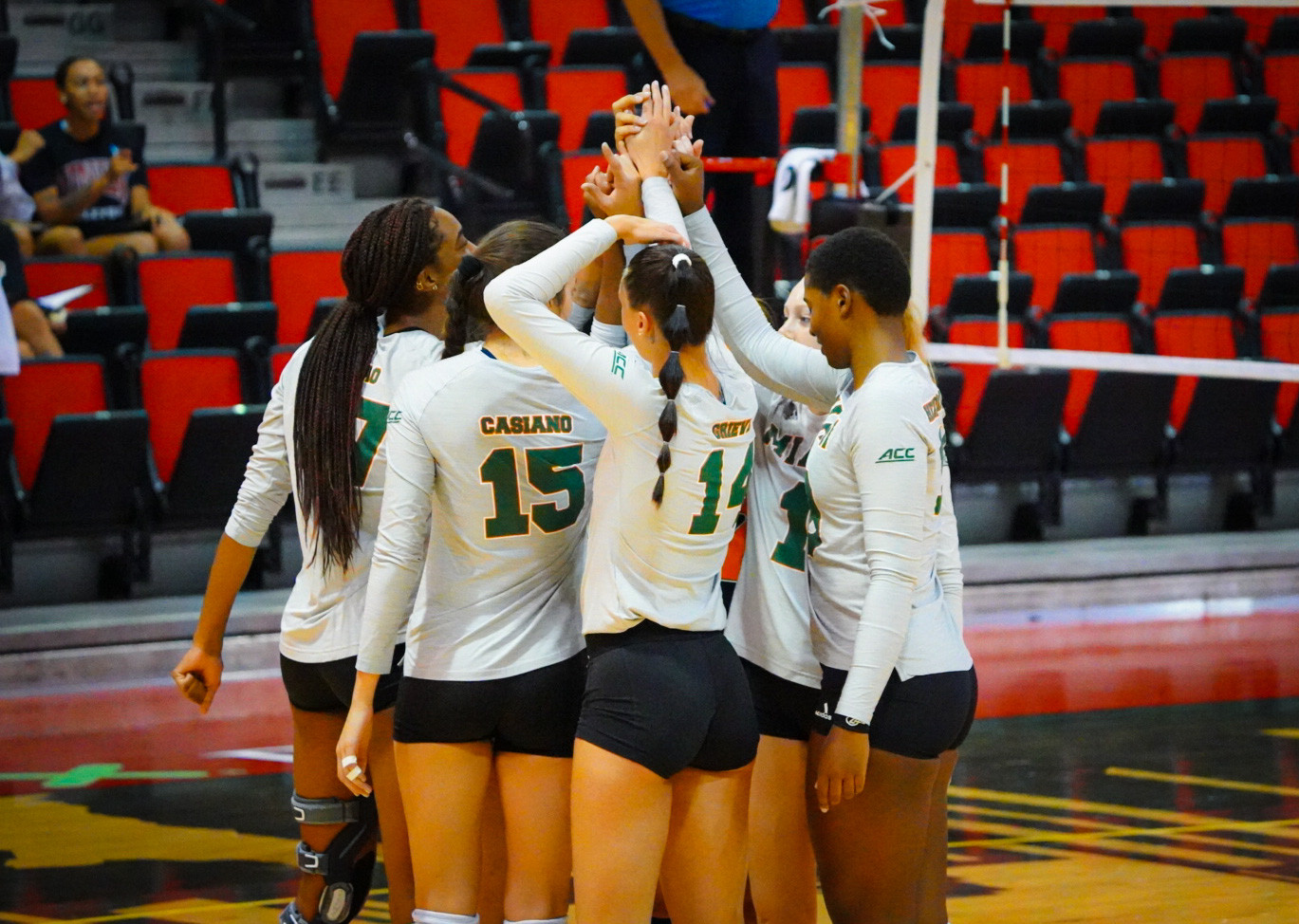 CORAL GABLES, Fla. – The numbers were a constant presence throughout the spring.
Through every conditioning workout and session in the weight room; when their legs felt heavy or their arms were tired, the Hurricanes looked to their team white board and saw the scores from their season-ending loss to rival Florida in Gainesville months earlier.
25-15, 25-20, 25-16.
Six numbers, each a reminder of the opportunity the Hurricanes felt they'd let slip away when they were swept out of the NCAA Tournament by the 21st-ranked Gators.
Florida may have been the conventional favorite to win that match, given the Gators' tournament experience and the fact Miami was back in the postseason after a four-year absence. But the Hurricanes left the Stephen C. O'Connell Center believing they hadn't played their best volleyball.
That thought drove them for months.
"It pushed us so much. They wrote the score of the Florida game on our whiteboard all through the spring and it just haunted us, making us sprint harder and lift harder," Hurricanes senior setter Savannah Vach said. "Compared to what happened last year, hopefully this year, we're able to go a little bit more."
The Hurricanes (19-10) will have their opportunity to do exactly that this week.
For the second straight year, Miami has earned a spot in the NCAA Tournament. It marks the first time since 2014 and 2015 that the Hurricanes have made back-to-back tournament appearances.
Understandably, Miami's players and coaches say they're ready for the opportunity that awaits when the Hurricanes open first-round play against Kansas on Thursday in Lincoln, Nebraska and they hope another tournament appearance will continue to raise the program's profile among college volleyball's elite.
"It's huge because we were in a four-year drought [before last year]. It was really important for us to get back. I know that was a huge goal in my college volleyball career, to be in the NCAA Tournament because that's the biggest stage there is and it just means a lot," said Hurricanes outside hitter Angela Grieve. "This shows that we're establishing ourselves in the NCAA as a tournament team, not just a middle-of-the-pack ACC team that can give some people trouble. We're showing that we're a tournament team."
Added head coach Jose "Keno" Gandara, "In a most humble way, I think [the NCAA Tournament is] something we need to strive for every year. It's our standard. We want to compete in the ACC and we have some really good teams in the ACC, so it's not an easy task. But if we do that, we're going to be prepared and we should make the tournament every year. If we don't, it's a disappointment. That said, it's really hard to make the tournament. We have to put a lot of work in. We had a great end to our season and it's up to a committee to choose but we have to be satisfied and proud of our work to get there."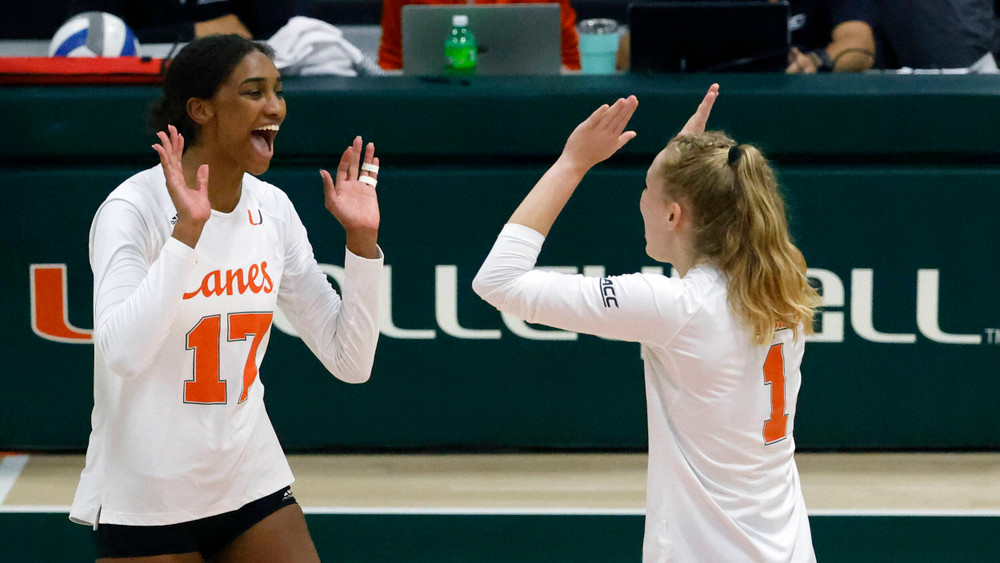 The Hurricanes enter the tournament with a resume that was bolstered in part by a late-season surge.
Miami won six of its last seven matches and during that stretch, rallied to upset then-10th-ranked Georgia Tech 18-25, 25-22, 25-22, 25-22.
And all season long, the Hurricanes' trio of veteran leaders Vach, Grieve and senior middle blocker Janice Leao – helped set the tone for Miami.
Leao, who spent part of the offseason training with the USA Volleyball Collegiate National Team, earned first-team All-ACC recognition after leading Miami in both total blocks (93.5) and blocks per set (0.8). Both numbers ranked second in the conference.
Vach, meanwhile, earned All-ACC Second Team honors after totaling 1,136 assists this season. In Miami's regular-season finale, she surpassed the 4,000-assist mark, becoming just the fourth Hurricane in program history to reach that mark.
Grieve, who led Miami in points (476) and kills (411), also earned All-ACC Second Team recognition, while outside hitter Flormarie Heredia Colon was named to the ACC All-Freshman Team.
Each will be counted on Thursday when the Hurricanes face off against a Kansas (18-10) team that is also making its second straight tournament appearance. A season ago, the Jayhawks advanced to the Sweet 16 and the Hurricanes are aware of the challenge they face.
"It's the tournament, so everyone's going to be good. We just have to be ready, play our game and be ready for anything," Leao said. "We really just have this thing where we're locked in every game, every practice. If we move on with that mindset, I think we'll be good."
But the opponent across the net may not be the only significant challenge the Hurricanes face in Lincoln.
The Bob Devaney Sports Center, which will host the first and second rounds, is one of the largest volleyball venues in the country and every expectation is the arena will be filled with fans eager to watch some of college volleyball's top teams.
Among those teams are the host Cornhuskers, who are the tournament's No. 7 overall seed and will face off against Delaware State after Miami and Kansas play.
Grieve, who has often visited family in Nebraska, has seen what the environment can be like and is eager to see how she and her teammates can rise to the occasion.
"The gym is legendary," she said. "There, everywhere you go, it's Nebraska volleyball. There's so many t-shirts, so much everything. They have so much support for their volleyball team. I'm excited to get to play there…I want us to be able to play well in that environment."
Added Gandara, "They have great volleyball fans. They'll show up. They're looking forward to it. It's the ultimate environment for a college athlete, when you're playing a good opponent in a close match with a big crowd and all of a sudden, it comes down to you, your teammates, your preparation and you assimilate into the environment and it doesn't affect what you do.
"I hope there's a lot of people watching these girls perform and they understand the opportunity to perform at that level in that environment and they take advantage of it."