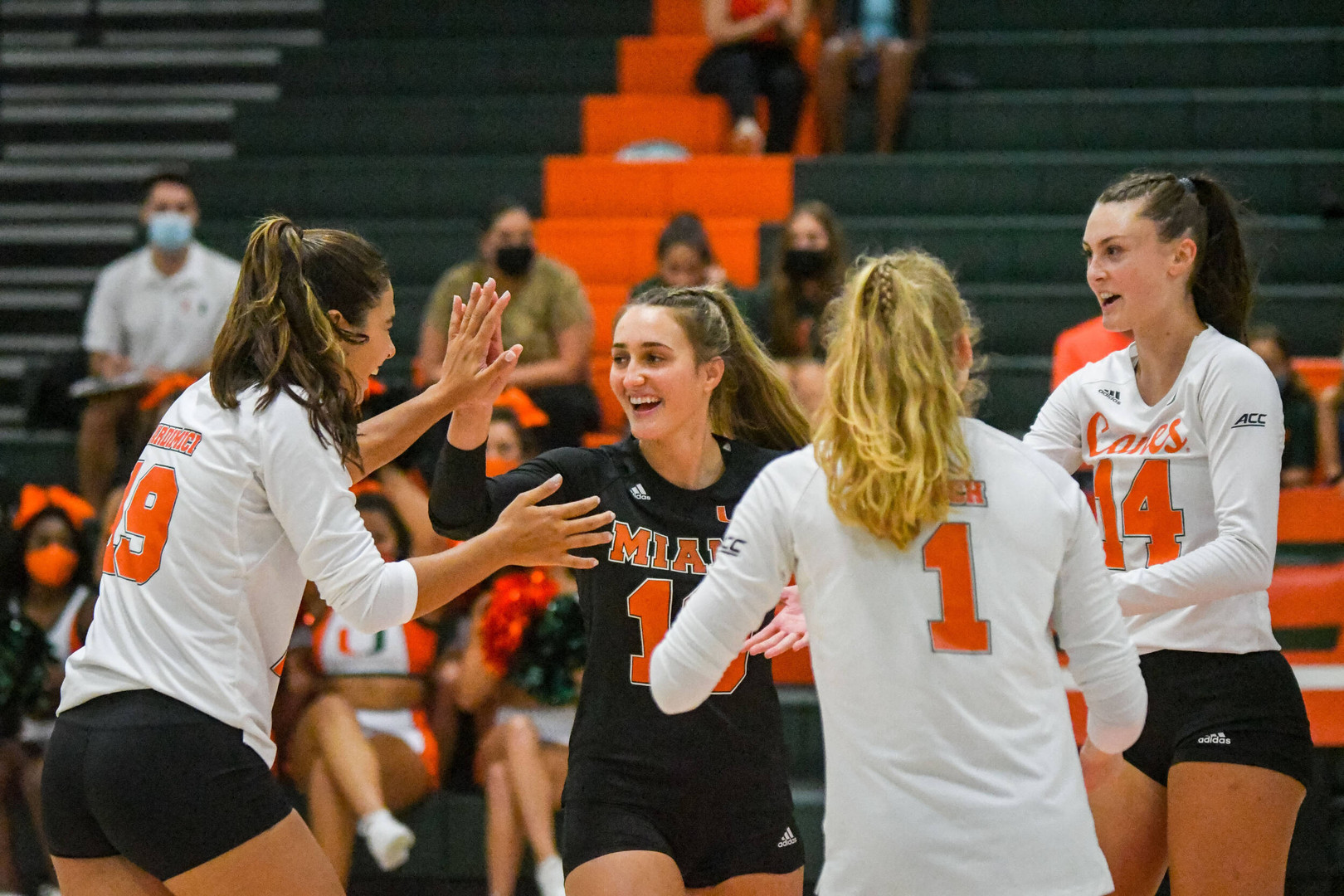 CORAL GABLES, Fla. – It was a season that tested them in ways they couldn't imagine.
Injuries took a toll across the court. Players shifted out of position to try and fill suddenly-open spots. The schedule was split in a way none of them had ever experienced. And through it all, the cloud of a global pandemic lingered, constantly threatening to derail their hopes.
For the Hurricanes volleyball team, the 2020-21 season – one that spanned both the fall and the spring semesters – was a series of challenges that forced creativity and ingenuity.
It also created a team determined to grow from the experience.
Five months after playing their last match of that emotionally and physically demanding season, the Hurricanes are back on the court, working their way through a new season with conference play already on the horizon.
And Miami is playing some of the best volleyball it has in recent memory.
As they prepare for their ACC opener on Friday – a showdown against fifth-ranked Louisville – the Hurricanes have won nine of their first ten matches. They've swept eight of the opponents they've faced. They're among conference leaders in several statistical categories, including aces and digs per set, while individually, veterans Savannah Vach, a setter, and Priscilla Hernandez, a defensive specialist, are among ACC leaders in aces.
Miami's 9-1 start is its best since 2017, the last time the Hurricanes made the NCAA Tournament. Not bad, given all the team has endured over the course of the last year.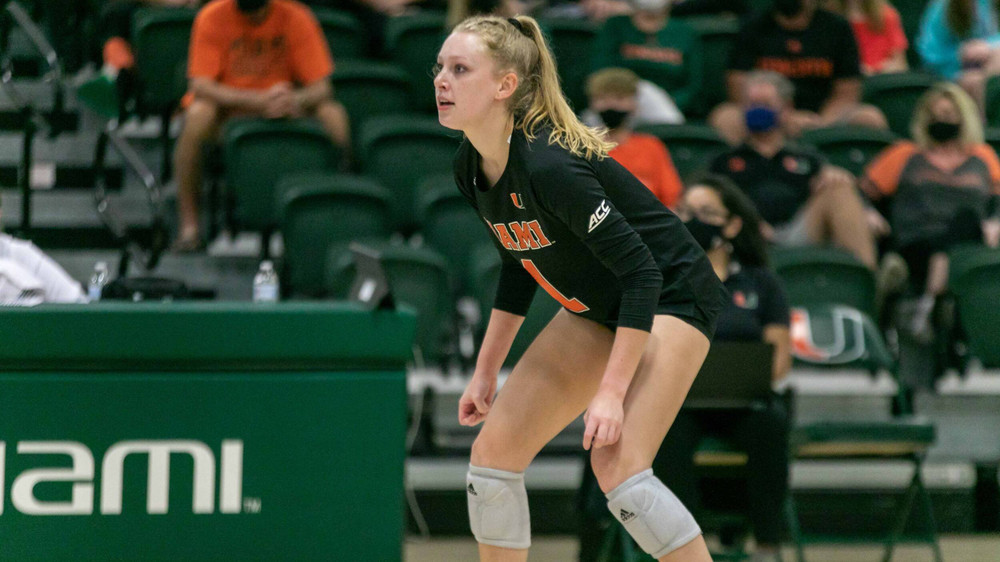 "We have all these players that have gone through all these growing pains and they haven't really had this spotlight on them. It hasn't been consistent enough to be noticed, but we see it every day," said head coach Jose "Keno" Gandara. "Every day, they're grinding. They're growing. They're learning. They've just had a little bit more time and it's coming together…I think we grew last year, like a lot of teams and a lot of groups when they tried to get through this pandemic."
Added Vach, "Mentally, I definitely think we got stronger with all these people playing different positions. Just never knowing who's going to be at practice the next day or who's going to play where during the game. But everyone was ready and willing and wanting to win and I think that mentality has carried over a lot this year. Everyone's fighting over balls. We want to get kills. We want to dig everything. The mentality has definitely stayed."
Vach and Hernandez aren't the only players who've helped make a difference early for Miami.
Middle blocker Janice Leao, one of the Hurricanes' top hitters last fall, has bounced back from a spring injury to total 88 kills through the first ten matches of the season. Meanwhile, newcomers Yaidaliz Rosado, Hanna Bissler and Peyman Yardimci have worked their way into the Miami rotation and quickly found ways to make an impact.
In all, the Hurricanes have nine newcomers – including seven freshmen – that have helped contribute to Miami's impressive start.
"We've had girls come in that you'd expect them to be a little bit behind and all it took them was the summer to figure it out," said Hernandez. "Of course, everybody has progress to continue to make, but, it's really impressive the progress they've made in the short amount of time they've been here. It makes me really hopeful for the rest of the season. Give them a few more weeks and the Canes are coming."
As much as the Hurricanes have enjoyed their early-season success, Miami's players and coaches know things are about to get more difficult.
After traveling to face fifth-ranked Louisville on Friday, the Hurricanes will travel to South Bend to take on a Notre Dame team that has beaten Miami in three of their last four matchups.
Matches against ranked opponents Pittsburgh and Georgia Tech await down the road, as does the rest of the ACC schedule.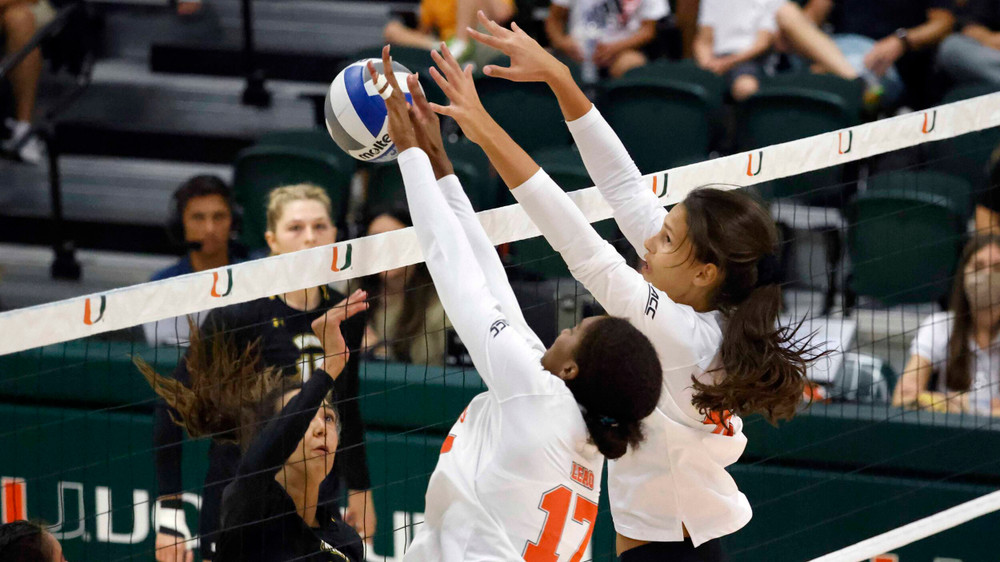 Still, the Hurricanes believe they can more than hold their own with those teams – and they're determined to do their best to get Miami back to the NCAA Tournament.
A strong performance at Louisville, they know, will help them get started on that journey.
"Louisville is a really good team. They just beat two good teams [in No. 8 Kentucky and No. 6 Nebraska] and they're on fire," Gandara said. "They had a good season last year and on paper, they look really good. But last year, we were shorthanded and we played them tough. You see it every given night, there's a chance for somebody else to knock somebody off…If we play to our ability and Louisville starts worrying a little bit about Miami…"
Added Hernandez, "There's always excitement with every game, but obviously, when you play a ranked opponent, there's the most excitement. Obviously, Louisville is a really impressive team. They have so many pieces, but so do we. I think we're obviously the underdogs in this situation, but to be the underdog and win is the best feeling ever…If we just let loose and we do our jobs, I think we're going to give them a better match than they expect."