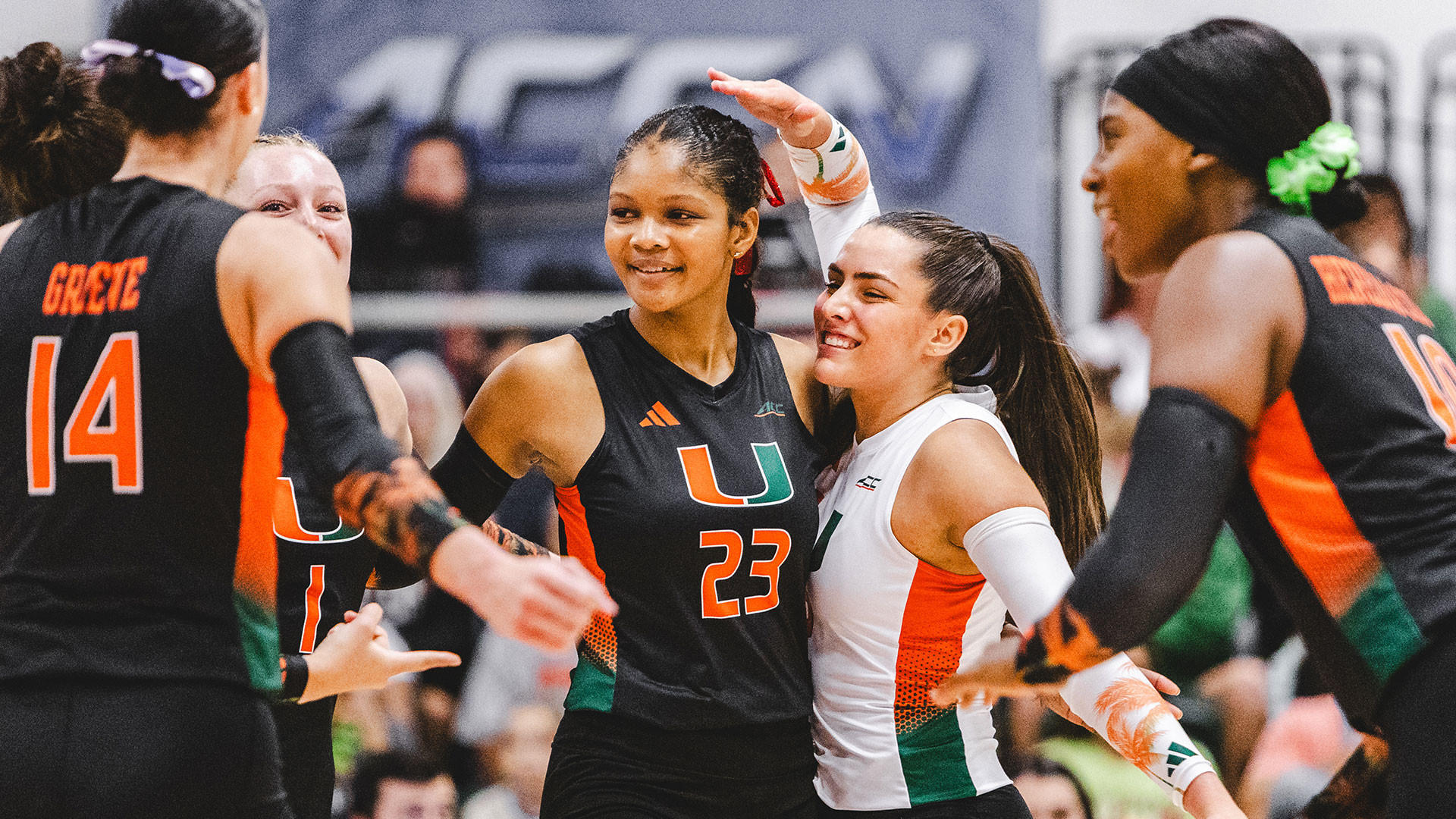 CORAL GABLES, Fla. – In that moment, it was hard for Grace Lopez to contain her emotions.
After enduring a serious knee injury that left her wondering about her volleyball future, after watching some schools back away from her during the recruiting process because of that injury, and after pondering whether her dream of playing collegiately in the United States was over, she found herself in Coral Gables with the opportunity of a lifetime.
Hurricanes head coach Jose "Keno" Gandara had just offered her a scholarship and the chance to wear orange and green at Miami. The tears, Lopez said, started flowing freely.
"I tore my ACL and after that, I felt like a good college was not going to recruit me or want me, because of my ACL," Lopez recalled. "I [recovered] in like eight months and I worked very hard. That was what I had been working toward my whole life, and my mom, too. … When I came here to visit, everyone made me feel really comfortable. I literally committed in Keno's office and when I did, I started crying so bad. It was a really tough journey for me to get here."
Her journey to Miami may have come with its share of ups and downs, but there's no doubt that three months into her Hurricanes career, Lopez has made the most of her chance.
The freshman, a native of Aguada, Puerto Rico, has not only worked her way into Miami's starting lineup, but has quickly asserted herself as one of the top newcomers in the ACC.
Through Miami's first 18 matches of the season, Lopez has totaled 205 kills and has 231 points. Her 3.66 average of kills per set ranks third in the ACC, while her 4.12 average of points per set ranks fourth in the conference.
And this past weekend, in matches against 11th-ranked Georgia Tech and Clemson, Lopez totaled 39 kills, 18 digs and 40.5 points.
On Monday, she earned the first conference honor of her Hurricanes career when she was named the ACC Freshman of the Week.
Every expectation is that there will be plenty more recognition to come during her time at Miami.
"Her game speaks for itself," Gandara said. "Grace is a really poised, experienced, young player. She's played a lot of volleyball and has great volleyball sense. I've been impressed with her ability to make changes in her game, how mindful she is when she plays. It's not just ability and brute force. She's very mindful. She's seen volleyball at a high level, and she knows exactly the kind of player she wants to become. She wants to play for a long time."
While she may be new to ACC volleyball – and volleyball in the U.S., period – Lopez is no newcomer to the game.
In her native Puerto Rico, she and her team won the Colegio Adianez tournament, where Lopez earned MVP honors. And while playing with Capitanas de Arecibo, her team won every tournament in which it played, earning a bid to compete in Indianapolis last year.
Lopez has also worn her country's colors as a member of Puerto Rico's U19 National Team. In both 2022 and 2023, she competed at the Pan-American Cup, where she earned recognition as the tournament's best opposite hitter. And this past summer, she traveled to Croatia with the national team to compete at the Girls U19 World Championship.
All of that international experience, Lopez said, has helped make her transition to college volleyball that much easier.
"I think it helped me a lot here in college because here, I'm not only playing with girls my age," Lopez said. "I'm playing with 19, 20, 23-year-old girls. The girls in Croatia were super tall. They were good at everything, some of the best volleyball players I've ever seen. I think playing against them helped me a lot."
As much of a help as all that experience has been, though, Lopez concedes there was an adjustment period once she arrived at Miami.
One of the first things she needed to do as a Hurricane? Start building her chemistry with veteran Hurricanes setter Savannah Vach, who had plenty of success at Miami as a freshman herself.
The two spent time together not just in practice, but after to build that chemistry and learn each other's games.
Both say it's made a world of difference.
"We run a fast tempo. We have done that pretty much since I've been here, so there were a couple of kinks that we had to work out, like where she liked her sets and what kind of tempo she liked and everything," said Vach, a fifth-year senior, preseason All-ACC Team selection and former ACC All-Freshman Team honoree. "I think the communication between us has been really good this season, too. She has no problem coming up to me and saying like, 'Hey, can I get it a little bit high or a little bit more inside?' And I can also go up to her, if she hits a ball out or something, and just ask 'Do you need it higher? Do you need it more inside, whatever?' That open communication has really helped us build our connection and I think, make it as strong as it is right now."
Said Lopez, "Honestly, from the first day, I've liked everything. The girls, the coaches, everything. The first week here, I didn't practice as well as I know I can, but little by little, I've gotten adapted to the game and to the setter, all of it. I've seen a lot of changes already. … I communicate better on the court, and I feel like little by little, I'm just going to get better."
Already, Lopez has made her presence felt. But with the Hurricanes pushing for a third straight berth in the NCAA Tournament, the freshman says she wants to continue growing her game and making a difference.
And she knows that each step of the way, her family back home – including her mother, Maribel, who introduced her to volleyball and has fostered her love of the sport – will be cheering her on every step of the way.
"I think we have a really good team this year. I know we've lost games we were supposed to win, but I think that's part of the process, too. We're getting better with every single practice and every single game," Lopez said. "I think in the ACC, we can be in the top three."