University of Miami Athletics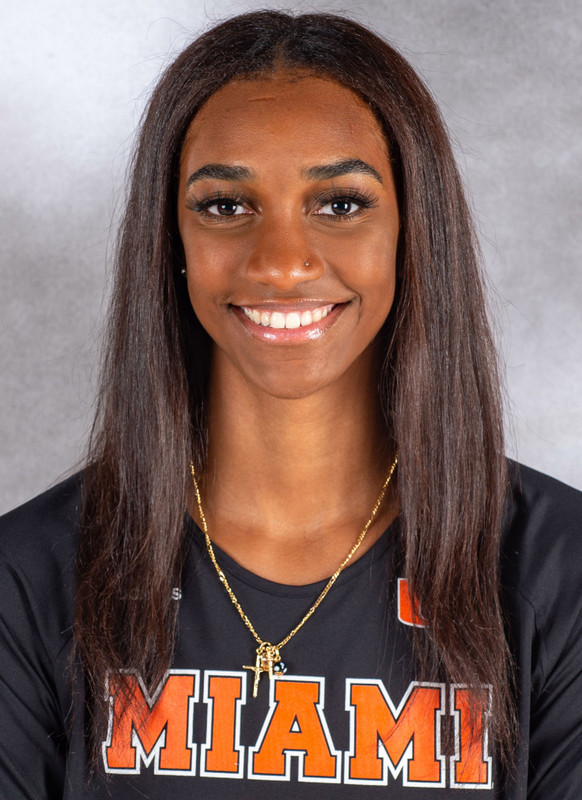 2020 (Sophomore): Opened the seas0n with eight kills and four blocks in the five-set win against Georgia Tech (9/24)…Matched her career high in kills with 12 and registered four more blocks against the Yellow Jackets (9/25)… Tied Miami's second-best attack percentage in Miami history at .650 with 13 kills and added two aces and four assists in a 3-1 win over Wake Forest (10/2)… Added nine kills, seven blocks and two aces in a 3-1 win over Wake (10/3)… Hit above .600 in both matches against Clemson, totaling 19 kills, four aces and eight blocks in No. 12 Miami's weekend against Clemson (10/8, 10/9)… Recorded nine kills, two assists and three blocks in No. 11 Miami's 3-1 loss to FSU (10/15)… Helped Miami sweep FSU with 11 kills, two aces and six blocks (10/16).
Spring 2020: Did not compete in the spring season due to injury.
2019 (Freshman): Led the Canes with 84 total blocks… Took over the starting MB position and appeared in 89 of Miami's 102 sets played this season… Hit a career-high .364 against FGCU at the Hurricane Invitational (Sept. 20)… Recorded a season-high 12 kills against Syracuse (Oct. 18)… Boasted a season-high eight blocks at UNC, tying for the fifth-most in Miami history in four sets… Sank three aces against Louisville at home on Nov. 8, adding three kills and on block… Ended the season with 10 kills against Georgia Tech and four blocks (Nov. 29).
High School: Was a multi-sport athlete in high school, playing volleyball and basketball for four years… Was named the Standard Times Player of the Year, both junior and senior year and was named to the Super TeamAll Sports for the Standard Times… Finished her high school career with 956 kills and a .474 attack percentage… She also registered 213 blocks and 85 aces.
Personal: Daughter of Jose and Lucia Leao… Has three brothers, Jack, Cyril and Javon and two sisters, Ariana and Eliza.