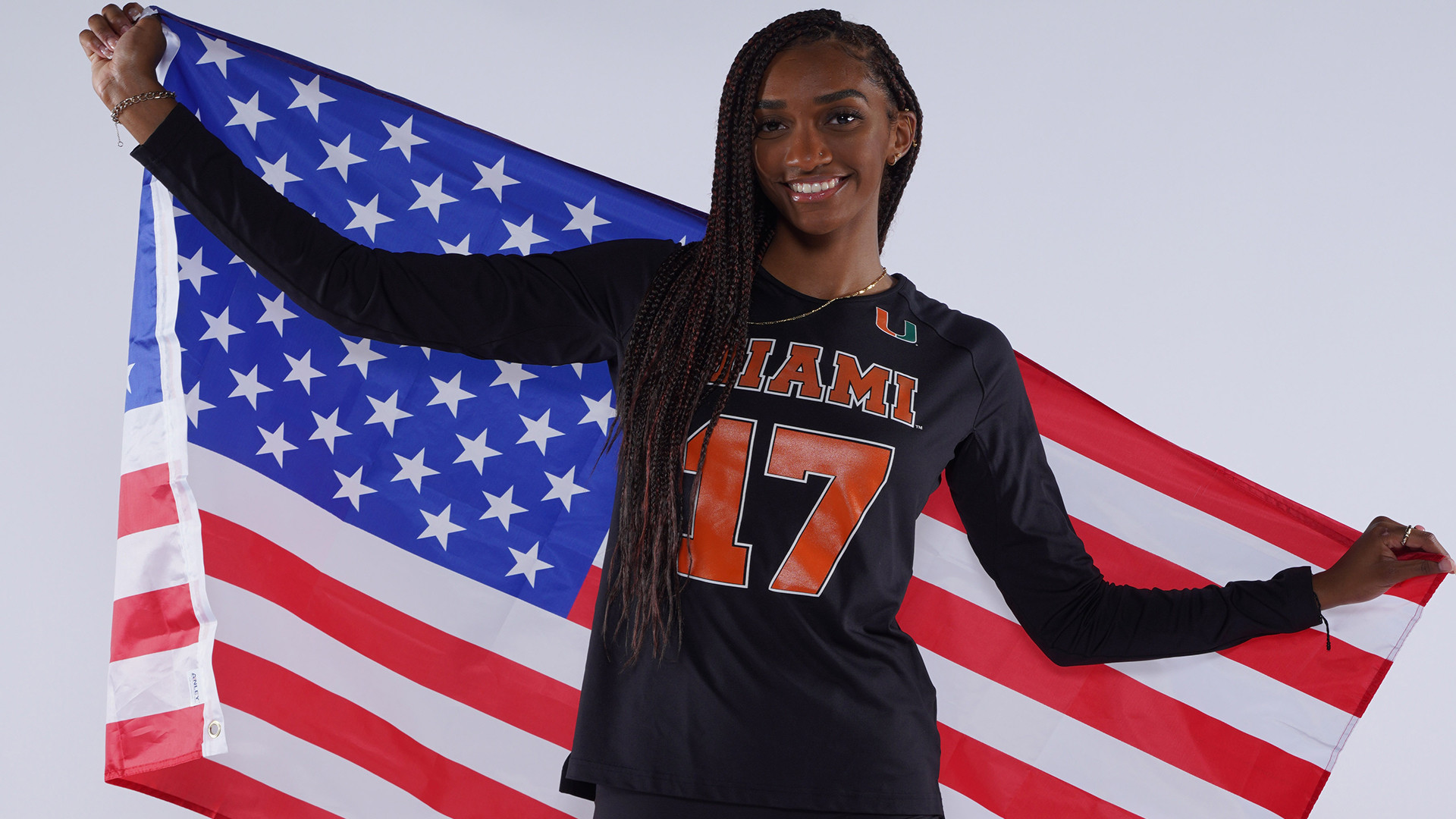 CORAL GABLES, Fla. – Janice Leao can still remember the sheer joy, the sense of pride.
It all came from an email she read while standing in the food court on the University of Miami campus, an email that made her feel as if her hard work and her parents' incredible sacrifices had paid off in a way she could have never imagined.
After she'd impressed at a tryout opportunity, USA Volleyball wanted Leao to join their collegiate national team and the senior middle blocker from New Bedford, Massachusetts knew that meant an opportunity for her to continue growing her game and learn from the best.
"Honestly, I just didn't even believe it. I was just in shock. I remember saying this, that I was just going to [the tryout] to get experience. I wasn't really expecting anything because it was my first year doing anything Team USA-related," Leao said. "So just getting that email was crazy. I wasn't expecting it at all. I was just like 'Wow!' but it made me realize how good I can be and the potential I have to be good and play with the rest of these top-notch girls."
But it wasn't merely the chance to play alongside some of the nation's best collegiate players that left Leao at a loss for words.
That she'd do so while wearing the United States' red, white and blue only made the opportunity more meaningful.
"It was pretty special to me on a different level because my parents are foreign. They immigrated here from Cape Verde, so it was really a different feeling," Leao said. "It kind of showed I was doing this for them. They came here to give me a better life and give me the opportunities they didn't get to have. So me getting this opportunity was very special to them as well. It just shows what they did, how the sacrifices they made were paying off. It was a different feeling for my family."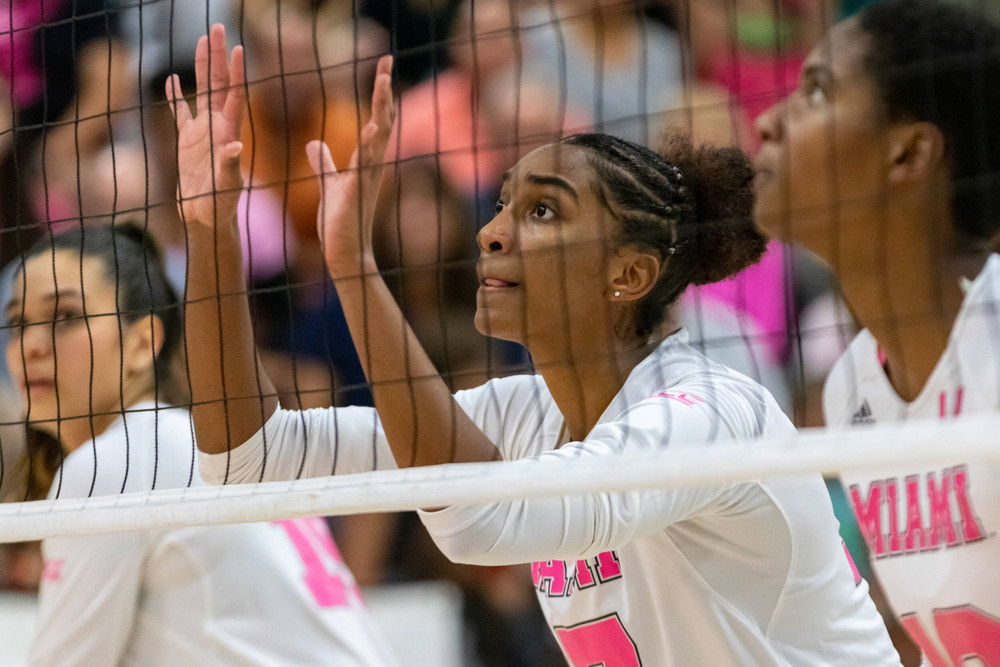 Throughout her career, Leao's family has been a driving force.
Her parents, Jose and Lucia, were regular fixtures at her high school and club matches despite their busy schedules as machine operators for the suitmaker Joseph Abboud. And she and her five siblings – Jack, Cyril, Javon, Ariana, and Eliza – were notoriously competitive during family driveway basketball games.
Their support, Leao says, has meant the world, not only as she suited up for Team USA, but as she's emerged as a budding star at both New Bedford High School and now, Miami.
"We're all athletes. Just growing up, we'd go to [my brother's] soccer games. My sister ran track, so we'd always go to her meets. We were a very supportive family and then we'd have those games in the backyard, just playing horse and stuff," Leao recalled. "That brought out the competitive side of me and my siblings. It was very easy going through sports with all that support. Whatever I wanted to do, even when I switched from basketball to volleyball, I always knew my decision would be supported by my brothers, sisters, and my mom and dad. It was easy to play sports in that household."
That support was on full display last month when the Hurricanes (19-9, 12-5 ACC) traveled to Boston to face conference foe Boston College.
Leao's parents and siblings were all in the stands for the match, as were some of her former teachers, coaches, and the volleyball team from her high school alma mater.
Miami came up short in a four-set match that day, but the Hurricanes haven't lost since, winning six straight ahead of Wednesday's regular-season finale against rival Florida State (18-9, 12-2). Leao enters that match with an ACC-leading 135 blocks and has 248 kills, which ranks second among Miami players.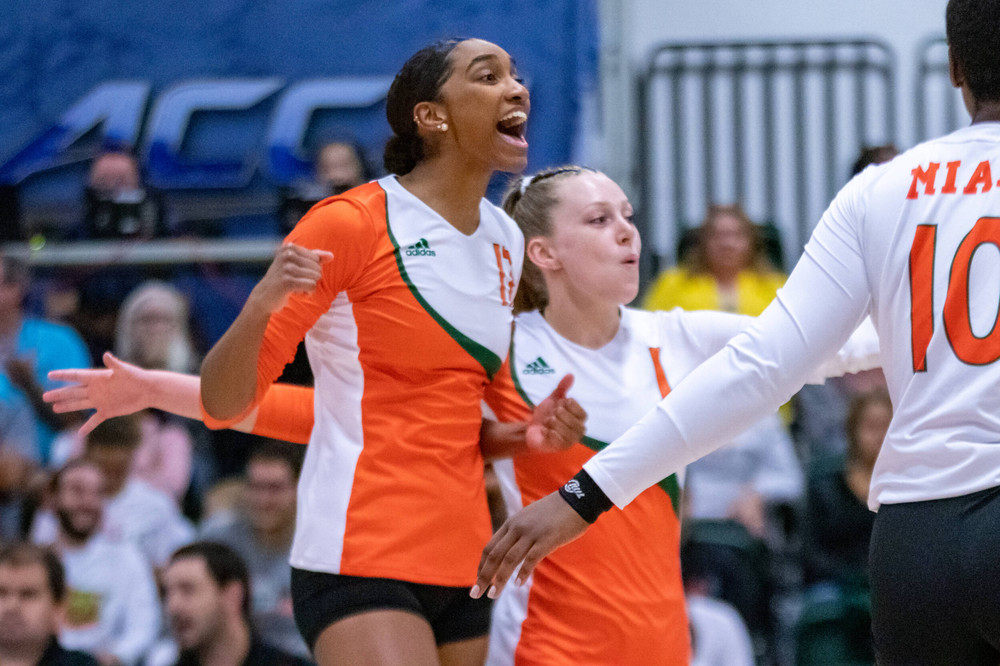 Her impact this season – and the knowledge she gained this summer with Team USA – have no doubt played a part in the Hurricanes' win streak.
"On a daily basis, she keeps growing, understanding her role as a middle. It's not only the skills, but the impact she can have in the game…She's imposing, physically. She jumps really well. She's tall. She's long. She's getting more efficient with her movement. She's fast, she's explosive and she plays with great passion," said Hurricanes head coach Jose "Keno" Gandara. "She's an elite athlete and she's learning how to become an elite volleyball player.
"Last year, she was having a great year. Then she gets the invitation to try out [for Team USA] and I think that helped her confidence and belief…Making that team and going to training with her peers, players of her caliber, opened her eyes and gave her the confidence and aspiration to go try and play internationally and to play on the USA team."
Ultimately, that's exactly what Leao aspires to do.
But right now, her biggest goals are helping the Hurricanes win, against Florida State on Wednesday and hopefully, in the NCAA Tournament beyond that.
Leao is set to graduate in December with a degree in business management. But she still has another year of eligibility remaining and she wants to not only earn her master's degree, but continue being a contributor on the court for Miami.
There is still plenty she'd like to accomplish in orange and green.
"Getting this opportunity to play at a D-1 school, on a full scholarship, means a lot to me," she said. "I'm making my parents proud, but I'm also making myself proud."