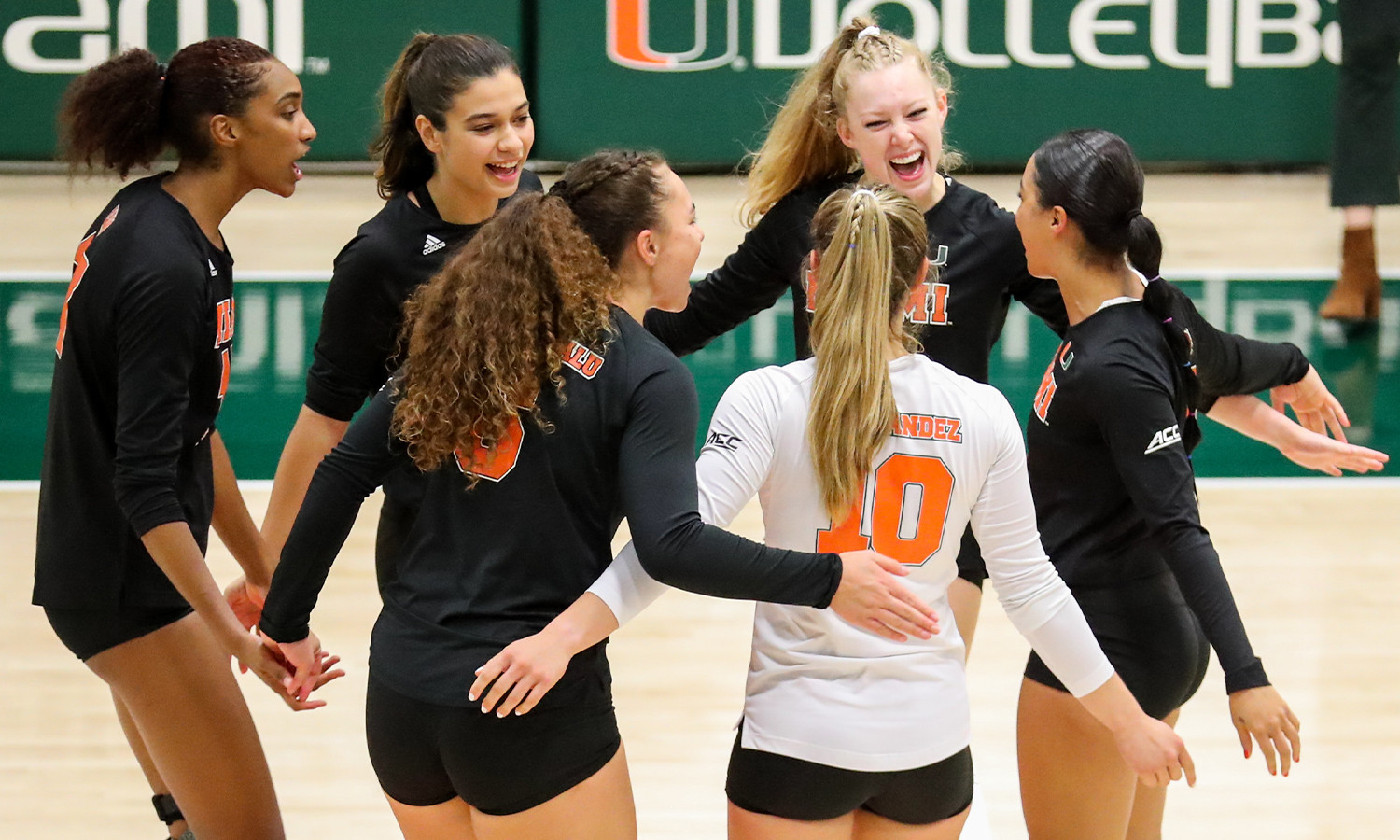 CORAL GABLES, Fla. – Priscilla Hernandez was plenty excited to be in the gym this weekend.
Never before in her college career had the senior defensive specialist practiced after Thanksgiving, but with the Hurricanes holding a 24-4 record at the end of the regular season, Miami's players and coaches knew a berth in the NCAA Tournament would come soon enough.
For Hernandez and the Hurricanes, the postseason is now officially here.
On Thursday afternoon, they'll take the floor at the Exactech Arena at the Stephen C. O'Connell Center in Gainesville to face South Alabama (25-6) in the first round of the NCAA tournament.
It's Miami's first tournament berth since 2017 and for Hernandez and the Hurricanes, there's definitely a sense of excitement – and a drive to do more than simply play in the postseason.
They believe they have the ability to put together a solid run in Gainesville and beyond.
"Being able to practice Monday, it hit me – we're one of 64. That's a pretty cool opportunity to be a part of that group of people, that group of teams that get the opportunity to play now," said Hernandez, who has played in all 100 of Miami's regular-season sets and ranks sixth in the ACC with 405 digs on the year. "I think, obviously, there were a lot of emotions. The biggest was 'Wow, this is really cool.' I've been in that seat watching my sister and then it hit me, it's our team going. We're in it and we're ready to go. I think we're in a pretty good bracket and we have a really good opportunity coming up."
Added junior middle blocker Janice Leao, whose average of 1.39 blocks per set ranks 10th in the NCAA, "We put a lot of hard work and effort into this. Right from the start, we said what we wanted to do, what our goal was and we achieved it. Then we went beyond, too…We obviously know it's not guaranteed we're going to make it far, but we have faith in ourselves. There is definitely a sense of urgency with every drill, every point. We know it can be our last [match], so let's go all out. Let's put the most effort. We know what we can do and what we're capable of."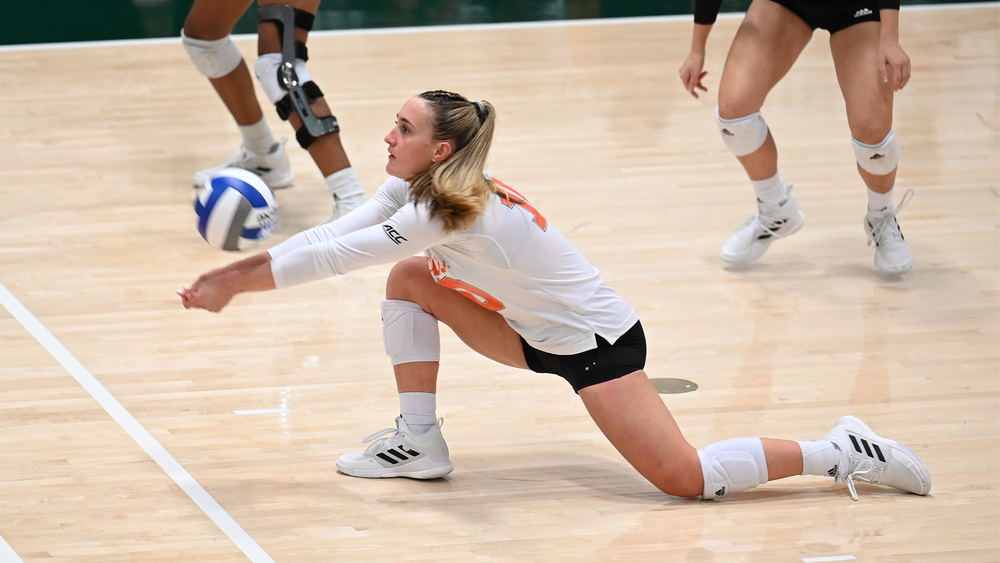 While the Hurricanes don't have a ton of postseason experience, they head into the NCAA Tournament having more than held their own in one of the most competitive conferences in the nation.
Six Atlantic Coast Conference teams have earned berths in this year's tournament – that's more than any conference in the country. The Hurricanes notched a pair of wins each over two of those teams, Florida State and North Carolina. And Miami has put together more than a few gutsy comeback performances while posting a 15-3 mark in conference play.
One of those performances came in October against Wake Forest, where Miami fell behind two sets before rallying to take the match 17-25, 23-25, 25-21, 25-23, 15-9.
It was a match where, Miami coach Jose "Keno" Gandara said, the Hurricanes learned a lot about themselves, their strengths and their weaknesses.
All of that can only help now in the high-stakes tournament.
"Wake Forest was a wakeup call. That match maybe was as significant as any of them. We realized a lot of things we were not good at and had to improve on," Gandara said. "We changed some things with our training because of that match and we were fortunate to come out with a victory because it was tough…
"It's a young team and you're always paying attention, looking to see what moments or experiences you can learn from and these girls have surprised me. One of the ways they've surprised me is how they're a young team that has been pretty consistent. We haven't had these super highs and lows. That's a tribute to kids like [setter] Savannah [Vach], [outside hitter] Angie [Grieve] and Janice. Even though they're young, they've played a lot and our experience has helped us manage the ebbs and flows. I like where we're at right now."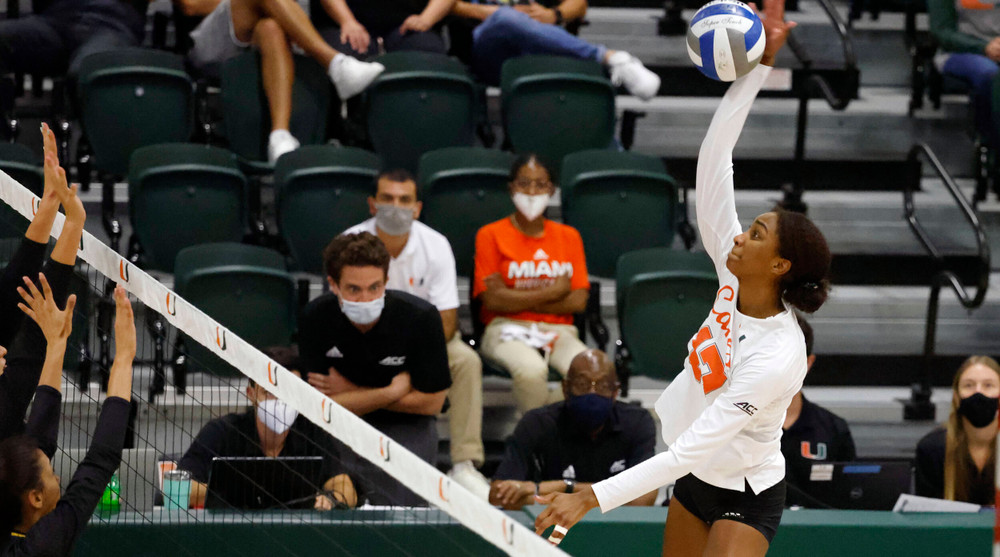 The Hurricanes went on to win eight of their next nine after that match at Wake Forest and will now face an opponent who is flying high entering the tournament, too.
South Alabama is making its first appearance in the NCAA Tournament, but has won 13 straight and won the regular-season Sun Belt Conference championship with a 15-1 record in league play.
Jaguars coach Jesse Ortiz was recently named the Sun Belt Conference Coach of the Year while four South Alabama players earned all-conference honors, including setter Kailey Keeble, who was named a first-team selection after leading the Sun Belt with 1,073 assists.
The Hurricanes will counter with Vach, a first-team All-ACC selection who averaged 11.03 assists per set, which ranks 18th in the nation. Joining her on the All-ACC team were Hernandez, Grieve and Leao, all of whom earned second-team recognition and outside hitter Peyman Yardimci, who was named to the ACC's All-Freshman team.
That core, and the rest of the Hurricanes, head into their matchup against South Alabama knowing they have the ability to build on what's already been a memorable season.
That's not anything they take for granted.
"A lot of the decorations and banners in our gym, that poster behind us, isn't of our faces," Grieve said. "Maybe we can be the next face of this program. That means a lot to us."