University of Miami Athletics
Abby Schwenger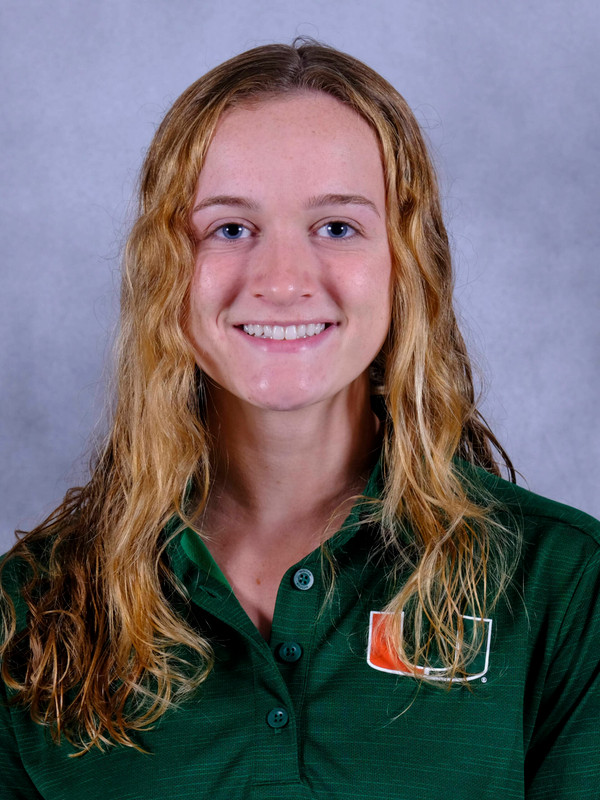 2020-21: Named an ACC Go Teach Dr Pepper Tuition Giveaway Recipient…Earned the 2021 Miami Celebration of Women's Athletics Rowing Award…Coxed the 1v8 for the duration of the 2021 season…Led the Miami 1v8 to a third-place finish (7:11.97) against Jacksonville and Stetson (3/26)…Raced in the 1v8 at the Sunshine State Invite (4/2) and the UCF duel (4/16), posting a fourth-place finish (7:55.44) and a second-place finish (6:44.75), respectively…Crossed the finish line fifth (7:41.781) as a member of the 1v8 at the Lake Wheeler Invite (4/24)…Coxed the 1v8 to a Grand Final appearance at the ACC Championship (5/15), taking home fifth (6:38.878)…Helped Miami to its best team finish (sixth) at the ACC Championship since 2014.
2019-20: Coxed the 1v8+ and the 1v4+ at the Head of the Indian Creek (10/12)…Took home first in the 1v8+ regatta (14:37.05)…In the 1v4+, finished second with a time of 15:57.60…Coxed the 1v8+ at the Rivanna Romp (11/17), finishing 17th with a time of 14:50.8)…Spring season cancelled due to COVID-19 outbreak.
2018-19 Member of the Varsity 4 boat that finished sixth in a Friday preliminary race at the Sunshine State Invitational with a time of 7:42.18…Placed third in a Saturday Petite Final with a time of 7:43.96…At the Natoma Invitational, earned a third-place finish with the Varsity 4 with time of 7:32.5 in Saturday morning's race…Earned second place with time of 7:39.6 on Saturday afternoon…Placed second with a time of 7:43.38 on Sunday…Earned second place in the Varsity 4 boat in Final 3 at the Lake Wheeler Invitational with a time of 7:38.027…Finished in third place in the Varsity 4's opening heat at the ACC Championships…Earned a sixth-place finish in the Grand Final with a time of 7:48.162.
High School: Graduated from Mount Saint Joseph Academy…Rowed for Mount Saint Joseph…Member of the freshman 8+, junior varsity 8+ and lightweight 8+…Coxswain for each boat…Earned the gold at the 2018 Stotesbury Cup…Helped her team to a SRAA National Championship gold medal in 2017 and 2018…Served as president of the Spanish Honor Society…Member of the National Honor Society.
Personal: Parents are Audrey and Tom Schwenger…One brother, Michael…Majoring in elementary and exceptional student education and Spanish…Enjoys running, swimming and reading…Chose Miami because of the academic opportunities and the chance to row year-round.