Schwenger Named an ACC Go Teach Dr Pepper Tuition Giveaway Recipient
CORAL GABLES, Fla. – A coxswain on the Miami rowing team, Abby Schwenger serves as a leader not only on the water, but also in the classroom.
On Tuesday, Schwenger was recognized by the Atlantic Coast Conference and the College Football Playoff Foundation as one of 15 recipients of the league's Go Teach Dr. Pepper Tuition Giveaway. Schwenger was awarded $2,500 to assist in her pursuance of a degree in education.
"This award is a great honor and solidifies my desire to continue studying education post-undergrad," Schwenger said. "I am so thankful that the CFP and Dr Pepper value teachers and are making sure we can achieve our goals."
Double-majoring in elementary and exceptional student education and Spanish, Schwenger plans on using the scholarship to fund a pair of certifications that will better prepare her to enter the education field upon graduation.
One certification provides tools on early intervention for reading and writing, while the other is a culturally responsive course that teaches ways to make students feel more empowered and secure in the classroom and at home.
"This is exciting news for Abby and it is so well deserved," head rowing coach Dave Sanderson said. "Abby is an outstanding and passionate student and I have no doubt she will be a successful and influential teacher in her professional career. Congratulations, Abby."
For Schwenger, becoming a teacher has been a lifelong dream.
"I was extremely fortunate growing up to go to wonderful schools with wonderful teachers and coaches," Schwenger said. "These people were role models to me because they created safe, collaborative spaces that valued hard work and always emphasized a love for learning all throughout life.
During her time at Miami, Schwenger has been involved in tutoring and student-teaching in not only the local Miami community, but also in her hometown community of Philadelphia.
"Working with these students from various cultural and socioeconomic backgrounds and that have different education levels has allowed me to realize what I want to hone in on before I officially enter the field upon graduation," Schwenger said.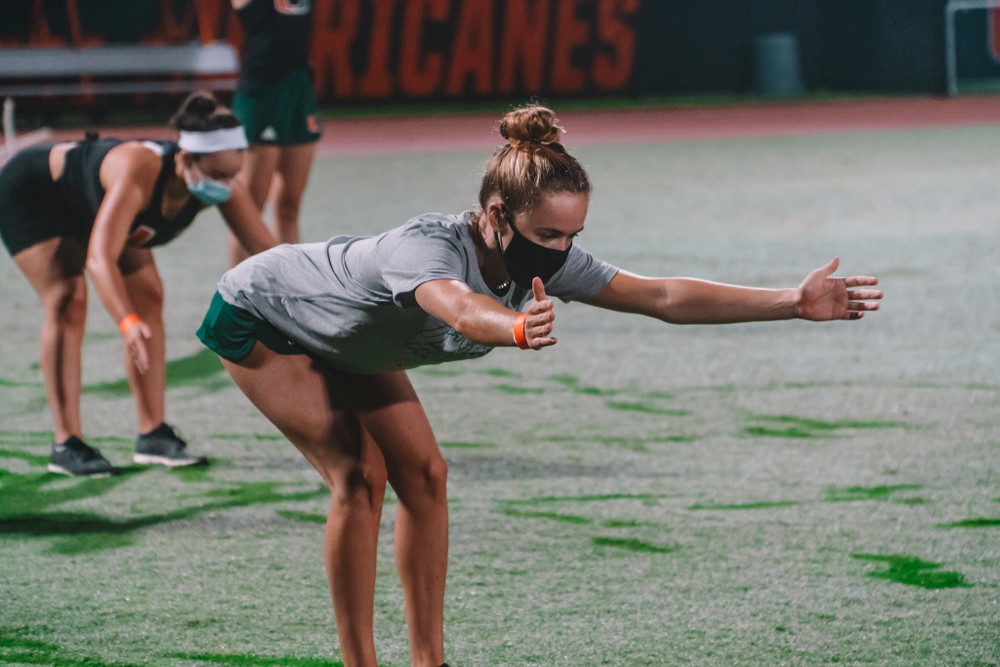 In the meantime, Schwenger will continue to learn and grow as an educator and a member of the rowing team. The coxswain is in the midst of preparing for the upcoming spring season with her fellow teammates.
With the 2020 season canceled before it even began to the COVID-19 pandemic, the Canes are eager to be back on the water in a race setting. In her third year with the Miami rowing team, Schwenger has worked her way up to coxing the 1v4+ and 1v8+ boats and looks to improve on the progress made last season.