University of Miami Athletics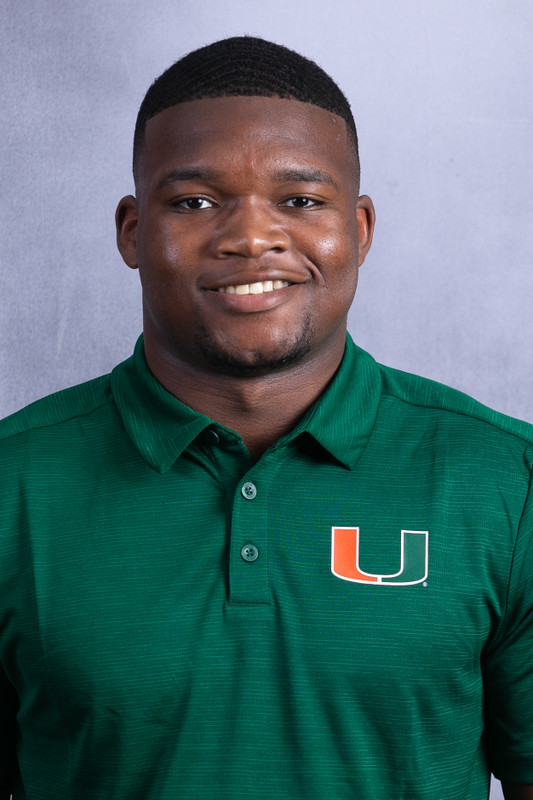 2021 (True Freshman*): Saw action in eight games, largely on special teams…Finished with five total tackles (four solo)…Made season debut in win over Appalachian State (Sept. 11)…Saw time against Michigan State (Sept. 18)…Competed against Central Connecticut State (Sept. 25) and had two tackles…Played in games against Virginia (Sept. 30) and North Carolina (Oct. 16)…Saw action in win over Pittsburgh (Oct. 30), totaling one tackle…Played against Georgia Tech (Nov. 6)…Competed in regular season finale against Duke (Nov. 27), finishing with two total tackles.
2020 (True Freshman): Saw action in nine games in first collegiate season, largely on special teams…Totaled seven tackles…Made career debut in season opener against UAB (Sept. 10)…Had first two tackles of career in romp of rival Florida State (Sept. 26)…Saw action at top-ranked Clemson (Oct. 10)…Had one tackle in home win over Pittsburgh (Oct. 17)…Played in win over Virginia (Oct. 24)…Saw action in come-from-behind victory at NC State (Nov. 6)…Finished with three total tackles (one solo) in win at Duke (Dec. 5)…Saw action in regular season finale against North Carolina (Dec. 12)…Had one solo tackle in 2020 Cheez-It Bowl against Oklahoma State (Dec. 29).
High School: A consensus three-star prospect by 247Sports, ESPN and Rivals…Ranked the No. 24 inside linebacker and No. 16 player in New Jersey by Rivals.com…Ranked the No. 26 Inside linebacker and No. 15 player in the state by 247 Composite…Listed as the No. 44 player at his position and No. 14 player in New Jersey by ESPN…Helped lead Camden to an appearance in the New Jersey Central Group 2 state championship game…Finished the 2019 season with 148 tackles, 11 sacks, two interceptions, two forced fumbles, two fumble recoveries and a blocked punt…As a senior, was named a Butkus Award nominee and earned first team all-conference, first team All-South Jersey and first team all-state honors…Chose Miami over offers from Baylor, Kansas State, Kentucky, Maryland, Minnesota, Oklahoma State, Rutgers, Syracuse, Wake Forest and West Virginia, among others.
* indicates student-athlete received extra year of eligibility in 2021 due to 2020 season affected by COVID-19 pandemic