Austin-Cave Embracing His Opportunity at Miami
CORAL GABLES, Fla. – Jonathan Patke sat alone in a Chick-fil-A, typing furiously on his phone.
Moments earlier, he'd been watching a high school football game, keeping tabs on a young linebacker whose speed, intensity and ability to move from sideline to sideline, Patke knew, would make him an intriguing addition to the Hurricanes' defense.
Then, shots rang out and chaos ensued.
Patke, like the hundreds of fans in the stands, ran to safety. The players, coaches and officials on the field fled, too. Police cruisers and ambulances descended on the scene and in an instant, a festive November night turned terrifying – and deadly.
Patke found a place to collect his bearings and he tried, over and over, to reach Tirek Austin-Cave, the young linebacker he'd been recruiting. Unable to get him on the phone, Patke tried to connect with either of Austin-Cave's parents, his heart racing while some of his first attempts to reach anyone in the family went unanswered.
After a few agonizing minutes, Patke got word Austin-Cave and his family were safe. Not long after, the coach and the linebacker finally spoke and Austin-Cave's words left the Hurricanes outside linebackers coach stunned.
"He reached out to me and – just to show the person he is – he said, 'Coach, I'm so sorry that happened and you had to be here,'" Patke recalled. "I said, 'Tirek, it's nothing you did and nothing I did. It's just something that happened. I'm just worried about you guys and your team.' You could see he felt bad that I had to go through that and I said, 'Tirek, you had to go through that.'
"But that's the kind of relationship we'd built. I checked in on him, but he was checking in on me and it was in that moment, you knew he was a great-hearted kid that wanted to reach out to me and reach out to his teammates and make sure they were all doing alright."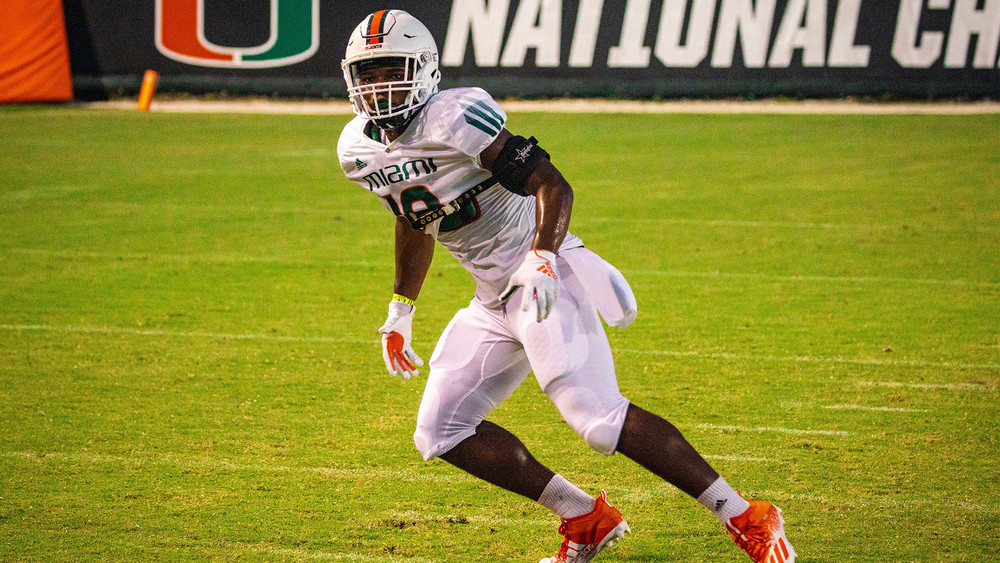 Nearly ten months later, the bond Patke and Austin-Cave forged continues to grow.
These days, Austin-Cave is a freshman at Miami, a young player trying to prove to his new teammates and coaches that he's ready for the challenges of playing big-time college football.
And Patke still sees that same intensity, that same drive, that same motivation that made Austin-Cave not just one of the top players in New Jersey, but a leader who tried to bring his team together after an awful night none of them will ever forget.
"When I play football, that's somewhere I go to get away from things outside. Football is what I call my sanctuary. For somebody to do that at a football game, that's sad," Austin-Cave said. "There was a young kid, a little boy that was 10-years-old, who ended up losing his life. I think about that. What if I was that kid in the stands watching a high school football game? That's not somewhere you think you'll lose your life. That changed me. You never know when it's your time. You could be on a football field. You could be a kid in the stands. What happened to that young man is devastating. It changed me and I know now that every opportunity you get, you have to play at a high level and you have to do it for those who can't do it themselves."
Having the opportunity to now play at Miami isn't something Austin-Cave takes for granted.
The linebacker grew up hearing his father, Nigel, tell stories of Ray Lewis and past Hurricanes linebacking greats. He's been throwing up The U since his Pee Wee football days, when his speed and agility made him a natural not at linebacker, but at running back.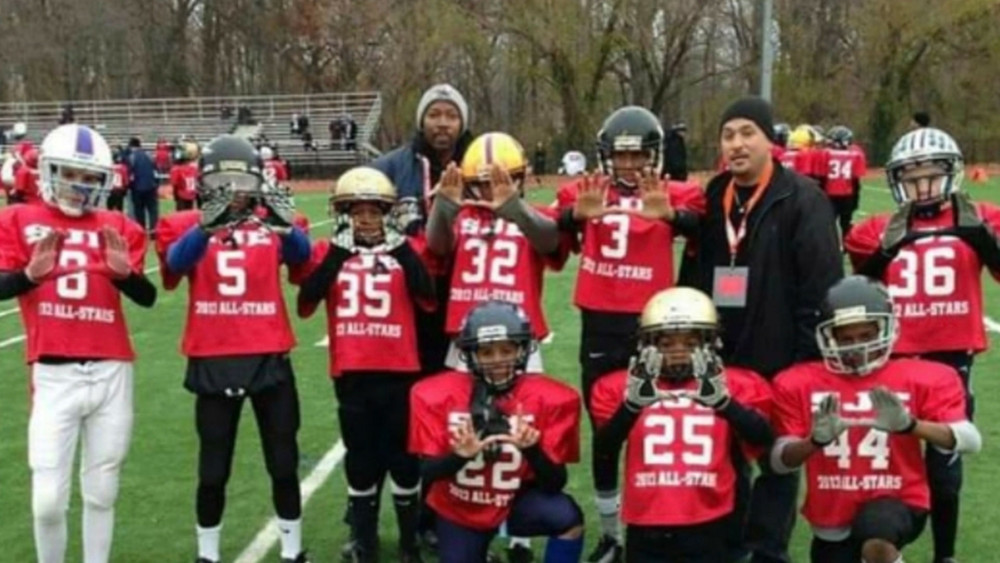 Now, Austin-Cave relies on years of experience as an offensive player to help him try and understand what his opponents are doing. He transitioned to the defensive side of the ball in high school and went on to become a first-team all-conference, first-team All-South Jersey and first-team All-State selection.
As a senior, he notched 148 tackles, 11 sacks, two interceptions, two forced fumbles, two fumble recoveries and a blocked punt, prompting the likes of Baylor, Kansas State, Kentucky, Oklahoma State, Rutgers, Syracuse, Wake Forest, West Virginia and others to express interest.
But at Miami, Austin-Cave saw a brotherhood. He felt a connection with Patke, head coach Manny Diaz and the rest of the staff. He felt that at Miami, he'd find success on and off the field and he believed he'd enjoy spending his days with the people he met on his official visit.
And with the Hurricanes needing to build linebacker depth after the departures of veterans Shaq Quarterman and Mike Pinckney, Austin-Cave felt he could make an impact at Miami, something his coach says is already happening.
"One thing about Tirek is that he's going to play full speed every down, every play. That's kind of why we fell in love with him during the recruiting process," Patke said. "He's a high-motor, get-to-the-ball type of guy. That's what you saw in the first scrimmage. He's a guy that's going to find the football. He's not going to be perfect. He's young. He's learning. But once he goes, he's going to go full speed and he's going to show up in a bad mood and tackle well. That's what we knew we were getting in him."
That kind of early performance comes as no surprise to those who know Austin-Cave best, including his father, who was one of his first coaches when the linebacker began playing the game as a precocious 4-year-old.
"He's always been someone who challenges himself to be better than he was the day before. He pushes himself to the limit, sometimes, I believe, too much," Nigel Cave chuckled. "He'll give you everything he's got and when he doesn't have any more, he'll try to find some more. That's how he is. … Ever since he started playing, he wanted to play this game at a high level."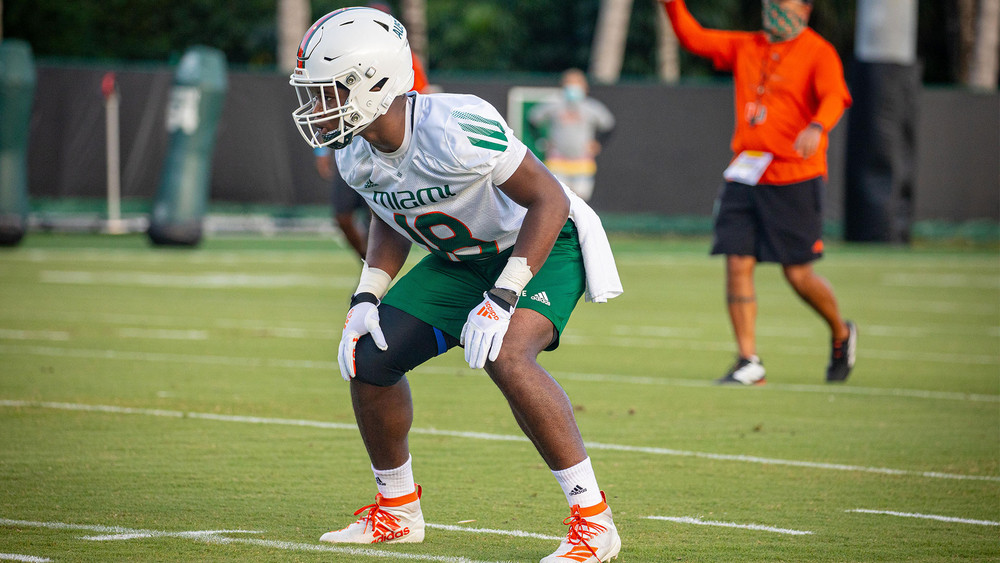 The Hurricanes will count on that approach from Austin-Cave moving forward. And the linebacker says he is more than ready to deliver.
Through all he has endured to get to this point, football has remained his constant; the field, the place where he can feel free.
He knows the game has brought him a life-changing opportunity and he's going to make the best of it, on the field and in the classroom, where he hopes to one day earn a criminology degree that will help him pursue a career with the FBI once his playing days are over.
Until then, though, he'll revel in the sport he loves at a place he feels welcome.
"Football is my sanctuary because being a black man in America, there's a lot on our shoulders. A lot of things we have to take care of," Austin-Cave said. "You have to make sure your family's good. You want to do whatever it takes to make your family proud and that's the kind of guy I am, a family man. If they're good, I'm good.
"To be able to take those things from the outside world on my shoulder and step in between the lines on the football field, it makes things easier. Just being able to do that, it's relieving. I'm glad I have the opportunity to do that at a University like this."