University of Miami Athletics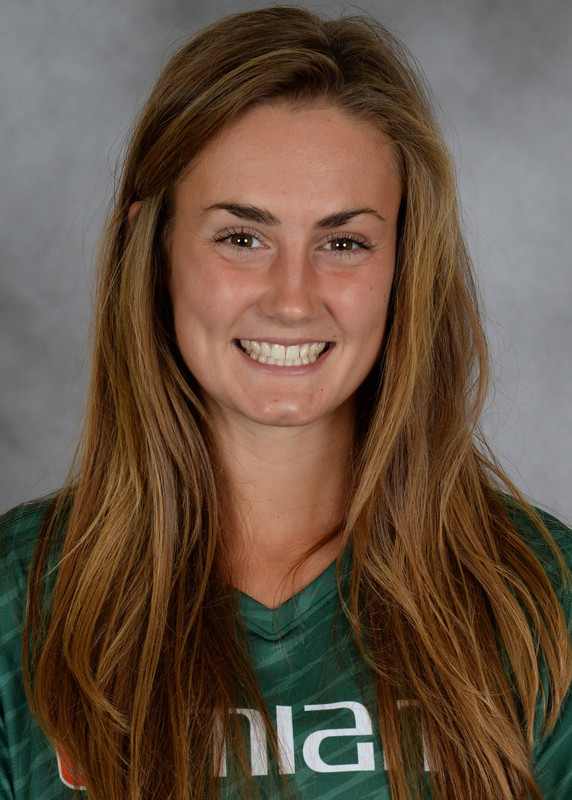 2016 (Redshirt Senior): Team co-captain … One of eight Hurricanes to start all 19 matches … Lone Miami player on the field for all 1,756 minutes over the course of the season … Finished with one goal, five assists and seven points … Ranked second on the team in assists and sixth in points … Registered eight shot attempts, including six on goal … Played over 100 minutes three times … Helped Miami to seven shutouts, as well as program records for fewest goals allowed (16) and lowest goals against average (0.82) … Was one of three Hurricanes to play all 90 minutes at North Florida (8/19), scored the first goal of her career in the 53rd minute and added an assist in the 90th minute … Aided the team to a shutout against Jacksonville (8/28) and tallied an assist off a free kick on the match-winning goal … Against Florida Atlantic (9/4), helped Miami to its third consecutive shutout … Recorded one shot attempt against FIU (9/11) …Played all 90 minutes in the Hurricanes' win over second-ranked Virginia (9/22) … Notched an assist on the match-winning goal and tallied a shot on goal versus Syracuse (9/25) … Against Wake Forest (10/2), for the second straight match, recorded an assist on the match-winning goal … Tallied three shots on goal at Pittsburgh (10/9) … Versus Louisville (10/20), logged one shot attempt and helped Miami to its seventh shutout … Played all 101 minutes in the win versus No. 25 Virginia Tech (10/23) … Played all 110 minutes and recorded an assist on the match-tying goal in the ACC Championship quarterfinals at No. 14 Clemson (10/30), as well as made her penalty kick in the shootout.
2015 (Redshirt Junior): Team co-captain … One of four Hurricanes to start all 17 matches … Posted one assist and six shot attempts, including three on goal … Finished second on the team with 1,590 minutes of playing time, coming off the field for just 16 minutes all year … Went the distance in 16 matches, including each of the final 12 … Produced Miami's first shot on goal of the season in the opener against Texas (8/23) … Tallied three shot attempts in the victory at Jacksonville (9/6) … Went the distance at FGCU (9/11) to aid the Hurricanes to their second shutout win in a row … Recorded her lone assist of the season in Miami's win over North Florida (9/13) … Played all 106 minutes in the double overtime victory against No. 14/4 Notre Dame (10/2) and the whole 109 minutes in the double overtime win over NC State (10/11).
2014 (Redshirt Sophomore): Team co-captain … Rebounded from surgery-shortened season to start 17 of 18 matches … Served as one of three team captains … Played every minute of every match in which she competed … Helped lead Miami to back-to-back shutouts against Jacksonville (9/2) and Stetson (9/5) … Tallied one shot against Dolphins … Finished with one assist, with lone point coming against Florida Atlantic (9/7) … Had one shot in season finale against Wake Forest (11/2).
2013 (Sophomore): Started first three games of year before undergoing season-ending surgery.
2012 (Freshman): Played in 16 of 20 matches, including three starts … Saw increased action as season went on … Enjoyed first collegiate minutes in team's 4-1 win over Florida (8/17) … Registered first collegiate point on assist in team's NCAA Championship opener against No. 18 UCF (11/10) … Started and registered season-high 106 minutes (out of possible 110) in team's finale against Knights.
Club: Played club soccer with the Michigan Hawks beginning at the U-11 level … Helped guide the club to a third-place finish in the Midwest Conference of the Elite Clubs National League in 2011 … Played two seasons of varsity basketball at Brighton before committing to club soccer with the Hawks, regarded as the elite club program in the state Michigan … Club won state championships in 2008, 2010 and 2011, and was named ECNL National Finalist in 2012.
Personal: Parents are Amy and Marty McCarthy … Father pitched at Toledo, as well as profesionally in the Detroit Tigers' organization … Graduated from Miami in December of 2015 after double-majoring in public relations and sport administration, and enrolled in Miami's sport administration graduate school program.
 STATS
YEAR
GP
GS
G
A
PTS
GW
PK
2012
16
3
0
1
1
0
0-0
2013
3
3
0
0
0
0
0-0
2014
17
17
0
1
1
0
0-0
2015
17
17
0
1
1
0
0-0
2016
19
19
1
5
7
0
0-0
 CAREER
72
59
1
8
10
0
0-0