University of Miami Athletics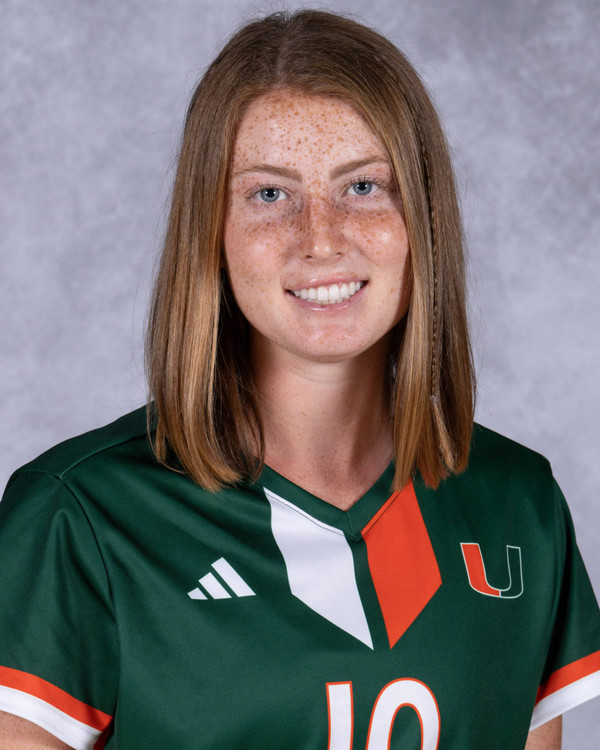 NIL Opportunities
Powered By

Engage with Julia today!
2022 (Junior): Appeared in 15 matches, drawing starts in final nine contests … Played 655 minutes … Recorded two assists … Registered assist on lone goal in 1-0 win over Alabama (Aug. 21) … Earned first start of season in ACC opener at Louisville (Sept. 17) … Tallied assist across season-high 76-minute effort at Syracuse (Sept. 25) … Totaled 64 minutes at Wake Forest (Oct. 9).
2021 (Sophomore): Appeared in 10 matches and earned three starts, while dealing with injuries … Logged 371 minutes … Recorded one shot … Made season debut in ACC opener against Louisville (9/17) … Earned first conference start of campaign versus Pittsburgh (9/26) … Played season-high 63 minutes at Boston College (10/2) … Registered third straight start at Wake Forest (10/7) … Tallied lone shot in season finale against North Carolina (10/28).
2020 (Freshman): Played in 12 contests and earned nine starts … Registered an assist, five shots and two shots on goal, while logging 830 minutes on the pitch … Earned her first career start in the season opener against Clemson (9/12) … Collected her first shot on goal against Notre Dame (9/20) … Connected with Katerina Molina for her first collegiate assist, in a road match against Virginia Tech (10/15) … Notched a shot on goal and a season-high two shots at Pittsburgh, playing a career-high 90 minutes … Played 88 minutes and tallied a shot against FIU (3/14).
Bio: Attended Collegiate School … Played multiple positions and garnered VISAA State Player of the Year accolades as a sophomore … Received First Team All-State honors as a sophomore and junior … Named Richmond Times First Team All-Metro member as a freshman, sophomore and junior … In addition, she helped lead Collegiate School to a pair of VISAA State Titles.