University of Miami Athletics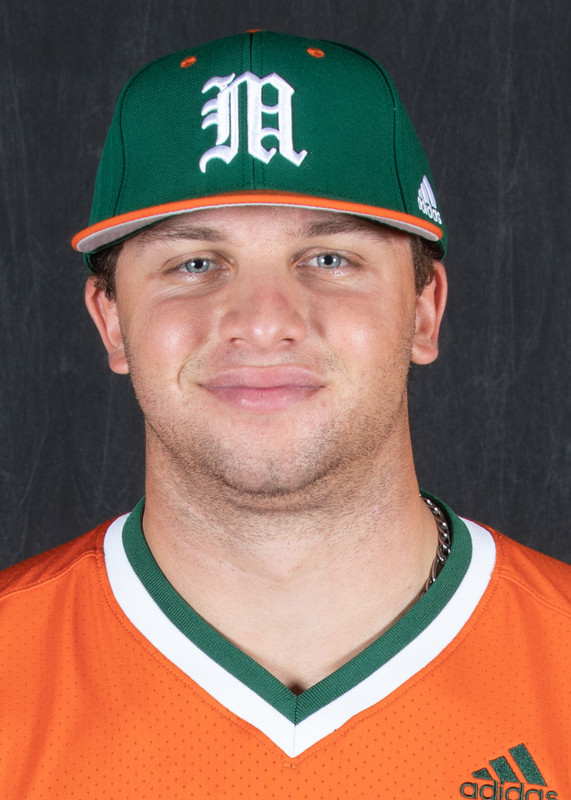 The asterisk next to 2020 and 2021 season bios indicate the NCAA's decision to grant an extra year of eligibility for student-athletes in light of the COVID-19 pandemic; the student-athlete's year of eligibility did not "advance" from 2020 to 2021 due to this NCAA ruling.
*Junior (2020): Appeared in all 16 games, making 12 starts in shortened 2020 college baseball season…Spent time in right field and at designated hitter… Ranked third on the team in batting average…Batted .317 (13-for-41) with a double, a home run and two stolen bases…Scored six runs and drove in five RBI…Had four multi-hit games and one multi-RBI performance…Opened season on four-game hitting streak…Hit a grand slam, tying career-high four RBI, in win over Rutgers (Feb. 15)…Went 2-for-3 with an RBI in sweep-clinching win over Rutgers (Feb. 16)…Had two hits and scored two runs in win over Kent State (Feb. 19)…Singled and scored a run against No. 2 Florida (Feb. 22)…Had a pinch-hit single in win over Towson (Feb. 29)…Singled and stole a base in win over Pitt (Mar. 7)…Doubled in a 2-for-3 performance to help sweep Pitt (Mar. 8)…Went 2-for-3 in win at No. 12 UCF (Mar. 11).
Sophomore (2019): Appeared in 38 games and made 29 starts, primarily in the outfield…Hit .290 with 29 runs scored, five doubles, two triples, seven home runs and 31 RBI…Was a perfect 6-for-6 on stolen base attempts…Had seven multi-hit games and seven multi-RBI performances…Went 2-for-2 with a triple and four RBI vs. UMBC (Mar. 3)…Had an RBI triple in win over Georgia Tech (Mar. 10)…Doubled and scored a run vs. NC State (Mar. 24)…Had two hits and an RBI in win at FAU (Mar. 27)…Had two hits and two RBI at Pittsburgh (Mar. 29-31)…Hit first home run of the season in win vs. FAU (Apr. 3)…Belted game-winning solo homer vs. Florida State (Apr. 6)…Went 2-for-3 with an RBI in with over FGCU (Apr. 9)…Hit a grand slam in win at FGCU (Apr. 10)…Had two hits and two runs score in series-opening win at Virginia (Apr. 13)…Had a hit and an RBI in a win over FGCU (Apr. 16)…Homered in win over FIU (Apr. 24)…Had game-winning two-run single vs. Virginia Tech (Apr. 26)…Hit three-run homer in win over Bethune-Cookman (May 3)…Had two hits and two runs scored in series-clinching victory over Bethune-Cookman (May 4)…Homered in NCAA tournament debut vs. Central Michigan (May 31)…Had a double and three RBI in win over Southern (June 1)…Went 2-for-2 with a homer in win over Central Michigan (June 2)…Had a hit an a run scored in Starkville Regional final vs. Mississippi State (June 2).
True Freshman (2018): Saw action in 22 games with 14 starts in first season…Batted .224 with two doubles, one triple, two home runs and nine RBI…Had three multi-hit games and three multi-RBI games…Homered for first hit of career at Georgia Tech (March 31), joining teammate Alex Toral to accomplish feat in 2018…Went 1-for-3 with one run scored vs. FAU (April 4)…Started all three games in series vs. North Carolina (April 6-8) and compiled five hits and four RBI…Set career mark with three hits (3-for-4), including one double, in series opener against Tar Heels (April 6)…Recorded career-best three RBI, including second home run of career, in Game 2 vs. North Carolina (April 7)…Tied career mark with three hits (3-for-4) against FGCU (April 18)…Started all three games in outfield vs. Pittsburgh (April 20-21).
High School/Prep: Three-year varsity letterwinner at Killian Senior…Helped lead team to state championship, district championship and regional championship…Earned 9A Player of the Year and Hitter of the Year honors…Batted .462 with five home runs and 15 RBI in final season…Hit .323 with one homer and 17 RBI as junior.
Personal: Parents are Daniel and Laura…Has one sister, Alexandra…Intends to major in psychology.