University of Miami Athletics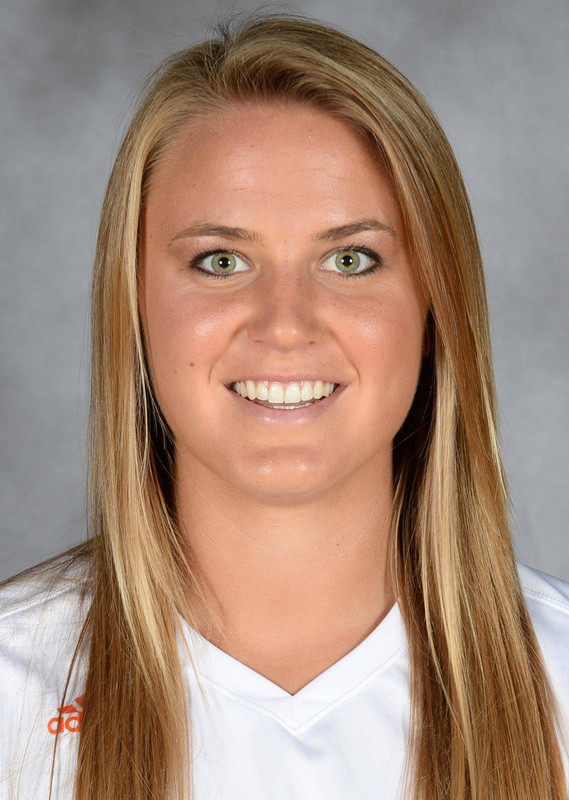 2015 (Redshirt Senior): Team co-captain … One of four Hurricanes to start all 17 matches … Ranked third on the team with three goals and fourth with six points … Tallied 22 shot attempts, including 10 shots on goal, both tied for third among Hurricanes … Finished third on the team with 1,541 minutes played, coming off the field for just 75 minutes all year … Went the distance in all but two outings, including each of the final 10 … Played all 103 minutes against UCF (8/30) and recorded her first career two-goal match, including scoring an 87th-minute equalizer, while tying for the lead among all players with four shot attempts … Played all 90 minutes in Miami's back-to-back shutout wins at Jacksonville (9/6) and FGCU (9/11) and had four shot attempts, including two on goal, in the former … Went the distance in Miami's double overtimetime victories against No. 14/4 Notre Dame (10/2) and NC State (10/11), with 106 and 109 minutes played, respectively … Tallied her lone ACC goal of the season at Syracuse (10/22) and tied for the match lead with two shots on goal, while playing the full 101 minutes.
2014 (Redshirt Junior): Started all 18 games of season in midfield … Led team with three assists … Ranked second on team in goals (two) and points (seven) … Delivered first goal of season against FGCU (8/29) in 90-minute performance … Scored in next game against Jacksonville (9/2) with season-high four shots … Added assist against Washington (9/14) … Had first multi-assist game against NC State (10/23) … Delivered 90-minute perforrmances in 10 of 18 matches.
2013 (Redshirt Sophomore): Started 17 games in midfield … Tied for third on team in goals (two) and ranked fourth in points (six) … Notched career-first point on assist in 6-1 win over Cleveland State (9/6) … Registered career-first goal in 2-1 win over FAU (9/8) … Scored opening goal from distance in 2-1 win over NC State (9/19) … Played 90-plus minutes in eight games … Ranked fourth in shots (22) and shots on goal (10).
2012 (Redshirt Freshman): Saw action in 14 games, including seven starts … Served as one of team's key contributors in midfield … Recorded career-first start on road in 2-0 win over NC State (9/27).
2011 (Freshman): Saw action in one game on the year, the team's 3-0 victory over Monmouth (8/21).
Club: Played for the Montclair Tunderbolts under Ashley Hammond.
ODP: Member of the New Jersey ODP team since 2006 … Was a member of the National Pool in 2007 and a Regional 1 Team member in 2006 and 2007.
High School: Went to Immaculate Heart Academy in Oradell, N.J. … Led her team to state championships in 2009 and 2011, as well as a No. 2 ranking in ESPN Rise Fab 50 … Was named first team all-state in 2009 and 2010 and all-league in all four years of high school … Led her team to a record of 97-6-2 in her four seasons at Immaculate Heart Academy.