University of Miami Athletics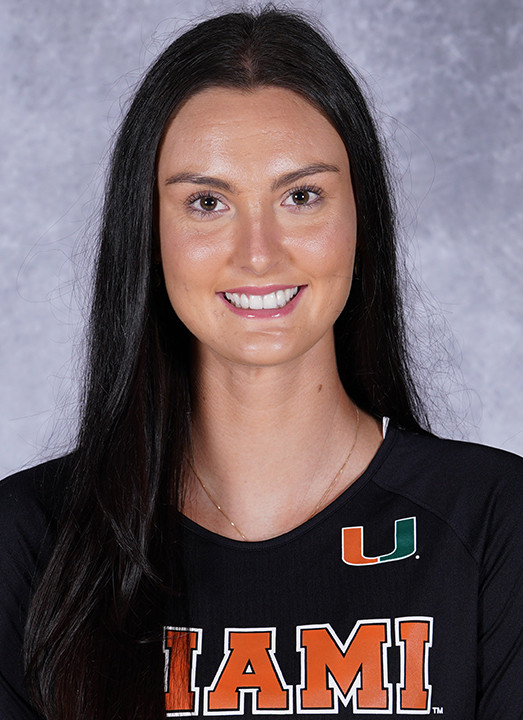 Career Honors
2021 AVCA East Coast All-Region Honorable Mention
2021 All-ACC Second Team
2021 ACC All-Academic Team
2021 (Junior): Saw action in all 30 matches, starting 25… played in 105 of 107 total sets… ranked sixth in the ACC in the regular season in kills per set with 3.73… ended the regular season ranked seventh in the conference with 377 kills… finished the regular season with 4.20 points per set, fifth most in the ACC… posted 424 points in the regular season, ninth most in the conference… shot up to eighth in program history with 4.10 points per set in her career… moved to seventh in the school record book with 0.30 career aces per set… ranks seventh in Miami history with a career kills per set mark of 3.50… totaled five aces at Virginia Tech (10/24), the sixth most in a three set match and seventh in a contest in school history… her 20 kills against Virginia (10/17) are the fourth most in a three set game in the program record book… led Miami in kills in 17 games, attacks in 21 matches and points in 13 contests… led the Canes on the year with 396 kills and 3.77 kills per set… posted a season attacking percentage of .221… tallied 24 aces, 90 digs and 47 blocks… notched double-digit kills in 25 matches… hit a single-match career-high .667 against Virginia (10/17) with 20 kills on 27 attacks… her 23 kills, 67 attacks and 24.5 points at Florida State (11/19) were the most by a Hurricane in a match.
2020 (Sophomore): Debuted for Miami recording 14 kills, two assists, two aces, eight digs and five blocks in the five-set win against Georgia Tech (9/24)… Finished with 15 kills, eights digs and one block against Georgia Tech (9/25)… Recorded 12 kills and an attack percentage of .333 and two aces and three blocks in the first 3-1 win over Wake Forest (10/2)… Added 10 kills, four digs, three blocks and one ace in the second 3-1 win against Wake Forest (10/3)… Added eight kills, eight digs and four blocks on the road at Clemson (10/8)… Helped No. 12 Miami defeat Clemson with seven kills, six digs and one block on 10/9… Registered eight kills and 10 digs in her first match against FSU (10/15)… Added eight more kills, 10 digs, one assist and ace in the 3-0 sweep over FSU (10/16).
2021 (Spring): Dominated on offense with a career-best 25 kills and 11 digs, three blocks, two assists and one ace against NC State (3/6)… Finished with 12 kills, one assists, ace and block with three digs against No. 14 Notre Dame (3/7)…Posted six kills, five assists and one solo block against Virginia in the 3-0 conference sweep (3/13)… Recorded 14 kills and eight digs against Virginia (3/14)… Finished with double-digit kills (11) for the eighth time this season and registered her second double-double of the season with 10 digs in the five-set win at Duke (3/19)… Recorded 13 kills, three aced and one block and dig in the 3-1 loss to Pittsburgh (3/20)… Led the Canes with 16 kills and added three aces in the 3-1 loss to Boston College (3/26)… Again led the Canes with 19 kills, one ace and one block in the 3-1 road win against Virginia Tech (3/27)… Added 11 kills in the match against No. 11 Louisville (4/1)… Finished the season with a double-double in the 3-0 sweep against North Carolina with 13 kills and 10 digs (4/2).
2019 (Freshman): Redshirted due to injury.
High School: Grieve was a four-year varsity player at South Fork High School… Played for Tribe Volleyball club for two years and the National Volleyball League for two seasons… While at South Fork, Grieve registered 1,200 career kills, the highest in school history and registered the most kills in a single season… Grieve served as a captain for the varsity team for three seasons and was named the Treasure Coast Volleyball Player of the Year in 2019… Grieve helped South Fork win the 2016 6A State Championship and was the 7A State Runner Up in 2019.
Personal: Right-handed outside hitter… Daughter of Dan and Wendy Grieve… Father played baseball at the University of Southern Mississippi… Has one brother, Ben.