University of Miami Athletics
Alex Munroe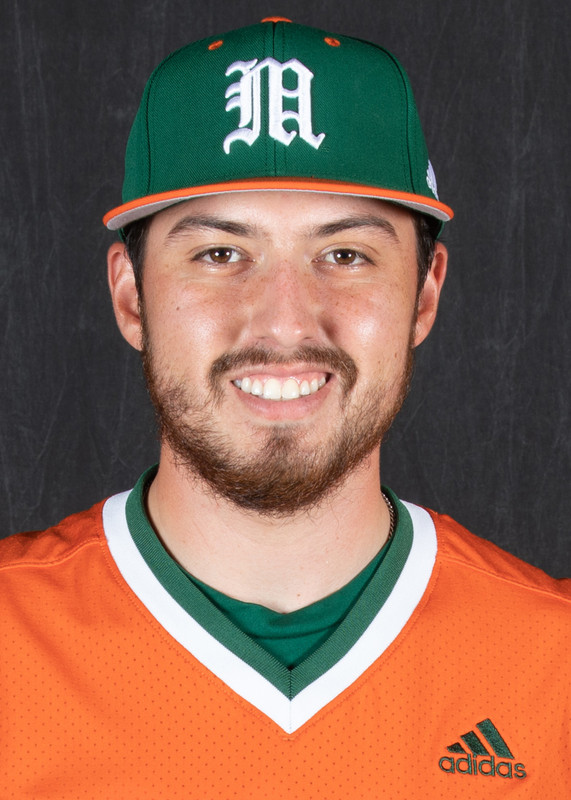 The asterisk next to 2020 and 2021 season bios indicate the NCAA's decision to grant an extra year of eligibility for student-athletes in light of the COVID-19 pandemic; the student-athlete's year of eligibility did not "advance" from 2020 to 2021 due to this NCAA ruling.
*Freshman (2021): Made six appearances as a left-handed reliever out of Miami's bullpen…Posted a 6.00 ERA over 6.0 innings pitched…Struck out six batters while walking just one and holding opponents to a .200 batting average…Tossed a scoreless inning at NC State (Mar. 5)…Struck out three batters in an inning against Florida State (Mar. 19)…Pitched a scoreless inning at Virginia (Mar. 27)…Tossed a scoreless inning of relief in win over FIU (Apr. 7)…Had a strikeout in 0.2 innings pitched at Pitt (Apr. 9)…Had two strikeouts in 1.1 innings at Boston College (Apr. 30).
*True Freshman (2020): Made five appearances out of the Miami bullpen in shortened 2020 college baseball season…Posted a 5.40 ERA, striking out five batters over 3.2 innings pitched…Made Hurricane debut vs. Rutgers (Feb. 16), tossing a scoreless inning…Struck out a career-high two batters in scoreless inning vs. Kent State (Feb. 19)…Fanned only batter he faced vs. Florida (Feb. 23).
High School: Two-year varsity letterman at Ridge Community High School…Helped team to a district championship in his senior campaign…Recorded a 1.27 ERA and 108 strikeouts in 60.2 innings pitched in 2019…Was a principal's scholar all four years of high school.
Personal: Parents are Scott and Angelina Munroe…Has two sisters, Brandi and Gabi… Intends to major in broadcast journalism.