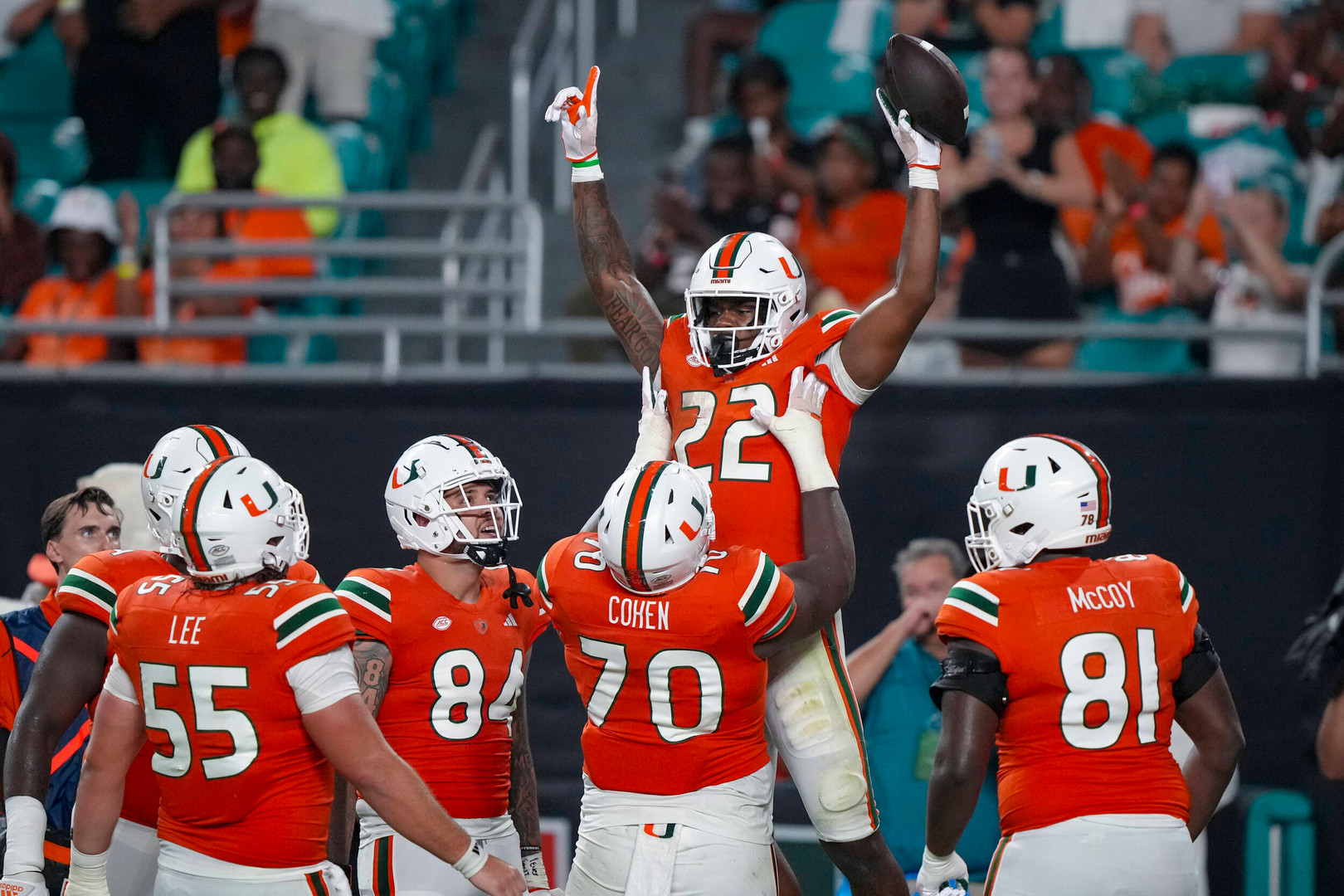 CORAL GABLES, Fla. – Matt Lee grew up in the central part of the state, not particularly close to Miami and not particularly close to Tallahassee.
But like most Floridians, he understands what it means when the two college football programs from those cities, those communities meet in their annual rivalry game.
The veteran offensive lineman knows Miami and Florida State's history. He knows the caliber of players who've suited up for both the Hurricanes and Seminoles. And he knows about the bragging rights and the stakes that are seemingly always on the line in every matchup.
Come Saturday, Lee – a transfer who joined the Hurricanes after spending four seasons at UCF – will get his own taste of the Miami-Florida State rivalry.
He says he couldn't be more ready for the experience.
"It's awesome. This game is one of those games that you're definitely like 'Oh, that's a really cool game to play in,'" Lee said. "It doesn't matter if it's in Miami at Hard Rock or at Doak Campbell in Tallahassee, you know it's going to be a crazy environment regardless. I know on Saturday in Tallahassee, it's going to be packed out. It's going to be high energy. It's going to be an excellent atmosphere. Great, great day to play football.
"And knowing the history of UM and FSU, and what it means to players now, to the players in the past and what it means to fans on both sides, it's special. It's a special rivalry and I'm extremely excited to be a part of it."
Lee isn't the only Hurricanes newcomer about to get his first Miami-Florida State moment.
Fellow offensive lineman Javion Cohen grew up in Alabama but has quickly learned how much the rivalry game means to his teammates, coaches, and Miami's fans, particularly those who grew up in the Sunshine State and have been around the game their entire lives.
"This week, it just gives you chills," he said.
Meanwhile, freshmen like defensive lineman Rueben Bain, Jr. and running back Mark Fletcher, Jr. – two South Florida natives – say that after years of waiting their respective turns and watching the Miami-Florida State rivalry through their families' eyes, they're ready to make their own moments and create their own memories in the game.
"This is a game I've grown up watching. I mean, since I was a kid, I always heard about Florida State and my cousin played in it," said Bain, who leads the Hurricanes with a team-high 6.5 sacks. "I was always watching the games. I've [been] at the game, so I was always in the environment. Now, I get the chance of playing in it. It's something I've been looking forward to."
Added Fletcher, "It's very cool. You know, this is what you come to Miami for, to go play in games like this, especially this one. This is special, you know? It's a very big game on the road. This is what you come to Miami for, to beat FSU."
As excited as all of Miami's newcomers and the rest of the Hurricanes may be to take the field Saturday afternoon at Doak Campbell, though, they know they face a significant challenge.
The Seminoles (9-0, 7-0 ACC) enter this year's matchup unbeaten and with a berth in the ACC Championship Game already secured. A few more wins, and a berth in the College Football Playoff could be on the horizon, too.
Quarterback Jordan Travis, who has thrown for 2,469 yards and 19 touchdowns while rewriting the Florida State record book, is generating plenty of Heisman Trophy buzz.
The redshirt senior from West Palm Beach has accounted for 96 touchdowns during his FSU career – a number that now ranks first in program history. He's thrown at least one touchdown pass in each of FSU's last 21 games and has accounted for multiple touchdowns in 16 straight games.
Receivers Keon Coleman and Johnny Wilson, meanwhile, are both averaging more than 14 yards per catch and have totaled 953 yards and 11 touchdowns. And running back Trey Benson has rushed for 641 yards and eight touchdowns.
"Those are really high-level players. They're as good as you'll find in the country and they play really, really hard," Hurricanes head coach Mario Cristobal said of FSU's offensive playmakers.
But it isn't just Florida State's offense that's performing at a high level this season.
The Seminoles' defense hasn't allowed an opponent to score more than 30 points this season and Florida State was the only team in the nation that didn't give up a passing touchdown during the month of October.
All of that, the Hurricanes (6-3, 2-3) know will make for a challenging afternoon Saturday.
But players like Fletcher – who rushed for a career-high 115 yards in his first start at NC State last week and later earned ACC Rookie of the Week honors for that performance – will do their best to counter.
"They're a great team. They're 9-0 for a reason. A lot of veteran guys that know what they're doing, know the spots to be in on offense and defense," Fletcher said. "And you know, the environment, it's going to be a lot of noise out there. We're just going to have to be locked in. We're going to have to execute because we play hard. We practice hard and we prepare hard week by week. I don't have any doubt in that. But we're going to have to execute on every single play."