Miami Football to Retire Torretta's No. 13 Jersey at Louisville Game
CORAL GABLES, Fla. – The University of Miami announced Thursday that the Hurricanes football program will retire legendary quarterback Gino Torretta's No. 13 jersey.
The jersey retirement ceremony will take place during Miami's regular season home finale at Hard Rock Stadium on November 18 against Louisville.
"We are excited to announce the retirement of Gino Torretta's No. 13 jersey," Vice President/Director of Athletics Dan Radakovich said. "Gino is the most decorated college player in University of Miami football history and is also a member of our Ring of Honor, which serves as the highest honor for a Hurricanes football player or coach. We look forward to recognizing Gino and his family at Hard Rock Stadium on November 18."
Torretta was the starting quarterback on Miami's 1991 undefeated national championship team and the following season led his team to another undefeated regular season and the 1992 national championship game at the Sugar Bowl. The consensus first-team All-American capped an incredible 1992 season by becoming the second Hurricane to win the Heisman Trophy, while also earning the Maxwell Award, the Davey O'Brien Award, the Johnny Unitas Golden Arm Award, the Walter Camp Player of the Year, the Chevrolet Offensive Player of the Year, the Toyota Leadership Award, the Hitachi/CFA Scholar Athlete of Year, and the NCAA Top VI Award.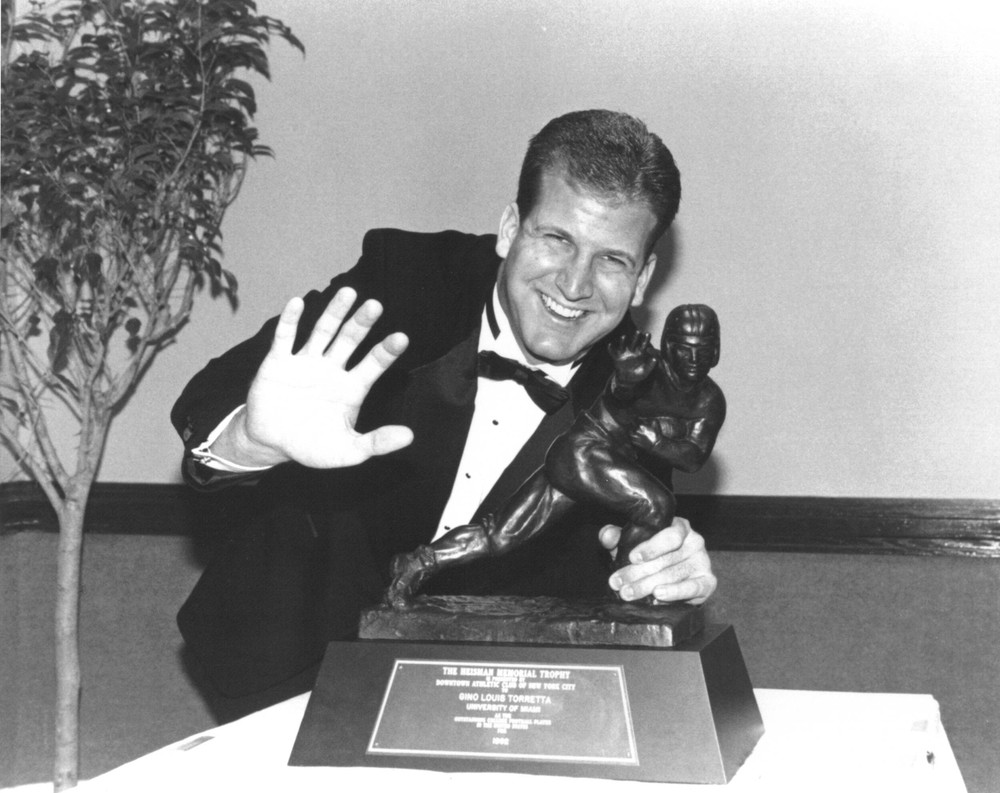 Torretta opened his Heisman season by throwing for 433 yards in Miami's win at Iowa. Four weeks later, he threw the game-winning touchdown pass to wide receiver Lamar Thomas to lead No. 2 Miami over No. 3 Florida State in "Wide Right II." Said FSU head coach Bobby Bowden afterwards, "I can sum up this game in one word – Torretta. Torretta was great. They have such big-play ability." The Canes rose to No. 1 in the polls when they hosted TCU on October 17 and Torretta threw for 350 yards and three touchdowns, becoming UM's all-time leader in passing yards and total offense. He capped the regular season by throwing for 310 yards in Miami's win over San Diego State and won the Heisman on December 12, 1992, with 1,400 total points, 320 ahead of Aztecs running back Marshall Faulk.
Torretta posted a 26-2 record as Miami's starting quarterback, including four starts during the Canes' 1989 national championship season. He finished his UM career with 11 school records, including career passing attempts (991), completions (555), passing yards (7,690), total offense (7,772), single-game passing yards (485) and longest touchdown pass (99 yards, tied for the NCAA record). He still ranks in UM's top five in career passing yards, attempts and completions. Torretta was inducted into the University of Miami Sports Hall of Fame & Museum in 2003, the Ring of Honor in 2008, and the College Football Hall of Fame in 2009.
"Gino Torretta was a great quarterback in a lot of different ways," said Dennis Erickson, who was Torretta's head coach and won two National Championships at Miami. "He was smart. He knew the offense in and out. He was a great competitor, a leader, and most importantly a winner."
Two Miami football student-athletes – wide receiver Michael Redding III and defensive end Chantz Williams – currently wear No. 13 and will have a commemorative patch on their jerseys honoring Torretta. Miami's other retired football jerseys are No. 10 (George Mira), No. 14 (Vinny Testaverde), No. 42 (Jim Dooley) and No. 89 (Ted Hendricks).
The Hurricanes return to action on Saturday at NC State. Kickoff is 8 p.m. on ACC Network.