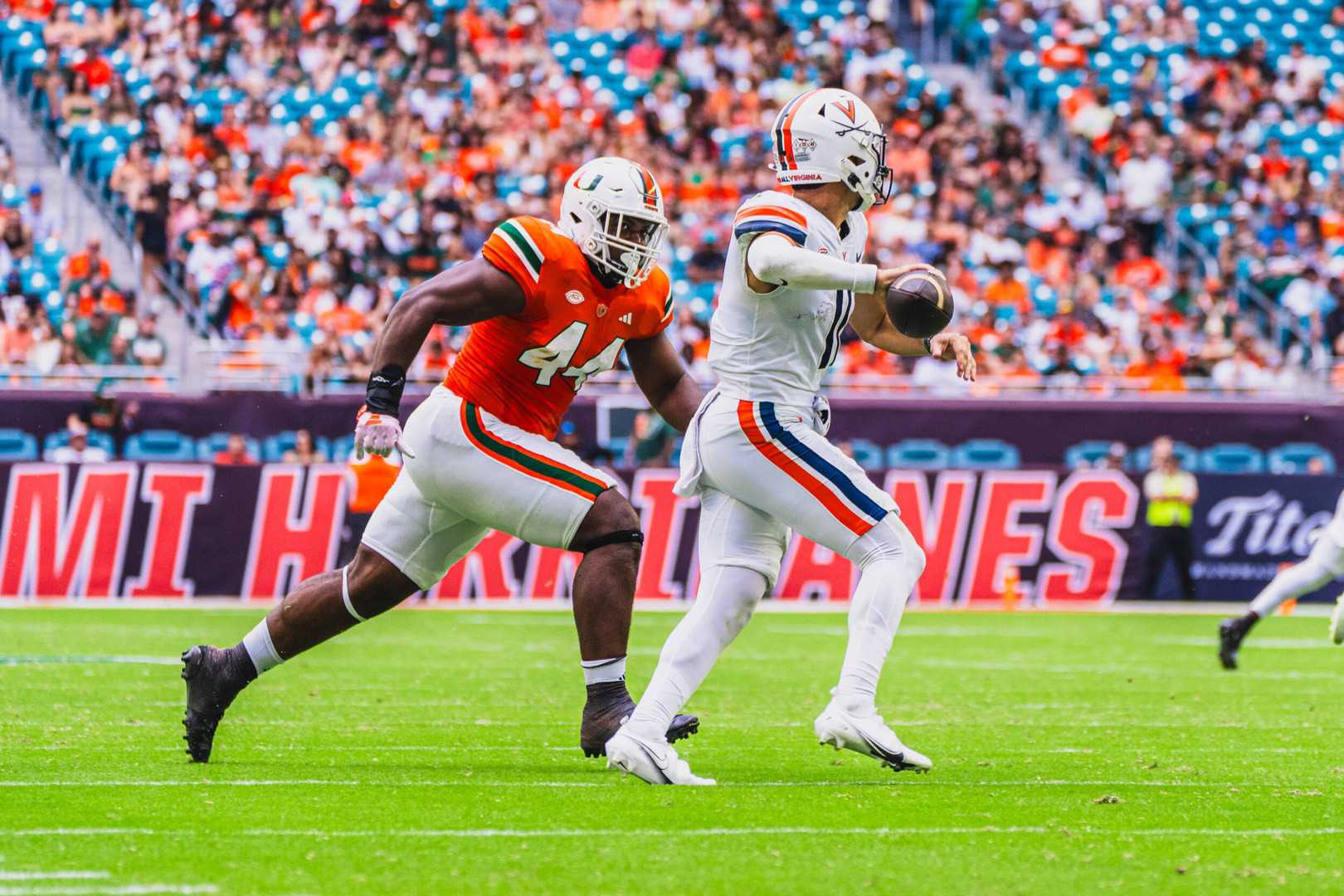 CORAL GABLES, Fla. – Reggie Bain can still remember how, as a standout high school football player at powerhouse Miami Central, he'd often bring his younger brother to practice with him.
While the Rockets ran drills, little Rueben Bain, Jr. took in the scene around him, studying how his brother and his teammates practiced. When they ran drills, he'd often sprint alongside.
When Reggie Bain eventually graduated and suited up to play offensive line at Florida Atlantic, his younger brother was there, too, a regular presence always happy to help his big brother, carrying his helmet or duffel bag off the field for him.
"I still see him as that little dude," Reggie Bain chuckled. "That's my image of him."
It's an understandable sentiment, given the brothers' nine-year age difference and the fact they are so close.
But these days, Reggie Bain – now a graduate assistant for the Hurricanes – might be the only one who'd use the word "little" to describe Rueben Bain, Jr.
Eight games into his college career, the 6-foot-3, 275-pound freshman defensive end has emerged as an absolute force for the Hurricanes (6-2, 2-2 ACC), who Saturday night travel to NC State to face the Wolfpack (5-3, 2-2) in a key conference matchup.
Bain earned back-to-back ACC Defensive Lineman of the Week honors after the Hurricanes' overtime wins over both Clemson and Virginia. He's been recognized as a midseason True Freshman All-American by 247 Sports and earlier this week, was named a semifinalist for the Shaun Alexander Freshman of the Year Award.
His team-high 6.5 sacks rank among the top-15 players in the nation and according to Pro Football Focus, Bain has been credited with more quarterback pressures than most of the players considered to be the top defensive line prospects in college football ahead of the 2024 NFL Draft.
"He's a game-wrecker. That's what he is," Hurricanes head coach Mario Cristobal said of Bain after the freshman logged a team-high eight tackles, two sacks, a forced fumble and two quarterback hurries in Miami's 28-20 double overtime win over Clemson on Oct. 21. "It's not only that he's gifted, he just plays the game at a relentless level, like really uncommon and tonight, it showed against some veteran players. He was as disruptive as it got."
Said veteran Miami offensive lineman Javion Cohen of Bain, "Man, a lot of props to Coach Cristobal for getting him in here. That was a big pickup for this program. Players like Rueben Bain come in here as quote-unquote 'freshmen,' but that's just their class title. They're like three-year players. They prepare like a pro. They approach practice like a pro, and they just give all-out effort, you know? … He's somebody you want on your sideline. I heard the NC State coach [Dave Doeren] say he wished he wasn't on our sideline this Saturday, but it's true. That's somebody you want on your side, and I think he's going to be a popular name for years to come."
For his part, the soft-spoken Bain has taken all the attention that's come with his stellar play in stride.
Teammates like Cohen and veteran defensive lineman Branson Deen praise the freshman's relentless work ethic, one that is often on display when he stays after practices on Greentree to get in a few extra reps with his teammates and older brother. Coaches say Bain is starting to find his voice as one of the leaders in Miami's locker room.
And in the community, the former four-star prospect who won four state titles at Miami Central – the high school alma mater he and his brother share – is beloved by both Rockets and Hurricanes fans, many of whom make it a point to say hello when they see Bain out and about.
Those interactions, the freshman said, have helped make an already-memorable season that much more special.
"I'd definitely just say the love from the community, really, has been a highlight," Bain said. "Walking out of the gates at the games and signing hats, taking pictures, just enjoying the fans really. Having the chance to cheer with them, talk to them, get love from them, and show love to them – I feel like it's a two-way street. They show love and respect to me, I do the same for them."
For Bain, being a Hurricane – and helping Miami return to college football glory – is extremely personal.
He grew up in South Florida, cheering the program where his cousin, former Miami cornerback Tolbert Bain, won a national championship. He dreamed of the opportunity to one day wear orange and green himself.
That dream became a reality earlier this year when, as an early enrollee, he walked onto the Greentree Practice Fields for the first time as a Hurricane.
It was a moment he still hasn't forgotten, a moment that reminded him of all he wanted to achieve, both for the Hurricanes and himself.
"It was surreal. They had recruits all out there. I was going through drills, and I looked up and I could see my mom in the distance. I was on the field with my brother, with [defensive ends line coach Jason] Taylor and it was like, 'Wow, I'm definitely in college,'" Bain said. "And then when I saw scouts come out here, walking past them and seeing people from all 32 [NFL] teams, I was like, 'This is my dream coming true.' After this, it's that."
There is, of course, plenty for Bain to accomplish before he takes that next step.
He has his freshman year to finish and he's intent on building on the success he's already achieved this season, success that includes those 6.5 sacks, 7.5 tackles-for-loss, 26 total tackles, three quarterback hurries and two forced fumbles.
And after growing up in Miami and learning all about the Hurricanes' past, he's determined to do his part in helping the program continue to get better.
"I always want more for myself and recognizing what I can do better than the previous season, improving on it just like I've been doing every year really, that's the goal," Bain said. "Nothing's going to change. The process is going to be the process and if I just continue to be who I am, I'll be all right."
"I've been here since I was a kid, around the program. I've seen the ups and the downs and the potential of what the program can be," Bain said. "Just having family in the program, seeing what they've done, it shows me all the potential I have, the things I can do to help this program become what it was back in the day."
His teammates and coaches all have faith he'll do exactly that.
"One of the smartest freshmen I've ever been around. A really hard-working guy, really knowledgeable for his age," said Deen, a sixth-year redshirt senior. "I think the part that he's really getting better at is being a leader for the people around him. He has a huge voice and he's not scared to step up and say anything. Because of his training and what he brings to the table, you have no choice but to respect him. I think he's learning that now. I think by him doing that, he's becoming the best player he can be. We're getting a peek at it right now in his freshman year.
"Good luck dealing with him the next two, three years."