Hurricanes Unveil 2024 Baseball Schedule
CORAL GABLES, Fla. — University of Miami head coach J.D. Arteaga released the Hurricanes' 2024 baseball schedule Wednesday.
"Being in the ACC, we play one of the toughest schedules in the country every year," Arteaga said. "Our players and staff have been working tirelessly throughout the fall to develop into one of the top programs nationally. We are looking forward to being back on the field in front of the best fans in college baseball."
The Hurricanes' 55-game regular-season slate includes 36 home contests at Alex Rodriguez Park at Mark Light Field and features a mix of old-school rivals and fresh faces.
Miami opens its inaugural campaign under Arteaga's direction with 16 straight home matchups, beginning play on Feb. 16, with the opener of a four-game set against NJIT (Feb. 16-18). The Hurricanes host in-state foe UCF for a midweek meeting on Feb. 21, and welcome Long Island (Feb. 23-25) and FGCU (Feb. 28) to Coral Gables to close out the month of February.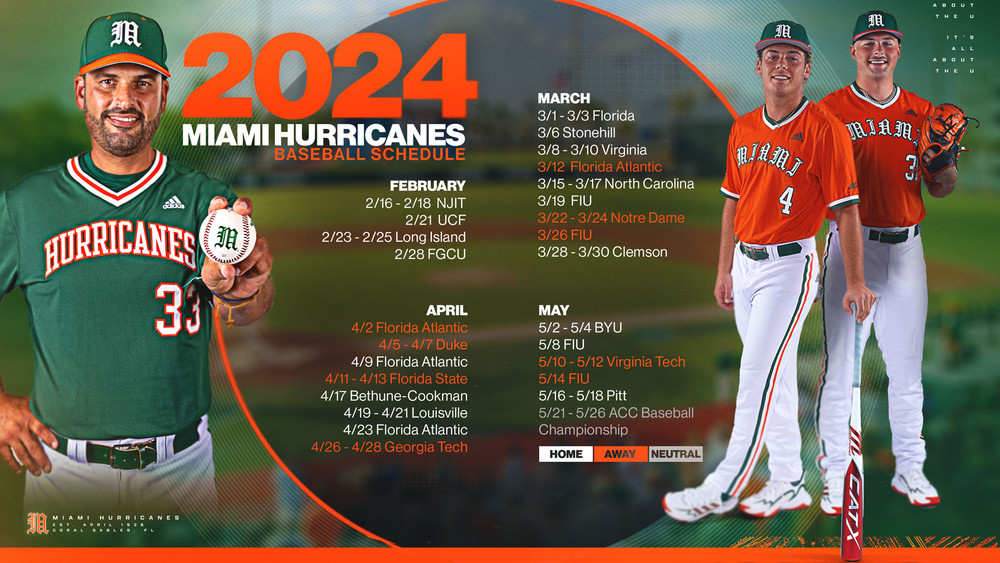 The Canes clash with rival Florida (Mar. 1-3) before facing off versus Stonehill (Mar. 6) for the first time in program history.
Miami wraps up its season-long 16-game homestand with a trio of contests against Virginia (Mar. 8-10) to begin ACC action.
The Hurricanes' other home conference series include North Carolina (Mar. 15-17), reigning ACC champion Clemson (Mar. 28-30), Louisville (Apr. 19-21) and Pitt (May 16-18).
Arteaga's team travels to face Notre Dame (Mar. 22-24), Duke (Apr. 5-7), Florida State (Apr. 11-13), Georgia Tech (Apr. 26-28) and Virginia Tech (May 10-12).
To view the Hurricanes' 2024 schedule, click HERE. All dates and times are subject to change.
To keep up with the University of Miami baseball team on social media, follow @CanesBaseball on X, Instagram and Facebook.