Three Hurricanes Among ACC FB Honorees
CORAL GABLES, Fla. – Three Hurricanes were recognized by the Atlantic Coast Conference following standout performances in Miami's 29-26 overtime victory over Virginia on Oct. 28.
Rueben Bain, Jr. (ACC Defensive Lineman of the Week), Andres Borregales (ACC Specialist of the Week) and Kamren Kinchens (ACC Defensive Back of the Week) were among the weekly conference honorees as announced Oct. 30.
Bain was recognized for the second consecutive week following a dominant performance. Bain finished with seven total tackles, 2.5 tackles for loss and a pair of sacks in Miami's second straight overtime win. Bain, who was also credited with a pass breakup, was named ACC Defensive Lineman of the Week and ACC Rookie of the Week on Oct. 23.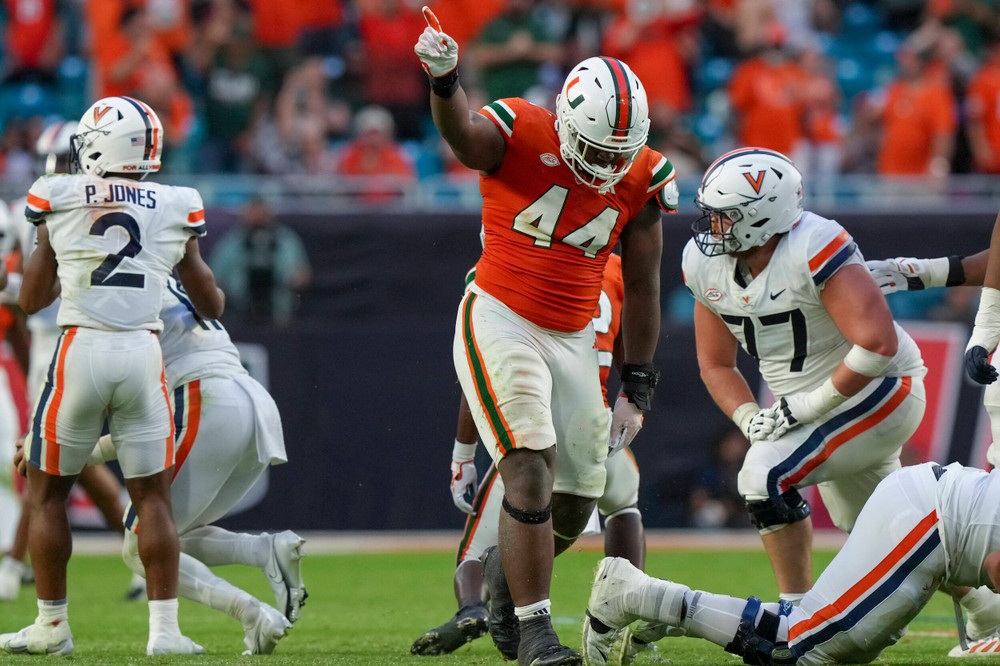 Borregales delivered a dominant outing to help propel Miami to victory. The junior kicker finished 3-for-3 on field goal attempts, all of which came from longer than 45 yards. Borregales connected from 47, 50 and 48 – the latter two in the fourth quarter – to earn ACC Specialist of the Week recognition. He also went 6-for-6 on touchback attempts.
Kinchens was impressive once again Saturday, finishing with nine tackles and his second career pick-six. The junior captain, who also had an interception returned for a touchdown in last year's NCAA All-America campaign, helped spark Miami's second-half comeback with another strong outing. Kinchens ranks second on Miami with 41 tackles despite missing two games.
Miami continues its season on Saturday, Nov. 4 against NC State. Kickoff is set for 8 p.m. on ACC Network.