''This Was One for the Books''
MIAMI GARDENS, Fla. – It was a touchdown – and a 2-point conversion – he likely won't forget.
But in the wake of Miami's thrilling 28-20 double overtime win over Clemson on Saturday at Hard Rock Stadium, Hurricanes running back Ajay Allen made it abundantly clear he didn't think it was his go-ahead score that made the difference on this incredible night.
It was linebacker Corey Flagg, Jr.'s tackle of Tigers' quarterback Cade Klubnik on the game's final play that gave the Hurricanes a win they – and their fans – will remember for a good, long while.
"That play was a big play. That's to win the game," Allen said. "Everybody talked about my touchdown, but Corey really won the game, if you want to know the truth. I mean, that's a big stop to walk it off."
A big stop indeed.
With Clemson facing a fourth-and-goal from the 1-yard line and in need of a touchdown to force a third overtime, Flagg – a fourth-year junior – got to Klubnik in the open field and brought him down for an 8-yard loss that set off a wild celebration on the Miami sideline and in the stands.
And Flagg, of course, relished every moment of it.
"We practice that play over and over again, different variations," said Flagg, who finished with five tackles, including two for loss, and a forced fumble. "But the Mike [linebacker] seems to always be in the same situation with the quarterback. I just went back to my fundamentals … There's no better moment that I've had in a while, and no better feeling than celebrating with the guys you worked with to get to that moment. We worked for that moment. To have that moment with them, it's a hell of a feeling. This was one for the books."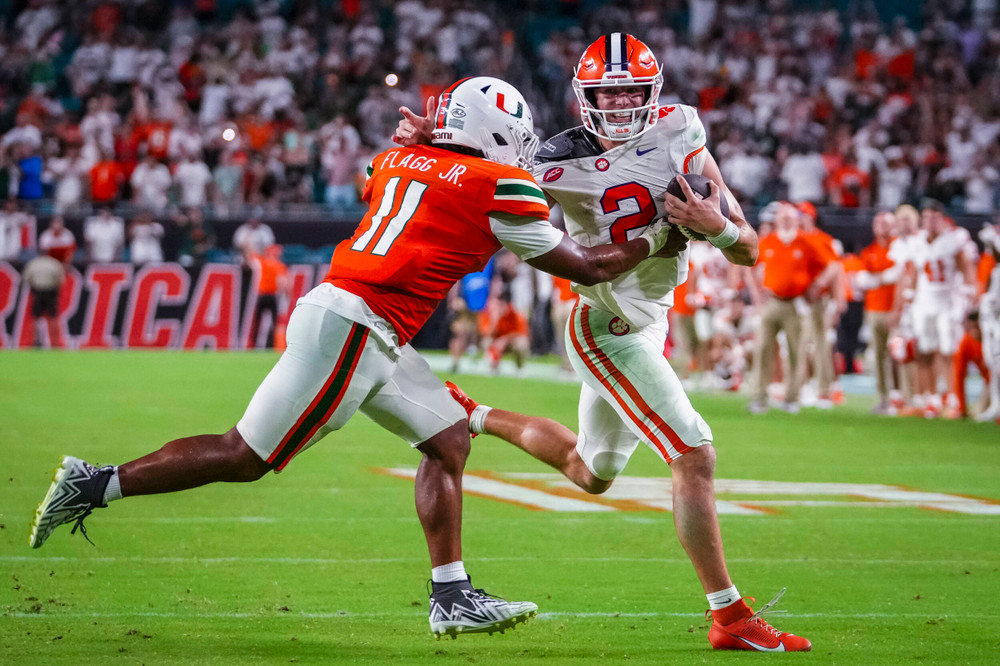 With Flagg's tackle, the Hurricanes notched their first win over Clemson since 2010 and snapped a tough four-game losing streak to the Tigers, a streak during which Clemson – winner of two national titles and six ACC titles since 2016 – seemingly scored at will.
That wasn't the case Saturday.
From the start, Miami's defense played with a sense of urgency, often making life difficult for Klubnik, who was sacked five times and picked off once.
The Hurricanes, who were plagued by turnovers in their losses against Georgia Tech and Clemson the last two weeks, also won the turnover battle.
Miami's offense protected the ball throughout the night, losing it just once, while the Hurricanes defense forced three turnovers.
That first takeaway led to points for Miami (5-2, 1-2) and seemed to set the tone for the game.
On Clemson's second possession, the Tigers drove down the field and looked poised to take the early lead after getting inside the Miami 2-yard line.
But on third-and-goal, Hurricanes safety James Williams forced – and recovered – a Will Shipley fumble that, one play later, led to Miami's first score of the night.
"I punched for the ball, and I punched for it. I knew he didn't have it in the end zone, but he was looking around," said Williams, who finished with seven tackles to go with his forced fumble and fumble recovery. "The ball [was] right there in front of me. I [didn't] see it until the ref looked at me like 'the ball isn't dead' and I picked it up."
Flagg and Williams weren't the only Miami defenders to have big performances against the Tigers (4-3, 2-3).
All-American safety Kam Kinchens had an interception and was one of three Hurricanes, along with linebackers Francisco Mauigoa and K.J. Cloyd, to total six tackles.
Meanwhile, defensive lineman Rueben Bain, Jr. – who this week was named a mid-season True Freshman All-American by 247Sports – was a force from start to finish.
The former four-star prospect out of Miami Central High School had a team-high eight tackles, two sacks, a forced fumble and two quarterback hurries.
On the season, Bain now has 19 tackles, including five tackles for loss, 4.5 sacks, and two forced fumbles. And after the game, he spoke about what it meant to put forth that kind of performance for his hometown program.
"It feels great. Right now, I feel like I'm on top of the world," Bain said. "First thing I did … was run to my parents. I feel like I can only do that at home. People telling me all over on Facebook, Instagram, Twitter, any type of social media [is] going crazy right now. I feel like that's because I stayed home, and I hope guys coming up [are] seeing that. I feel like they can do the same thing."
Said Hurricanes quarterback Mario Cristobal of Bain, "He's a game-wrecker. That's what he is. … It's not only that he's gifted, he just plays the game at a relentless level, like really uncommon and tonight, it showed against some veteran players. He was as disruptive as it got."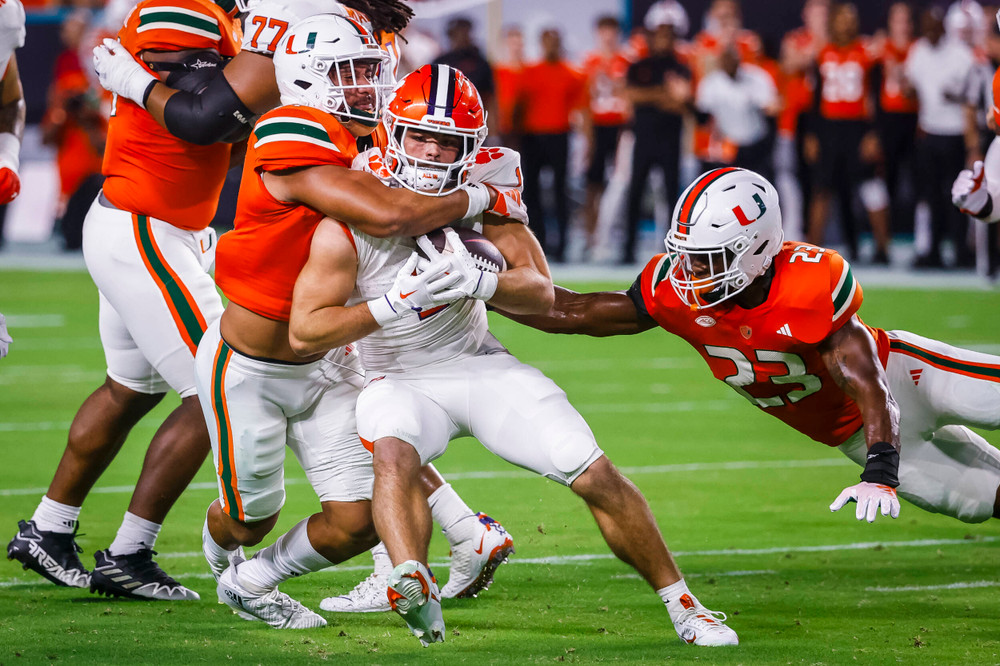 As significant as Miami's defensive effort was on Saturday, though, the Hurricanes know there is still much work to be done, even after holding Clemson to just 31 rushing yards.
Five conference games still remain on the schedule, starting with next Saturday's matchup against Virginia, which will come to Hard Rock Stadium riding high after its upset win of 10th-ranked North Carolina.
There are still plays to be made, games to be won and Miami's defense reiterated that it is focused on continuing to improve throughout the latter part of the season.
"It's a great team win. I believe tonight is a perfect example of not necessarily making plays, but people doing their jobs," Cloyd said. "That's all you could ask for … It just goes back to our practices. We practice really hard. We make sure we get after each other on both sides of the ball. There's no room for any pity … We just go to work. No matter what happens, we go to work. Offense scores, we go to work. Offense doesn't score, we go to work. Defense gives up a touchdown, offense has to go to work. Let's just go play football."
Said Flagg, "I feel like detail-wise, on our end, we could have played a little bit better in every situation with every player. Those are the things we need to emphasize and go over. If we stay on those this week and continue to do what we did this past week, I'm okay with the turnout next week."