Hurricanes Earn Draw at No. 5 Alabama
TUSCALOOSA, Ala. — The Miami Hurricanes soccer team went wire-to-wire with No. 5 Alabama, playing to a 0-0 draw Thursday evening at the Alabama Soccer Stadium.
The Crimson Tide (4-0-1), who entered the match riding an NCAA-leading 22-game home winning streak, were held scoreless in Tuscaloosa for the first time since Sept. 2, 2021.
"It's the highest quality that we've shown this season," Miami head coach Sarah Barnes said. "I was really impressed with the organization and preparedness. As the game went on, we got stronger at securing possession and advancing into their half. We saw some good pictures of what we're capable of against a very good team. I'm really proud of our team."
Fifth-year goalkeeper Melissa Dagenais led Miami (1-1-3) to its third clean sheets in its first five contests of the year.
Dagenais finished with a season-high seven saves, bumping her career mark to 210 saves to move into seventh in program history.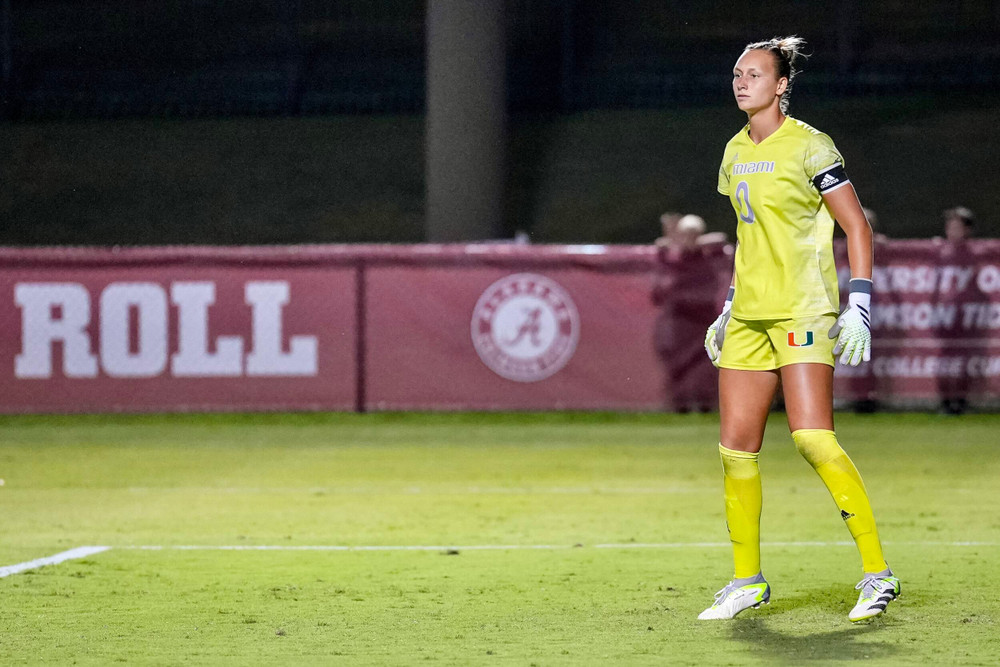 "It was a gritty, gritty game," Dagenais said. It's a confidence booster. It shows what we're capable of. For us, it's a game to remember and set as a standard moving forward."
Following a quiet first half, the Hurricanes and Crimson Tide nearly broke the scoreless tie over the final 35 minutes.
In the 66th minute, the Tide came inches away from scoring, but the Hurricanes' netminder and backline laid their bodies on the line to keep the Tide off the board.
Off a free kick, Alabama freshman midfielder Nadai Ramadan streaked free and ripped a left-footed shot from just outside the six-yard box.
Dagenais leaped in the air to deny the initial attempt, but the Crimson Tide followed up on the rebound. The Canadian keeper sprawled to her left to make a kick save, eliminating the threat.
The impressive defensive stand helped the Hurricanes flip the tide.
Miami registered all five of its shots across the final 20 minutes, with sophomore forward Tusca Mahmoudpour tallying three attempts.
"We knew this was going to be a hard game and we gave it our all," Mahmoudpour said. We showed our potential and how we can play. Towards the end, we stayed composed. We started connecting in their half and we got in their box more. That's how we play and that's how we should always play."
After snapping Alabama's streak, Miami heads to Mississippi State to face the Bulldogs. Kickoff is set for 1 p.m. ET at the MSU Soccer Field.
To keep up with the University of Miami soccer team on social media, follow @CanesFutbol on Twitter, Instagram and Facebook.