Sullivan Elevated to Assistant Coach
CORAL GABLES, Fla. — University of Miami head soccer coach Sarah Barnes announced the elevation of Kayley Sullivan to assistant coach for the upcoming 2023 season.
Sullivan joined the Hurricanes prior to the 2022 campaign, serving as the director of soccer operations.
In her previous role, she helped with a variety of duties, including coordinating video, soccer analytics, travel plans and pregame meals.
Sullivan came to Coral Gables after working two years as the head coach of Albion Soccer Club in Las Vegas, following the 2020-21 season at UNLV.
Prior to her stint with the Rebels, Sullivan spent two years as a volunteer assistant coach for the Stanford Cardinal, which won the 2019 Women's College Cup. During her time in Palo Alto, Calif., the Cardinal went 45-2-21 overall and undefeated in league play en route to back-to-back Pac-12 Championships and two straight College Cup appearances in 2018 and 2019.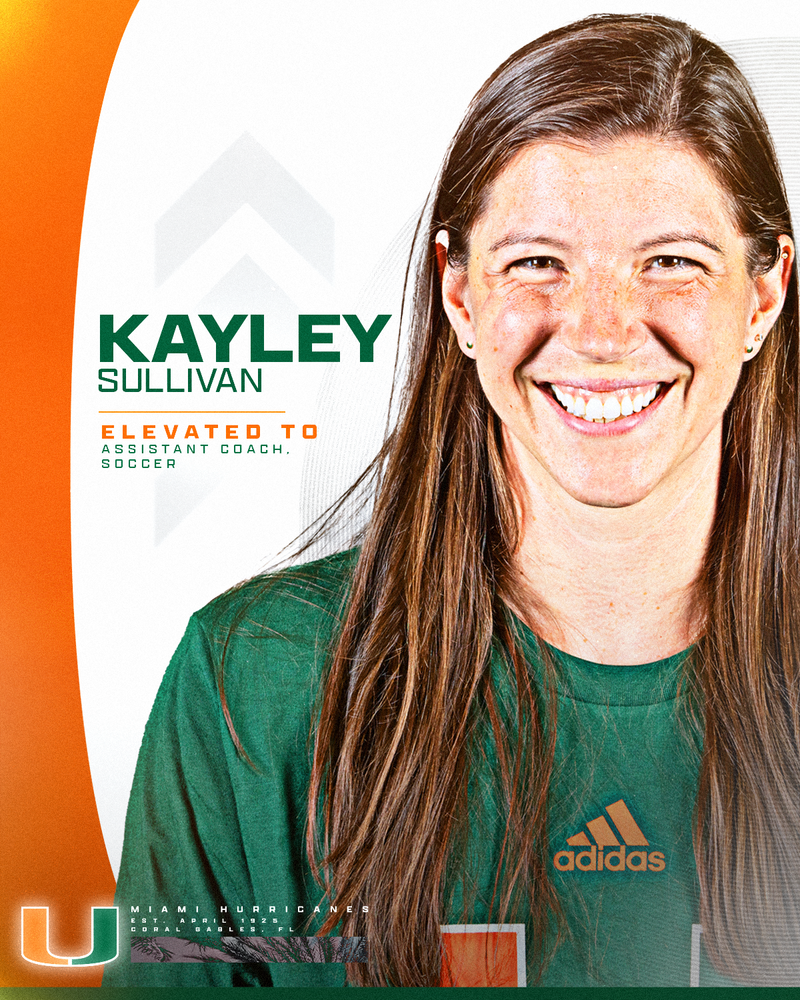 She helped tutor seven All-Americans and a two-time Hermann Trophy award winner in Catarina Marcario. While in Palo Alto, Sullivan also served as the Director of Community Programs for the Mountain View Los Altos club – one of the top clubs in the country.
Before her tenure at Stanford, Sullivan coached for the Washington Spirit Development Academy in Virginia, also having worked 10 years coaching U4-U8 players in McLean, Va.
A native of Lorton, Va., Sullivan played four seasons at George Washington from 2009-12, including her senior campaign under Barnes' tutelage. Sullivan graduated with a degree in psychology and a minor in mind-brain studies after serving as captain during her senior season.
Outside of soccer, Sullivan has spent time researching with the American Psychological Association on social-emotional development as well as teaching for the Knowledge is Power Program (KIPP) in Washington, D.C.
To keep up with the University of Miami soccer team on social media, follow @CanesFutbol on Twitter, Instagram and Facebook.