University of Miami Athletics
Kayley Sullivan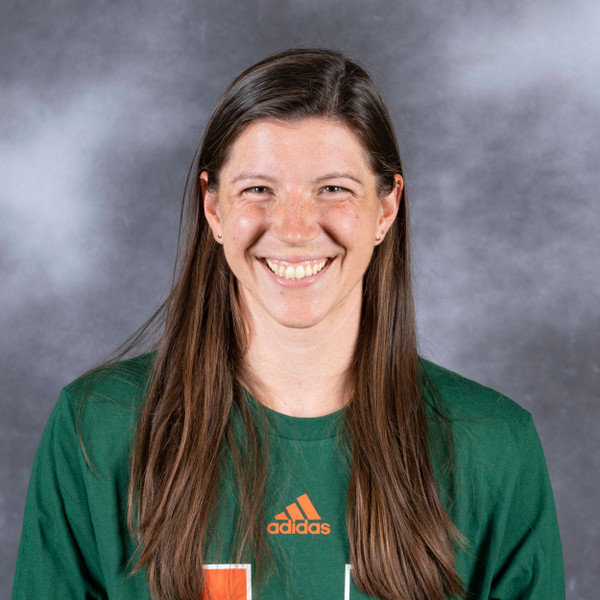 Kayley Sullivan is in her first season as director of soccer operations at the University of Miami in 2022-23.
Sullivan brings a wealth of knowledge and experience to Coral Gables. She worked the last two years as the head coach of Albion Soccer Club in Las Vegas, following the 2020-21 season at UNLV.
"I am very grateful for the opportunity to join the staff here at The U under the leadership of Coach Sarah Barnes," Sullivan said upon her hiring. "The staff and the student-athletes have been incredibly welcoming, driven and focused. I am eager to bring my full energy, effort and enthusiasm to help support the team!"
Prior to her stint with the Rebels, Sullivan spent two years as a volunteer assistant coach for the Stanford Cardinal, which won the 2019 Women's College Cup. During her time in Palo Alto, Calif., the Cardinal went 45-2-21 overall and undefeated in league play en route to back-to-back Pac-12 Championships and two straight College Cup appearances in 2018 and 2019.
She helped tutor seven All-Americans and a two-time Hermann Trophy award winner in Catarina Marcario. While in Palo Alto, Sullivan also served as the Director of Community Programs for the Mountain View Los Altos club – one of the top clubs in the country.
"We're very excited for Kayley to join our staff," Barnes said upon Sullivan's appointment as director of operations. "I had the privilege of coaching her in college and she brings incredible energy and passion for the game. Through her experiences in teaching and coaching at the youth and collegiate levels, Kayley has a tremendous understanding for how to lead and mentor young people. Her time at Stanford exposed her to championship caliber soccer and we are fortunate to have her in our program."
Before her tenure at Stanford, Sullivan coached for the Washington Spirit Development Academy in Virginia, also having worked 10 years coaching U4-U8 players in McLean, Va.
A native of Lorton, Va., Sullivan played four seasons at George Washington from 2009-12, including her senior campaign under Barnes' tutelage. Sullivan graduated with a degree in psychology and a minor in mind-brain studies after serving as captain during her senior season.
Outside of soccer, Sullivan has spent time researching with the American Psychological Association on social-emotional development as well as teaching for the Knowledge is Power Program (KIPP) in Washington, D.C.