Kinchens Selected to Nagurski Trophy Watch List
CORAL GABLES, Fla. – Junior safety Kamren Kinchens was named to the preseason watch list for the 2023 Bronko Nagurski Trophy honoring college football's top defensive player, the Football Writers Association of America (FWAA) announced Tuesday.
Kinchens, a first-team All-American a season ago as a sophomore with the Hurricanes, joined offensive lineman Javion Cohen (Outland Trophy) as a preseason candidate for a major award.
The Miami native enjoyed a breakout 2022, where he was selected to the All-ACC First Team and earned All-America honors from multiple outlets. Kinchens led the Hurricanes with 59 total tackles, starting all 12 games and finishing with a team-high six interceptions.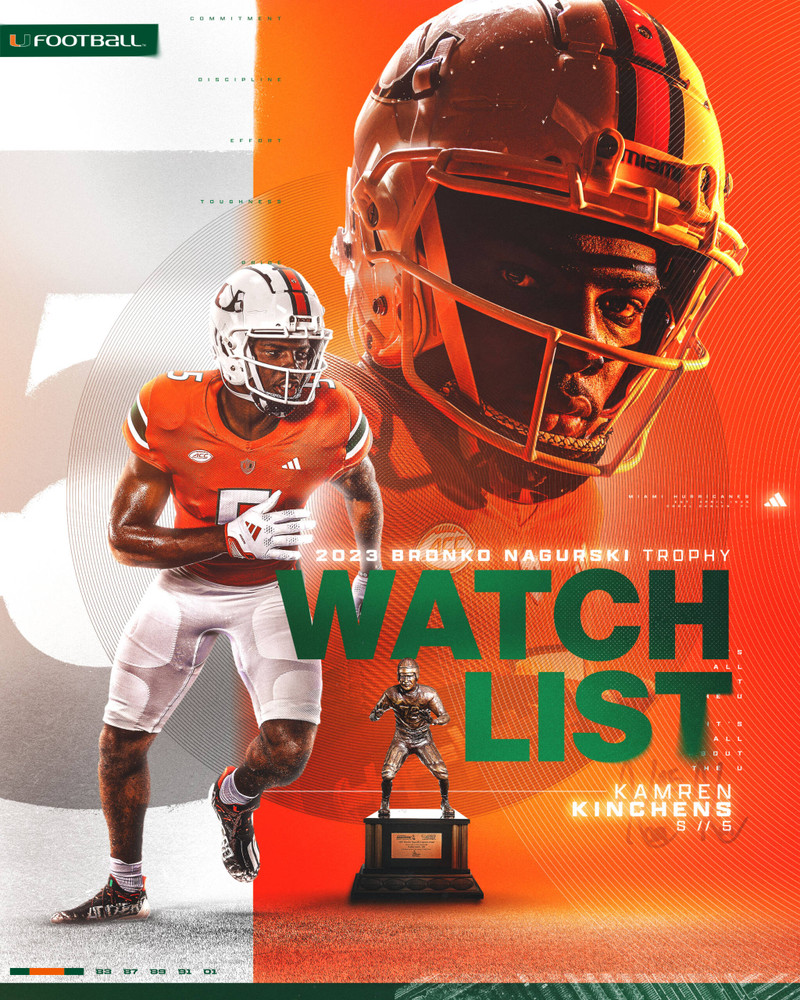 The FWAA and the Charlotte Touchdown Club will announce finalists for the 2023 trophy on Nov. 15 and the winner will be unveiled Dec. 4 at the Bronko Nagurski Awards Banquet in Charlotte, N.C.  The FWAA has chosen a National Defensive Player of the Year since 1993.  In 1995, the FWAA named the award in honor of the legendary two-way player from the University of Minnesota. Na
Players may be added or removed from the watch list during the course of the season. As in previous years, the FWAA will announce a National Defensive Player of the Week each Tuesday this season. If not already on the watch list, each week's honored player will be added at that time.