Looking Forward to Making a Difference
CORAL GABLES, Fla. – Matthew Cleveland concedes it felt a bit strange to pull on the jersey.
After spending two years in Tallahassee, playing in garnet and gold at Florida State, suddenly seeing himself in Miami's orange and green was more than a bit jarring.
"It was very weird, especially on my visit, when I put on the jersey," Cleveland said with a laugh. "Extremely weird…But I feel like I'm accustomed to it now. It's been good being here so far."
That's something the Hurricanes, no doubt, are happy to hear.
Cleveland, now weeks removed from his transfer to Miami, is deep in the process of getting to know his new teammates and coaches during summer workouts. He's working on learning the Hurricanes' system, going through their off-season conditioning program and adjusting to his new life in South Florida.
While he still gets some good-natured teasing from those new teammates and coaches – and maybe even a few comments about that one particular buzzer-beating shot back in February that wound up giving Miami its only home loss of the season – the 6-foot-7 junior guard says he's found a home in Coral Gables.
And after watching the Hurricanes magical run through March earlier this year, he's ready to do his part to help continue elevating the program and helping it reach new heights.
"The success they've had is just a testament to the coaching staff and the players and just how it's really a family environment…When you're coming from one program to another, the transition is always hard," Cleveland said. "But when you have someone that's as genuine as [Miami head coach Jim Larrañaga], it kind of makes everything easier because he instills a lot of confidence in you."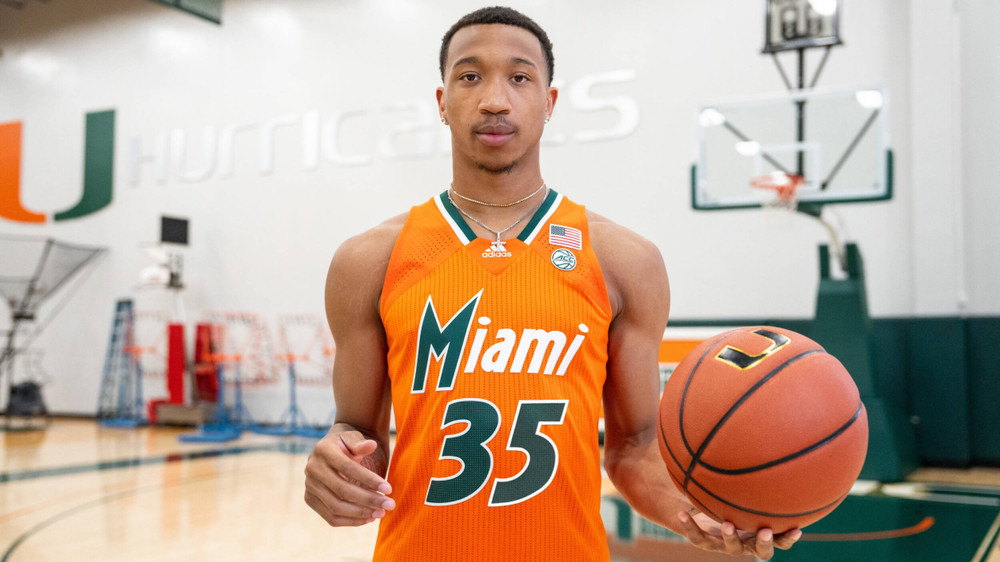 Cleveland brings with him to Coral Gables a pretty impressive resume.
He claimed the ACC's Sixth Man of the Year award after averaging 11.4 points, 4.6 rebounds and 26 minutes per game as a freshman during the 2021-22 season.
And last season, he was a Top 10 candidate for the Julius Erving Award, presented annually to the best small forward in the nation, after finishing as Florida State's leading scorer with an average of 13.8 points and 7.4 rebounds per game.
The improvement in his numbers came, he says, after a summer working to revamp his shot and become a stronger, all-around player.
"I've seen my game grow in pretty much all aspects. Coming into college, I was like 185 [pounds]. Now I'm around 200 to 205. I'm able to put the ball on the floor better, creating for my teammates and myself. And shooting-wise is where I've seen the biggest growth," Cleveland said. "Just the work I put in…on [my shot] and repetition on changing it and seeing the work that has shown from it has been really good."
He's now bringing those skills and that work ethic to Miami, where Larrañaga says Cleveland can have the same kind of impact that former Hurricane standout Jordan Miller had during his Miami career.
"Matthew Cleveland is the perfect replacement for Jordan Miller. He has so many of the same tangible and intangible qualities," Larrañaga said. "Number one, he's a very versatile player. Number two, he can really score the ball and he scores in a very efficient manner. He can shoot the 3, he's a terrific straight-line driver, he's an excellent rebounder at both ends of the court and he's kind of a very unassuming personality…He's basically just fundamental and that's what made Jordan so good. He didn't need the ball a lot and then yet scored a lot. He just scored so efficiently, and I think Matthew Cleveland has a lot of those same characteristics in his game."
Added Hurricanes assistant coach Kotie Kimble, "Matt is going to be a very good player for us. I think, for one, he's experienced. Just having a guy that has two years of experience in the ACC – 13, 14 points a game, 7.5 rebounds – he's just proven. He's proven he can do it at this level. We're obviously losing a really experienced guy in Jordan Miller. Having a guy that can step in and that's done it before is going to be huge for us."
Those comparisons, Cleveland says, are fitting.
He sees plenty of similarities between his game and Miller's and watching Miller – along with fellow transfers Nijel Pack and Norchad Omier, among others – thrive at Miami was inspiring.
"Just seeing the success they've had with transfers, particularly Jordan Miller, was big," Cleveland said. "He's my size, my build and how he developed from his first year here to his second year…"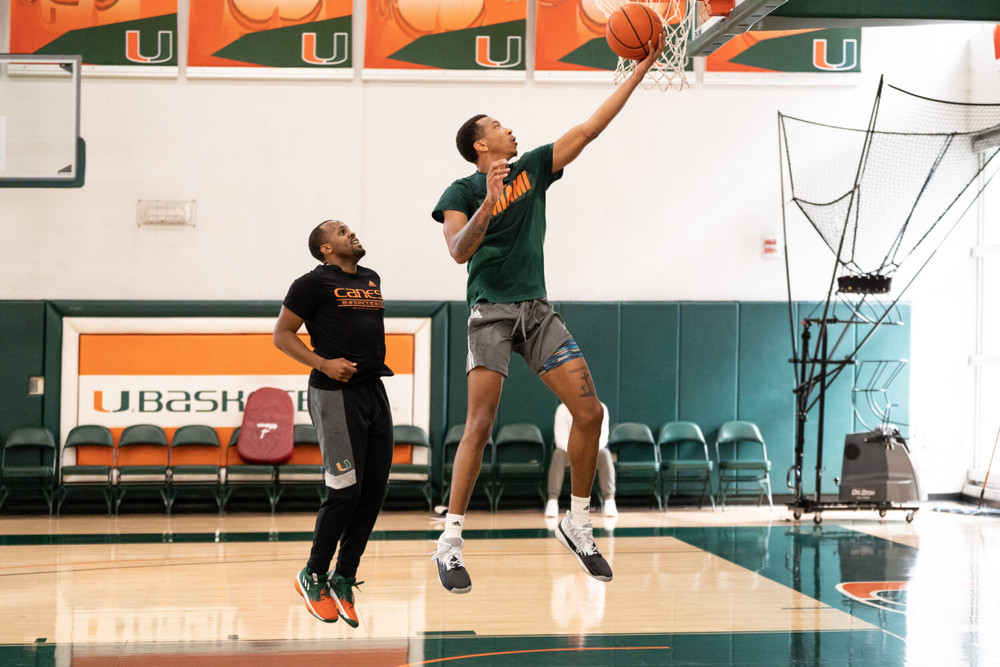 As much of an impact as impact as Cleveland hopes to have on the court, he arrives at Miami looking to continue his success in some other places, too, namely the classroom and in the community.
The Atlanta native had a 4.0 GPA at Florida State while studying criminology and says he hopes that one day, when his basketball career is over, he'd like to work in either law enforcement or as a mental health counselor.
His dedication to his academics, he says, stems from conversations he had with his parents as a middle schooler about the need to do better in school.
A self-described perfectionist, Cleveland set out to improve his grades.
That drive hasn't left since.
"When I was in eighth grade, I think I had all Cs in my classes and my parents just weren't having it. They made me go to each one of my teachers and ask 'How can I bring this up? Can I see all my assignments?' That's when it clicked that there's more to life than just sports and having fun," Cleveland recalled. "That's when it clicked. And I'm still a perfectionist in that way. I have to make sure anything I do is done to the best of my ability. If it's not, it's a big wonder to me. So, I just do it the best I can, no matter what it is."
His efforts have paid off on and off the court.
Now, as Cleveland begins his Miami journey, he does so with his focus set on one major goal: helping the Hurricanes win their first national championship.
The pieces for another deep NCAA Tournament run are there, he believes.
He wants to help push Miami forward.
"They went to the Elite Eight and the Final Four and there's good buzz from the last two years," Cleveland said. "But taking the next step is bringing a championship. The Final Fours and the Elite Eights last forever. But so do championships. They'll never be forgotten. That's something I'm hoping I can bring."