Cyr Tabbed Freshman All-American
CORAL GABLES, Fla. — The University of Miami's Blake Cyr was named a Freshman All-American, as announced Wednesday by Collegiate Baseball.
Cyr was among the 62 players recognized by Collegiate Baseball as the top freshmen in Division I for the 2023 season.
The 5-foot-11, 190-pound second baseman is one of just six ACC student-athletes represented, joining Kristian Campbell (Georgia Tech), ACC Freshman of the Year Cam Cannarella (Clemson), Andrew Healy (Duke), Garrett Michel (Virginia Tech) and James Tallon (Duke).
A Windermere, Fla., native, Cyr burst onto the college baseball scene in his debut season in the orange and green, earning ACC All-Freshman honors.
As of June 7, Cyr is one of five rookies in the nation with 17 home runs and 63 RBI.
Cyr ranked second on the team in homers, RBI, slugging percentage (.620) and OPS (1.056), trailing only junior standout Yohandy Morales.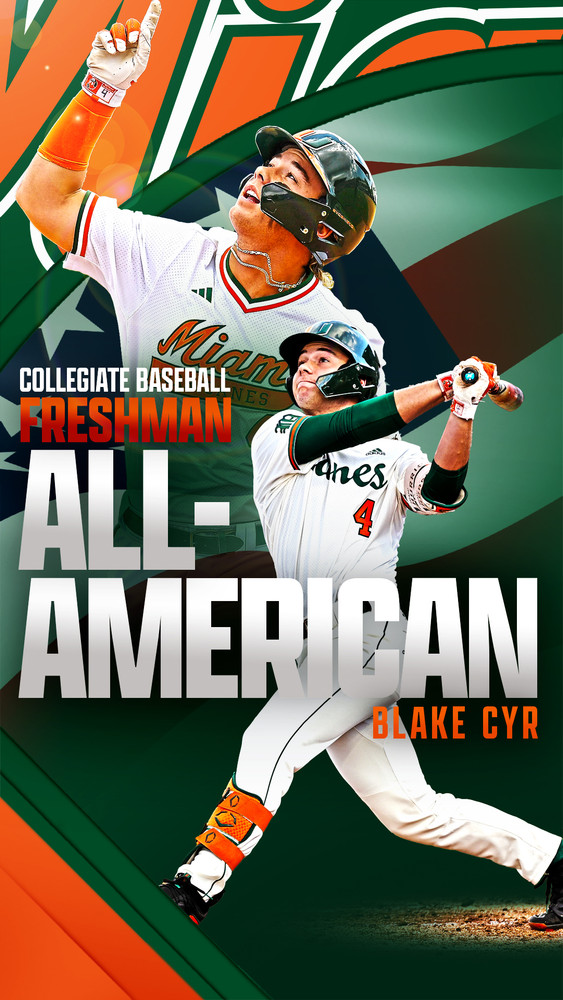 Meanwhile, Cyr finished third on the club in batting average (.305), runs scored (50), walks (37) and on-base percentage (.427).
Only three other Miami freshman have hit as many home runs as Cyr, with Ryan Braun (17) Phil Lane (17) and Pat Burrell (23) comprising the elite quartet.
In Miami's 14-6 win over then-No. 6 Florida on March 4, Cyr finished one RBI shy of the Hurricanes' freshman single-game record set by Randy Guerra (8) in 1976.
The complete Collegiate Baseball Freshman All-America list can be viewed HERE.
To keep up with the University of Miami baseball team on social media, follow @CanesBaseball on Twitter, Instagram and Facebook.