W. Tennis Drops NCAA Round of 32 Matches
ORLANDO, Fla. – The University of Miami women's tennis team's 2022-23 season officially came to an end Tuesday at the USTA National Campus.
The Hurricanes came up short in both of their matches on the second day of the NCAA Championships, falling in the Round of 32 in both singles and doubles.
Fifth-ranked and fifth-seeded Alexa Noel played a lengthy three-set match against No. 23 Carolyn Ansari, but ended up on the wrong end of a 6-2, 6-7 (6-8), 3-6 decision after two hours and 50 minutes of action.
Noel won nine of the first 12 games to build a 6-2, 3-1 edge, but then Ansari won four of the next five—including tallying her first two breaks—to go ahead, 5-4. Noel staved off three set to points to even the set, then rallied from a 30-0 deficit to go in front 6-5. In the ensuing game, she built 40-15 edge, but Ansari saved three match points for her lone break of the day.
In the tiebreaker, Noel dropped the first four points, but worked her way back to even the score at 6-6, including fending off a pair of set points, but she could not pull ahead. Ansari won the tiebreaker to level the match and then grabbed a 3-0 advantage in the decisive set.
Noel took the next game and then got within 3-5, but was unable to climb all the way back, as Ansari closed out the three-set decision, snapping Noel's 12-match winning streak.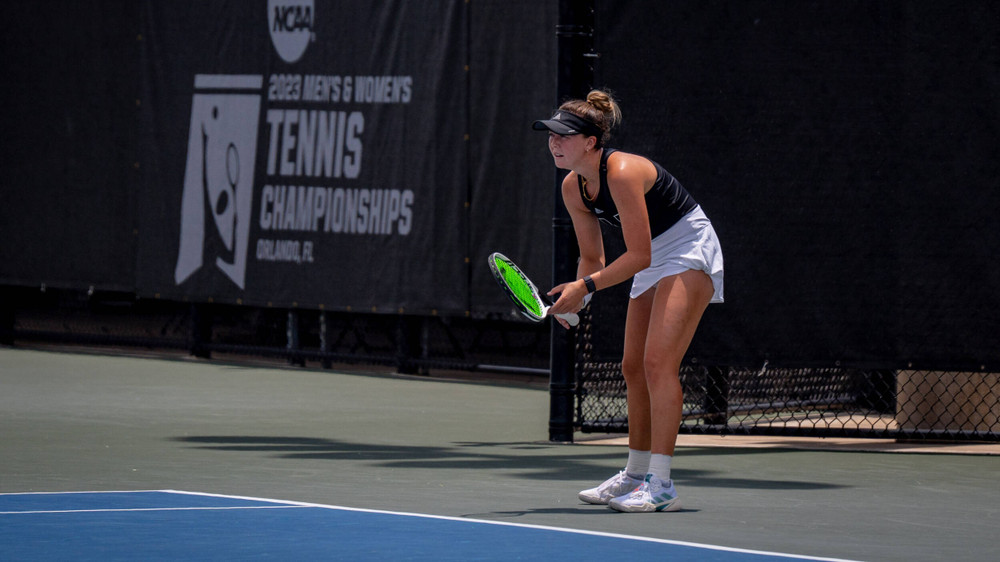 A redshirt sophomore from Summit, N.J., Noel went 34-8 in singles in her first year at Miami, including 24-4 in spring play, 12-1 in ACC action and 23-6 versus ranked foes.
"Proud of the season Alexa had," Miami head coach Paige Yaroshuk-Tews said. "Not the ending we were hoping for, but with time I'm hoping that will change."
Two minutes after Noel's match ended, play went into a lightning delay. That led to a near-five-hour delay of her doubles contest alongside junior Isabella Pfennig.
The pair, initially scheduled to play at 4 p.m., finally opened competition indoors at 8:50 p.m. against the nation's top-ranked and top-seeded dup, Savannah Broadus and Janice Tjen of Pepperdine. After just over an hour of play—and nearly 10 hours after Noel first took the court for her first match—the duo fell by a 1-6, 2-6 score.
After the Waves held to open the evening, Noel and Pfennig, together ranked No. 32, answered with a hold of their own to make it 1-1. However, Pepperdine won each of the next five games to claim the opening set.
Broadus and Tjen opened the second set with a break, but Noel and Pfennig broke back to again level the score at 1-1. They forced a deuce point in the third game, but Waves took it on the way to building a 4-1 edge. After another break by the Hurricanes closed them to within two, Pepperdine took the final two games to seal the 6-1, 6-2 decision.
"Bella and Alexa met an opponent tonight who was simply better," Yaroshuk-Tews said. "I'm proud of them for making the tournament."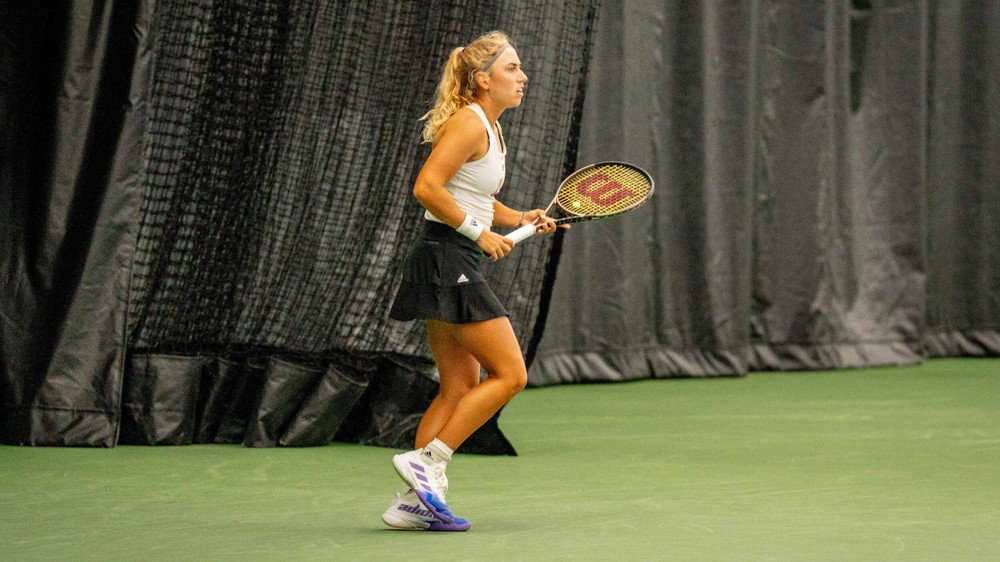 Both Noel and Pfenning are slated to return to Miami next season after helping the Hurricanes to a 16-8 (9-4 ACC) record and a soon-to-be top-20 finish.
For more information on the NCAA championships, including schedules, brackets and live stats, visit the tournament homepage HERE.
To keep up with the University of Miami women's tennis team on social media, follow @CanesWTennis on Twitter, Instagram and Facebook.
TUESDAY RESULTS
NCAA Singles Championship Second Round
No. 23 Carolyn Ansari (AU) def. No. 5 [5] Alexa Noel (UM), 6-2, 6-7 (6-8), 6-3
NCAA Doubles Championship First Round
No. 1 [1] Savannah Broadus/Janice Tjen (PEP) def. No. 32 Alexa Noel/Isabella Pfennig (UM), 6-1, 6-2