Morales Named Golden Spikes Semifinalist
CORAL GABLES, Fla. — University of Miami third baseman Yohandy Morales was among the 25 amateur baseball players selected as a semifinalist for the 2023 Golden Spikes Award, USA Baseball announced Monday.
The 45th Golden Spikes Award will be presented on June 25 at 2:30 p.m. on ESPN, leading into game two of the College World Series finals.
"As the amateur baseball season enters the home stretch, we are excited to honor this season's top players," said USA Baseball Executive Director/CEO Paul Seiler said. "The talent in amateur baseball is as exceptional as it has ever been, and the 25 players on this list are the best of the best. We look forward to watching the remainder of the season as we move closer to naming the winner of the prestigious Golden Spikes Award in June."
One of the nation's most prolific hitters, Morales paces No. 11 Miami in average (.395), hits (81), total bases (133), on-base percentage (.467), slugging (.649) and OPS (1.116).
A 2023 first-team All-ACC pick, Morales is third in the league in batting and tied for sixth in hits.
The junior continues to climb the Hurricanes' record books, as Morales is tied for sixth all-time in home runs (42) and has tallied 220 hits, the most by a Hurricane in nine years.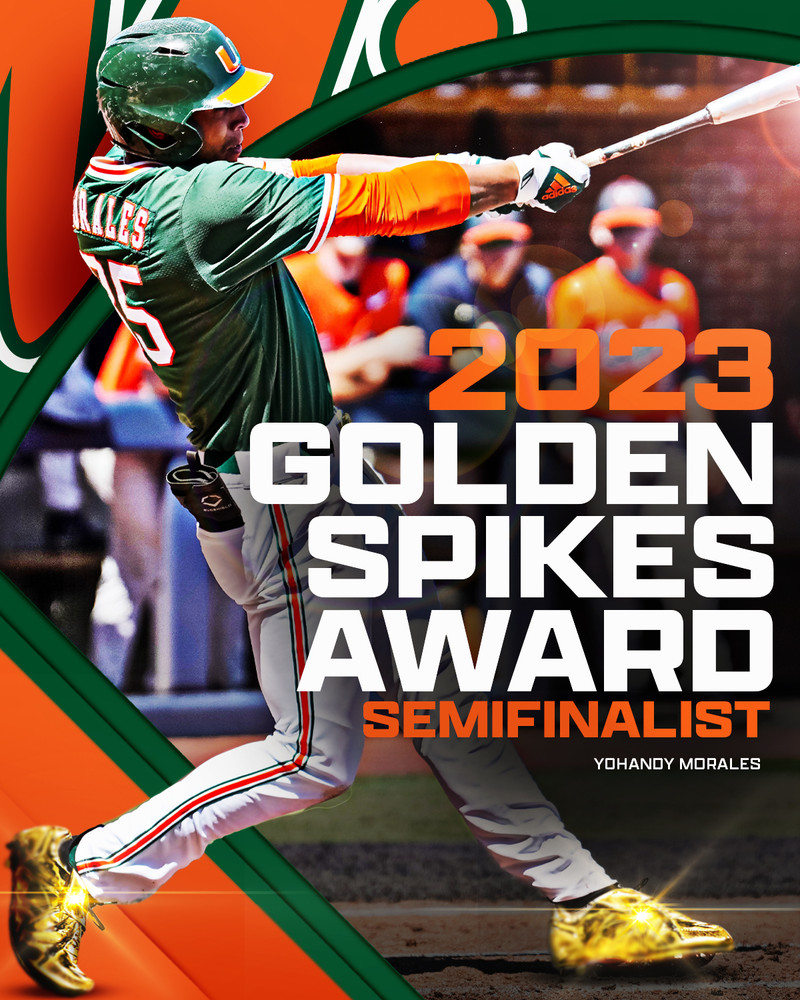 Morales, who is also a semifinalist for the 2023 Dick Howser Trophy, is aiming to become just the second Golden Spikes winner in program history. Pat Burrell previously won the award in 1998.
In total, nine different conferences placed at least one athlete on the semifinal list. The SEC leads all conferences with eight players, while the ACC has the second-most represented with seven.
Fan voting will again play a part in the Golden Spikes Award in 2023. Amateur baseball fans can vote for their favorite players on GoldenSpikesAward.com, beginning on May 22 with the naming of the semifinalists.
USA Baseball will announce the finalists for the award on June 7, and fan voting will once again open at GoldenSpikesAward.com before closing on June 21.
A complete list of the 25-players 2023 USA Baseball Golden Spikes Award Semifinalists can be found HERE.
The 2023 Golden Spikes Award timeline is as follows:
June 5: Golden Spikes Award semifinalists fan voting ends
June 7: Golden Spikes Award finalists announced and fan voting begins
June 21: Golden Spikes Award finalists' fan voting ends
To keep up with the University of Miami baseball team on social media, follow @CanesBaseball on Twitter, Instagram and Facebook.