Pitelli Tabbed Semifinalist for Brooks Wallace Award
CORAL GABLES, Fla. — Miami junior Dominic Pitelli has been named one of 25 semifinalists for the 2023 Brooks Wallace Award.
Presented annually to the nation's best all-around shortstop, Pitelli is one of three ACC players to make the list.
"It's crunch time in college baseball as teams head to their respective conference tournaments and look ahead to the playoffs," said Wallace Award co-chair Larry Wallace. "The cream of the crop rises, and it is no different with this field of shortstops in this year's semifinalists list. More importantly, we look for leaders as well as big character guys to represent our Brooks Wallace Award each year and expect to find that young man in the weeks to come."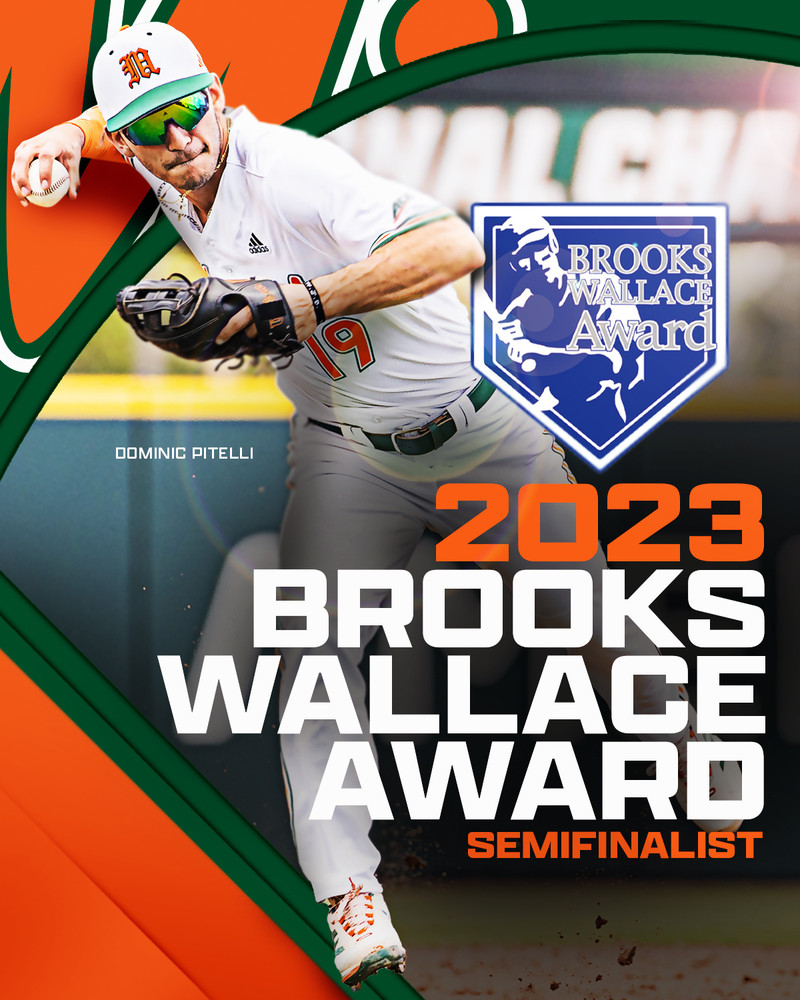 Pitelli is slashing .306/.396/.549 with 11 home runs and 50 RBI. The Miami native has swiped a team-best nine bases, while posting a .962 fielding percentage.
"These shortstops are the best in the nation," said Wallace Award co-chair Tom Quigley. "Some are staying really hot. The cream rising to the top all the way to the end. With our semifinalists listed there are some 15 conference still represented. It is going to be difficult to pick an award winner this season."
For more information on the Wallace Award, visit collegebaseballhall.org.
2023 BROOKS WALLACE AWARD SEMIFINALISTS
Andy Blake – Senior- Columbia
Drew Cowley – Senior – Oregon
Kevin Dubrule – Senior – Army
Noah Fisher – Grad – Northern Kentucky
Cole Foster – Junior – Auburn
JJ Freeman – RS-Senior – Delaware
Phillip Glasser – Grad – Indiana
Jacob Gonzalez – Junior – Ole Miss
Nick Goodwin – Junior – Kansas State
Hunter Haas – Junior – Texas A&M
Dakota Harris – Junior – Oklahoma
Jim Jarvus – Senior – Alabama
Josh Kuroda-Grauer – Sophomore – Rutgers
Noah Lucier – Grad – Fairfield
Mik McClaughry – Senior – Arizona
Alex Mooney – Sophomore – Duke
Griff O'Ferrall – Sophomore – Virginia
Dominic Pitelli – Junior – Miami
Jake Rainess – RS-Junior – Maine
Josh Rivera – Junior – Florida
Matt Shaw – Junior – Maryland
Tevin Tucker – RS-Senior – West Virginia
Jonathan Vastine – Sophomore – Vanderbilt
Jacob Wilson – Junior – Grand Canyon
Braylen Wimmer – Senior – South Carolina