MBB Adds 2022 ACC Sixth Man of the Year Matthew Cleveland
CORAL GABLES, Fla. – University of Miami head men's basketball coach Jim Larrañaga announced Sunday the signing of Matthew Cleveland.
A 6-foot-7, 200-pound guard with two years of eligibility remaining, Cleveland comes to Miami after spending two seasons at Florida State University.
As a freshman in 2021-22, Cleveland claimed ACC Sixth Man of the Year recognition, receiving twice as many votes as all other players combined. This past season, as a sophomore in 2022-23, he was a Top 10 Candidate for the Julius Erving Award, presented to the best small forward in the nation.
"We are excited to welcome Matthew and his family to the Hurricane basketball program. He is an accomplished, experienced, versatile individual who has already proven he can excel at a high level in the ACC," Larrañaga said. "Matthew not only possesses the talent, athleticism and basketball IQ we look for in a player, but his style of play fits our program extremely well. He is committed to winning and we feel he can make a major impact to help us do just that."
Across two campaigns in Tallahassee, Fla., Cleveland averaged 12.7 points, 6.0 rebounds and 1.5 assists per game, while shooting 44.8 percent from the floor. He scored double-digit points in 44 of 59 outings, including posting 20-plus points on six occasions, while leading his team in scoring 19 times and in rebounding 25 times.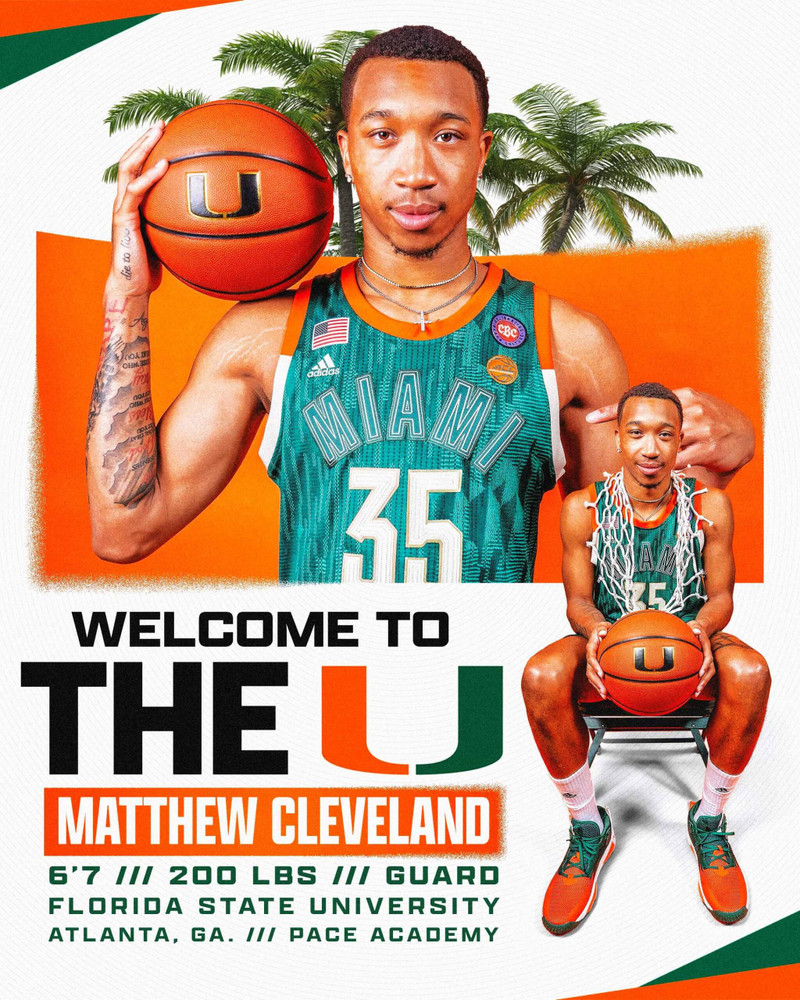 Cleveland accumulated 13 double-doubles at Florida State, good for a top-25 mark in program history, and notched eight in a row during a 2022-23 campaign in which he started all 30 games he appeared in. He finished the season averaging a team-best 13.8 points, a team-high 7.4 rebounds and 1.8 assists in 33.6 minutes per contest, while connecting on 35.0 percent of his 3-point attempts.
The Atlanta native was one of only 22 Division I players to average at least 13.5 points, 7.0 rebounds and 1.5 assists on 35.0 percent 3-point shooting (min. one 3PA per game) in 2022-23, just seven of whom were in a Power Six league. He is one of only four ACC players in the last five years to hit those marks in a single season, alongside former ACC Player of the Year Moses Wright of Georgia Tech (2021-22), two-time Second Team All-ACC honoree Keve Aluma of Virginia Tech (2021-22) and Second Team All-ACC designee Ky Bowman of Boston College (2018-19).
Cleveland finished sixth in the ACC in double-doubles (11), seventh in rebounding, seventh in defensive rebounding (6.0) and No. 12 in field-goal percentage in 2022-23. His 10-of-10 free-throw mark at Duke on Dec. 31, 2022, equaled a Florida State record and tied for the third-most makes without a miss in a single game by an ACC player all season.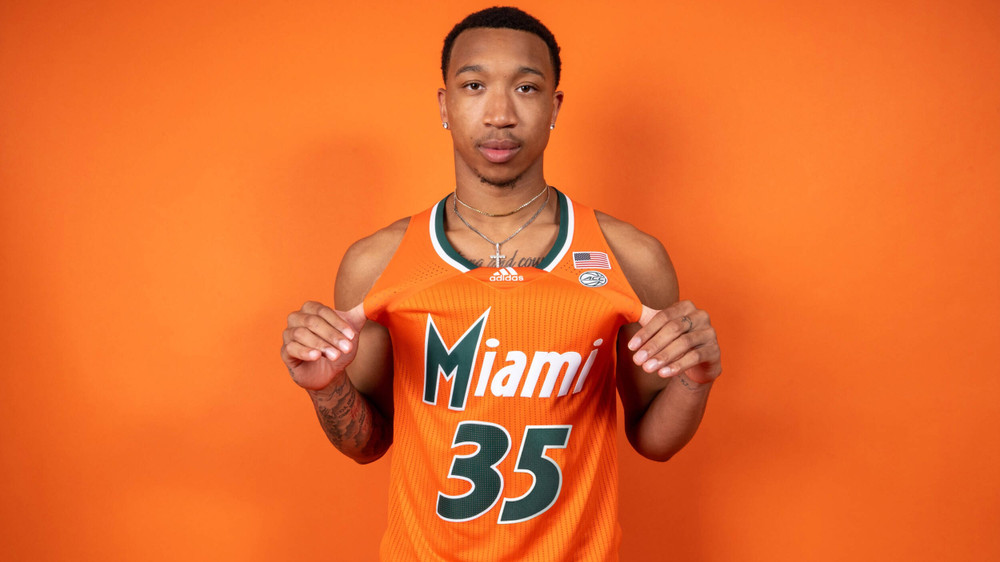 In his rookie campaign, Cleveland was a two-time ACC Freshman of the Week, an All-ACC Academic Team selection and the league's fifth-leading freshman scorer with 11.5 points per game. He also earned his first of two straight Julius Erving Award Watch List distinctions and won the Golden Nole Male Rookie of the Year award among Florida State freshmen across all sports.
A consensus top-30 player in the transfer portal, Cleveland is ranked No. 21 by 247Sports, No. 23 by On3 and No. 30 by ESPN. Additionally, The Athletic tabbed him as the No. 11 available prospect at the time of his commitment.
Cleveland is a graduate of Pace Academy, at which he averaged 22.8 points, 10.6 rebounds and 2.6 assists per game as a senior on the way to MaxPreps Second Team All-America honors. He amassed 18 double-doubles, including four with 30-plus points, while leading his team to a second straight state title.
A consensus top-25 recruit in the country, Cleveland was also a top-three player in Georgia and a top-seven small forward in the class of 2021. Rivals, which tabbed him at No. 18 overall, and 247Sports both considered him a five-star prospect. He finished No. 25 nationally in the 247Sports Composite rankings, good for a five-star designation.