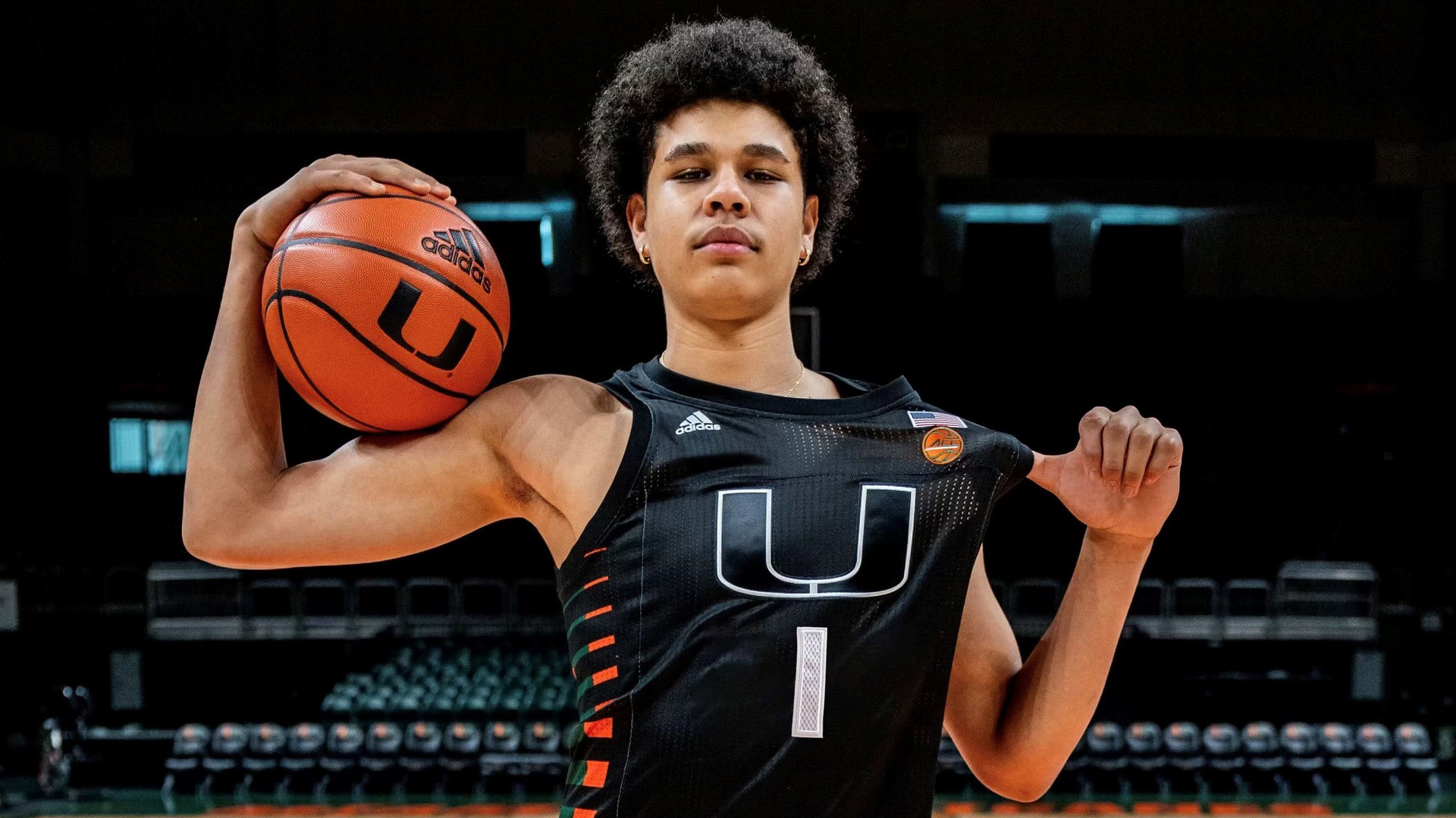 CORAL GABLES, Fla. – University of Miami head men's basketball coach Jim Larrañaga announced Thursday the signing of Kyshawn George to a National Letter of Intent.
A 6-foot-6, 196-pound guard from Monthey, Switzerland, George will join the Hurricanes in advance of the 2023-24 season.
"We are delighted to welcome Kyshawn to the Miami basketball program. In addition to being a tremendous player with significant upside, he is an excellent young man who comes from a great family," Larrañaga said. "Kyshawn is a versatile guard who can play multiple positions and is a terrific shooter with unlimited range. A cerebral player, he is a true student of the game and has a strong basketball IQ. Kyshawn has competed at a high level in France, both with and against older players, which will help him adjust to the physicality of college basketball."
One of the top foreign prep recruits in the class of 2023, George attended Lycée Emiland Gauthey in France. While abroad for the last four years, he has played for Élan Chalon, including competing for both the club's top and U21 teams this season.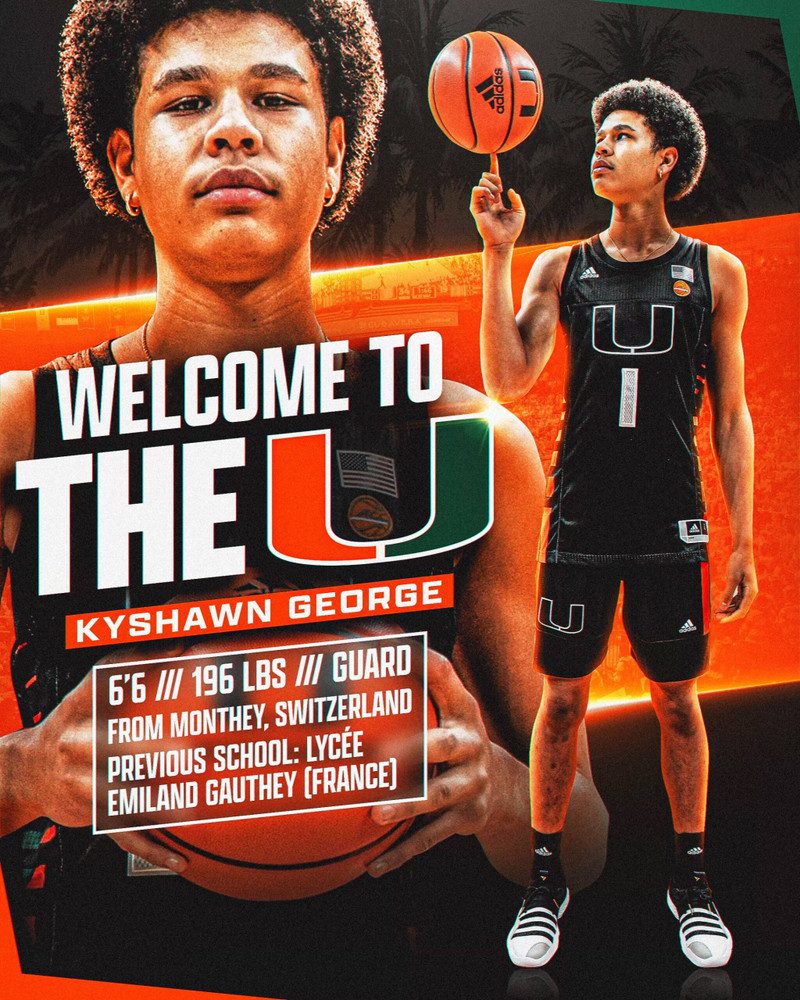 Previously, George played at the U21 level last year, helping the team to the quarterfinals, and in the U18 division the two campaigns before that. In 2022-23, George averaged 17.6 points, 6.5 rebounds, 3.8 assists and 2.4 steals per game for Élan Chalon's U21 team, while shooting 44.7 percent from the floor and 73.2 percent at the line.
George has represented his home country on the international level, donning the Swiss colors in August 2019 at the FIBA U16 European Championship Division B in Podgorica, Montenegro. He played in six games during the prestigious tournament.
Domestically, George helped lead his team to a 2016 Swiss championship at the U16 level while just 13 years old.
Over the last three years, George has grown eight inches and gained 66 pounds. He garnered collegiate interest from programs such as Illinois, LSU, Pittsburgh, SMU, Texas and Xavier.
Additionally, George's father, Deon, played at St. Francis (PA) from 1990-94 and totaled 1,288 points before playing abroad professionally.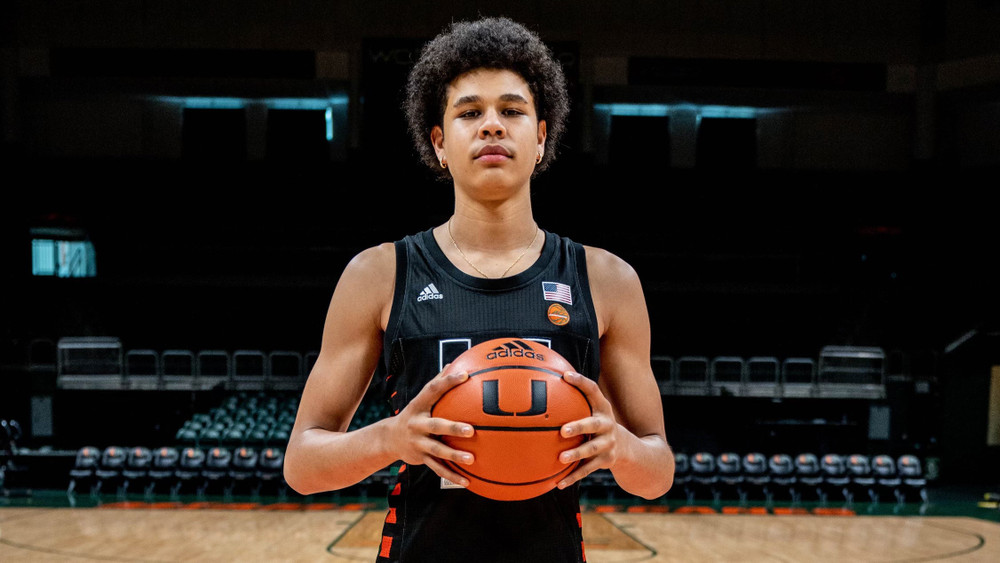 "Kyshawn has excellent size. He's lanky, but he has a great frame and it's just a matter of time before he fills out. He's a big guard whom I saw playing point guard for an entire game at 6'6," ESPN NBA Draft analyst Jonathan Givony said. "You can see he has a strong feel for the game and he just really knows how to play. He can hit tough shots from everywhere; he's got real shot-making ability. He fits Miami's style because Coach L loves having these big, versatile guards who can handle it, pass it and shoot it. He's almost tall enough to play the four in four-guard lineups, but he is thin so he is really a wing. He's really fluid and smooth. The game comes very naturally for him. I am very intrigued by Kyshawn long-term."
George is the second member of Miami's 2023 signing class, joining center Michael Nwoko, a Toronto native who inked with the Hurricanes in November.
To keep up with the University of Miami men's basketball team on social media, follow @CanesHoops on Twitter, Instagram and Facebook.