Noel Earns Fourth ACC Player of the Week Honor
CORAL GABLES, Fla. – For the fourth time in 2023, Alexa Noel of the University of Miami women's tennis team is the ACC Co-Player of the Week, as announced Tuesday afternoon by the league office.
Noel, who shares the award with Virginia's Natasha Subhash, previously claimed the award on Jan. 17, March 7 and March 14. No other player in the league has even three such accolades this season and only one, Notre Dame's Page Freeman, possesses even two.
Across singles and doubles competition last week, Noel claimed three top-15 victories, including two over top-five opponents, all on the road against top-10 teams.
First, Friday afternoon at then-eighth-ranked Duke, now sixth, Noel handed then-second-ranked Chloe Beck, now fifth, not only her first singles loss of 2023, but snapped her 20-match winning streak that dated back to Nov. 3, 2022. Noel, then ranked No. 11 and now seventh, did so in straight sets, 7-6 (7-5), 6-2.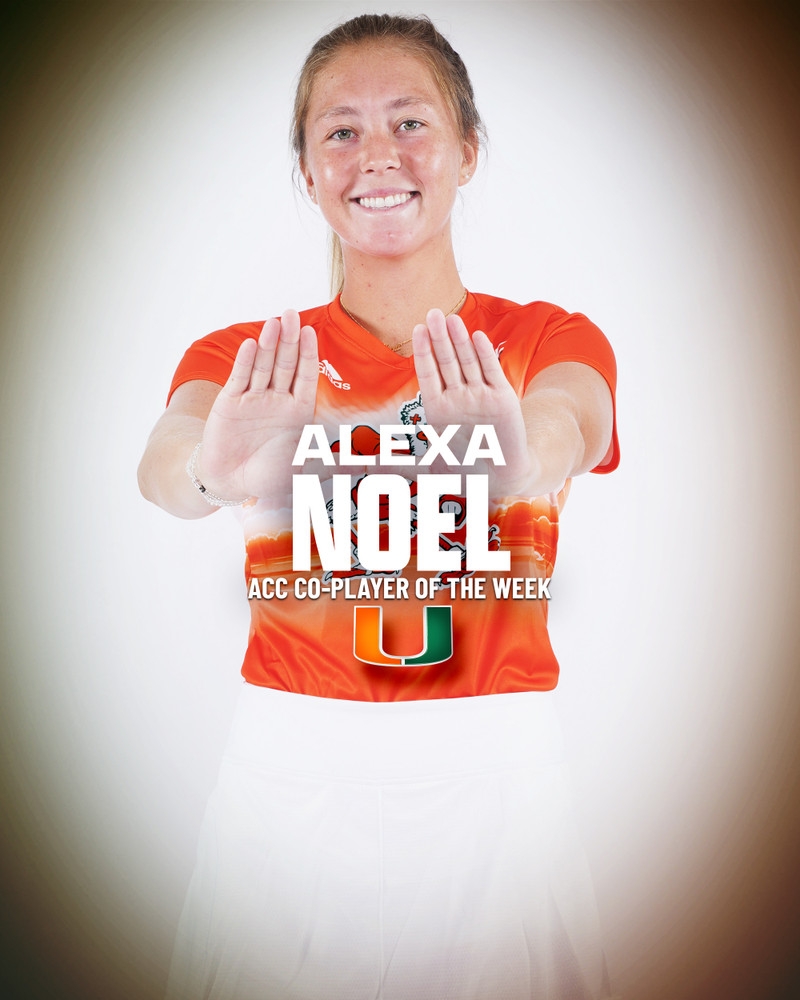 The next day, at top-ranked North Carolina, Noel started out by notching a top-five doubles win alongside junior Isabella Pfennig, with whom she was ranked No. 53 and is now No. 16. The duo put together a 6-4 result versus Fiona Crawley and Carson Tanguilig, then ranked fourth and now sixth.
Then, in singles action against the Tar Heels, Noel claimed another stellar straight-set win, by knocking off No. 15 Reese Brantmeier, 6-3, 6-4.
Entering the final month of the regular season, Noel is 26-7 in singles, including 17-5 versus ranked foes, 16-3 in the spring, 13-3 in dual matches and 8-1 in ACC play. In doubles, the first-year Hurricane is 16-5 overall, 5-3 against ranked pairs, 12-4 in the spring, 11-2 in dual matches and 6-2 in ACC competition.
Noel and No. 14 Miami (11-5, 6-3 ACC) are back in action Thursday at noon when they square off with Louisville at the Neil Schiff Tennis Center to begin the final home weekend of the regular season.
To keep up with the University of Miami women's tennis team on social media, follow @CanesWTennis on Twitter, Instagram and Facebook.