Bringing Energy and Physicality
CORAL GABLES, Fla. – For Lance Guidry, it had all the makings of an exciting evening.
It was his first game as a defensive backs coach at the collegiate level. He was on the staff at his alma mater. And the opponent across the field provided both an opportunity and a challenge for him, his players and everyone else on the McNeese State sideline.
That opponent – the 2000 Miami Hurricanes – was every bit the challenge Guidry and the rest of the Cowboys expected.
Quarterback Ken Dorsey, who was making just his fourth start at Miami, completed 17 of 29 passes for 248 yards. Receiver Santana Moss totaled 204 all-purpose yards and scored twice – in the first half. Fellow receiver Reggie Wayne had five catches for 59 yards and Miami scored on six of their first eight possessions on its way to an eventual 61-14 win over McNeese State.
It was a game, and an experience, Guidry still hasn't forgotten.
"It wasn't pretty but it was a great learning experience," Guidry recalled with a wry smile. "They had Reggie Wayne at wideout. Santana Moss. Clinton Portis was a freshman and Andre Johnson. When we started emptying the bench when they did…it got uglier as a matter of fact. [Jeremy] Shockey was the tight end. We were happy Bubba Franks was gone and here came Jeremy Shockey…Defensively, they had Ed Reed, Dan Morgan, [Vince] Wilfork, [Mike] Rumph. It wasn't pretty for the Cowboys."
These days, Guidry is tasked with helping develop a new generation of Hurricanes.
The Louisiana native and former two-time All-Conference strong safety at McNeese State is weeks into his tenure as Miami's new defensive coordinator. And after watching the Hurricanes navigate the latter part of off-season workouts and their first practices of the spring on Greentree, he's eager to see what the future holds.
"We have some pieces to the puzzle. Of course, there's some more pieces that are going to be added, but I think we have some defensive linemen that can affect the quarterback. We have some good safeties. I like what we look like on film, but until you really start working with them, you really don't know," Guidry said early during the Hurricanes' spring workouts. "We've got to take the next step, of course, defensively. Last year wasn't good enough as a football team and our job defensively is to be the best defense on the field every Saturday night."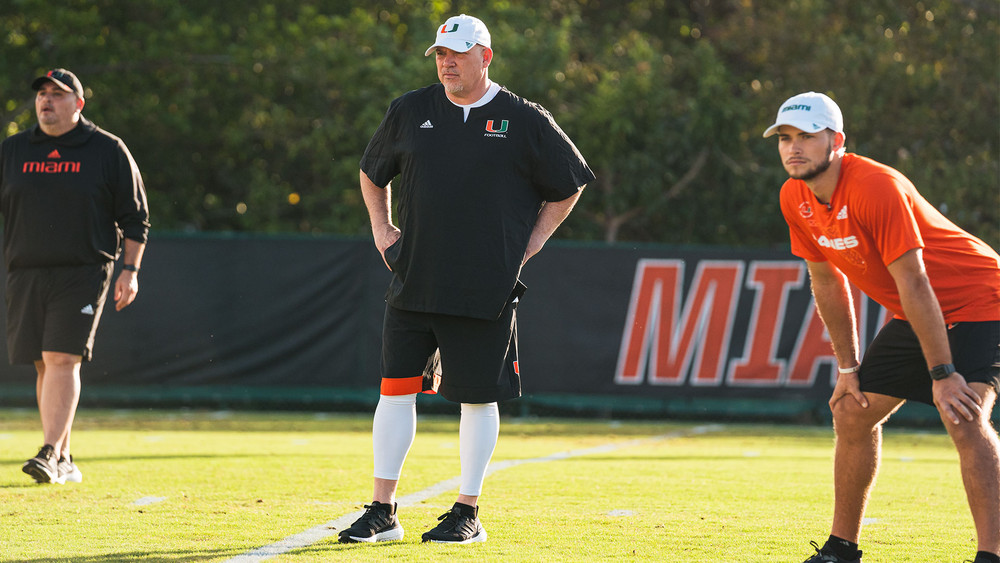 Guidry, a 23-year coaching veteran, has plenty of experience with high-level defenses.
For the past two seasons he served as the defensive coordinator at Marshall, where the Thundering Herd ranked in the top five nationally in several key statistics including third-down defense (first), stop rate (second), passing efficiency (third), defensive efficiency (third), yards per play (third), turnovers gained (fifth) and rushing defense (fifth).
Last year, Marshall finished eighth among FBS programs in total defense (294.5 yards per game) and sixth in both scoring defense (16.0 points per game) and passes intercepted (18). Meanwhile, defensive lineman Owen Porter and defensive back Micah Abraham both earned first-team All-Sun Belt honors.
Before serving as Marshall's defensive coordinator, Guidry was the safeties coach at FAU, where the Owls had the 16th-best pass defense among FBS programs. He has also worked at Southeastern Louisiana and held multiple titles during his six years at McNeese State, including head coach.
But Guidry thinks it was his time as the defensive coordinator at Western Kentucky that may have helped pave the way for him to come to Miami.
While serving as the Hilltoppers' defensive coordinator, Western Kentucky played well in a pair of games against FIU, which was then led by Hurricanes head coach Mario Cristobal.
And Guidry's defenses made an impression.
"I've coached against him and seen the teams that he has coached and they're different," Cristobal said. "They come at you 100 miles per hour. They're physical. They finish plays and they play with a lot of energy and a lot of physicality."
Said Guidry of his relationship with Cristobal, "I think most of the time when you get jobs, it's usually from your opponent admiring the way your guys play when they watch film, how hard they play…He called me, I took the job and I'm excited to be there."
Through the Hurricanes' first spring practices, Miami defenders say they've seen Guidry's energy up close – and it's contagious.
There are challenges to having to install a completely new system in such a short amount of time, of course, but the Hurricanes are confident it's a system in which they can succeed – especially because of Guidry's focus on internal competition and pressuring quarterbacks.
"Coach Guidry is an awesome guy. Just him bringing in his defense and us learning it, we love the defense," linebacker Wesley Bissainthe said. "We're looking forward to executing and making plays."
Added safety Kamren Kinchens, who is coming off an All-American campaign last year, "[Guidry's] a fireball. He brings a lot of energy, and you love to see it. Keeps everybody on their toes."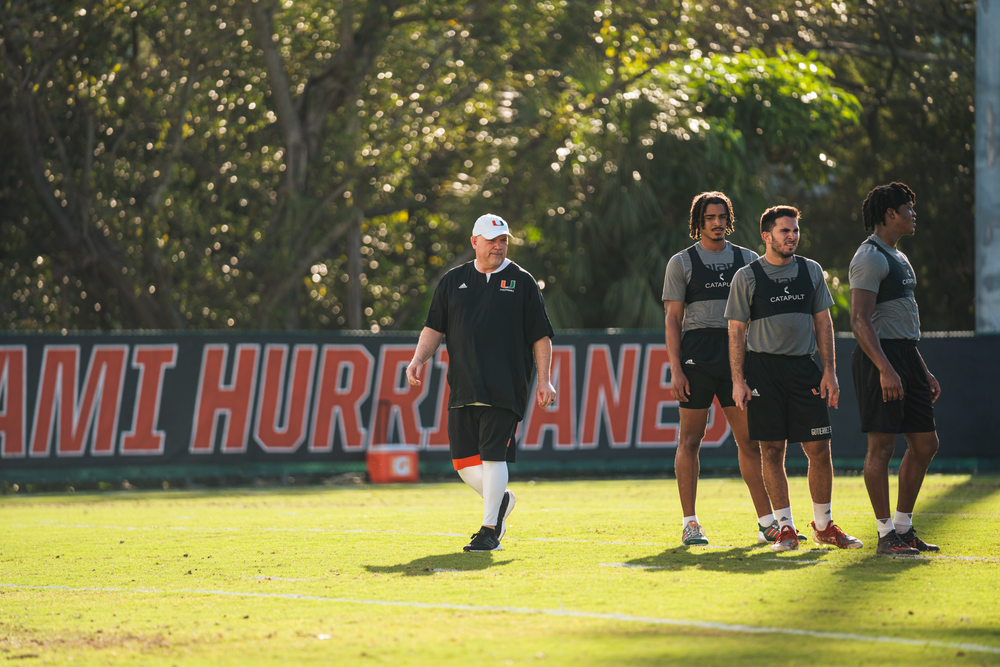 That energy will likely remain high as the Hurricanes navigate the latter half of spring drills over the coming days.
It will be a crucial stretch ahead of Miami's spring game on April 14th, a time for both Guidry and the Hurricanes to continue learning more about each other and what will make the Hurricanes' defense stronger come the fall.
And Guidry is excited to take advantage of every teachable moment, especially given all he knows about the expectations that come with coaching a Miami defense.
"This opportunity here at Miami, for me, is just [about doing] my job the best I can do it and being an extension of Coach Cristobal. It's all about the players and their experience," Guidry said. "We want to get the best players here and we want to win at the highest level. You always want to do well as a coach but me, I'm just looking for the opportunity to show that I'm as good as anybody else in the country. That's how Miami, I thought, was built. Miami was built with a chip on their shoulder. You saw it in the way they played…
"I remember growing up, I wasn't a Notre Dame fan, but I watched Notre Dame football all the time because they were the only team that was on TV every Saturday…The first time I saw them play against Miami, all of a sudden, I became a Hurricanes fan. I liked the way they played. I liked the energy they had. I didn't really know who the players were, but they all acted the same. They had a chip on their shoulder. They were excited. They loved it and I think those great names were a product of the swag they had here. It's our job, as coaches, to try and get that back and we need to coach with a chip on our shoulders as well."