Morales Named to Golden Spikes Award Preseason Watch List
CORAL GABLES, Fla. — University of Miami junior third baseman Yohandy Morales was named to the preseason Golden Spikes Award watch list, USA Baseball announced Friday afternoon, beginning the process of identifying the top amateur baseball player in the country for the 2023 season.
The preseason watch list features 55 of the nation's best amateur players from high school and college baseball. The Golden Spikes Award Advisory Board will maintain a rolling list of players, allowing athletes to play themselves into consideration for the award throughout the season.
"We are thrilled to begin the amateur baseball season with the announcement of the fifty-five-player Golden Spikes Award preseason Watch List," said USA Baseball Executive Director/CEO Paul Seiler. "The student-athletes on this list are some of the nation's best and brightest, both on and off the field. We look forward to watching them compete in what will surely be an exciting baseball."
The complete preseason Golden Spikes Award watch list can be viewed here.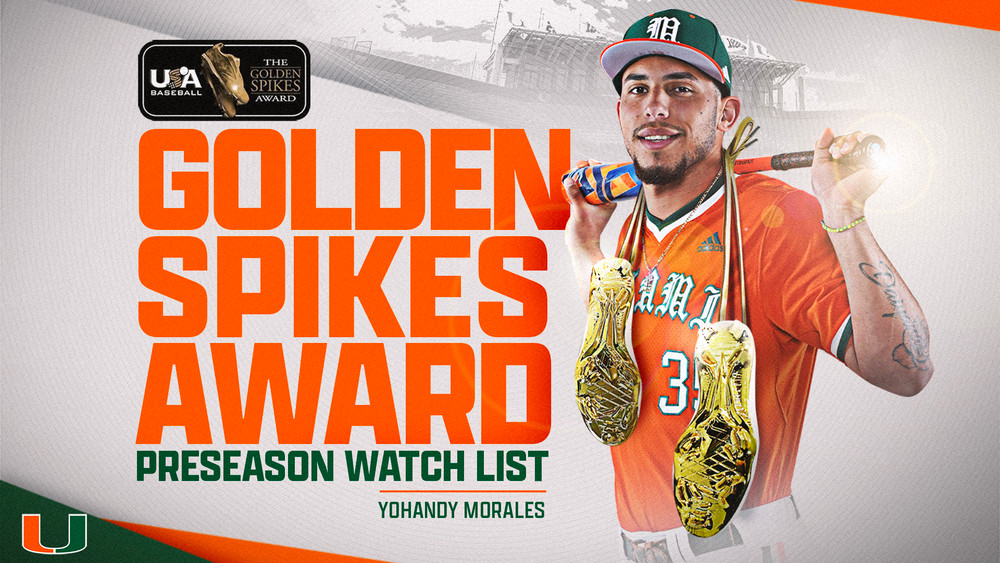 Morales is one of the most prolific power hitters in college baseball entering the 2023 season.
The 6-foot-4, 225-pound slugger led Miami in eight offensive categories a year ago, highlighted by 18 home runs, 59 RBI and a 1.061 OPS. Morales also batted .329, which ranked third on the team.
The NCAA Division I Southeast All-Region and All-ACC Second Team honoree became the 28th Hurricane all-time chosen to represent his country as part of the USA Baseball Collegiate National Team. Morales posted a team-high .400 average, eight hits and four RBI during Honkbalweek Haarlem, as the USA garnered the bronze medal.
Miami has had 15 players named to the preseason Golden Spikes Award watch list since 2008. Chris Hernandez (2009-10), Zack Collins (2015-16) and Adrian Del Castillo (2020-21) each were two-time selections, while Yonder Alonso (2008), Jemile Weeks (2008), Ryan Jackson (2009), Yasmani Grandal (2010), Harold Martinez (2011), Peter O'Brien (2012), Andrew Suarez (2015), Carl Chester (2017), Chris McMahon (2020), Alex Toral (2021) and Carson Palmquist (2021) preceded Morales as preseason picks.
Fan voting will again play a part in the golden spikes award in 2023. Amateur baseball fans can vote for their favorite players on GoldenSpikesAward.com, beginning on May 22 with the naming of the semifinalists. USA baseball will announce the finalists for the award on June 7, and fan voting will once again open at GoldenSpikesAward.com before closing on June 21.
To keep up with the University of Miami baseball team on social media, follow @CanesBaseball on Twitter, Instagram and Facebook.