Miami Comes Up Short at Wake Forest
WINSTON-SALEM, N.C. – The University of Miami women's basketball team fell just short of the Wake Forest Demon Deacons, 55-52, Sunday afternoon at LJVM Coliseum.
"We had different people stepping up, which is something to be positive about, but we had very inconsistent play throughout the game," head coach Katie Meier said. "We had three or four chances there at the end that were perfectly executed plays, but just didn't get the calls on the road."
Senior Lola Pendande and sophomore Jasmyne Roberts were the only Hurricanes to reach double-figures, totaling 12 and 10 points, respectively. Roberts led all players with seven rebounds in the contest.
"Lola started off kind of flat but we went back to her in the scond half and she relaly came through for her team," Meier said.
As a team, Miami (13-8, 6-4 ACC) outshot and outrebounded Wake Forest (13-9, 4-7 ACC), but the Demon Deacons hit eight 3-pointers in the game to will their way to victory.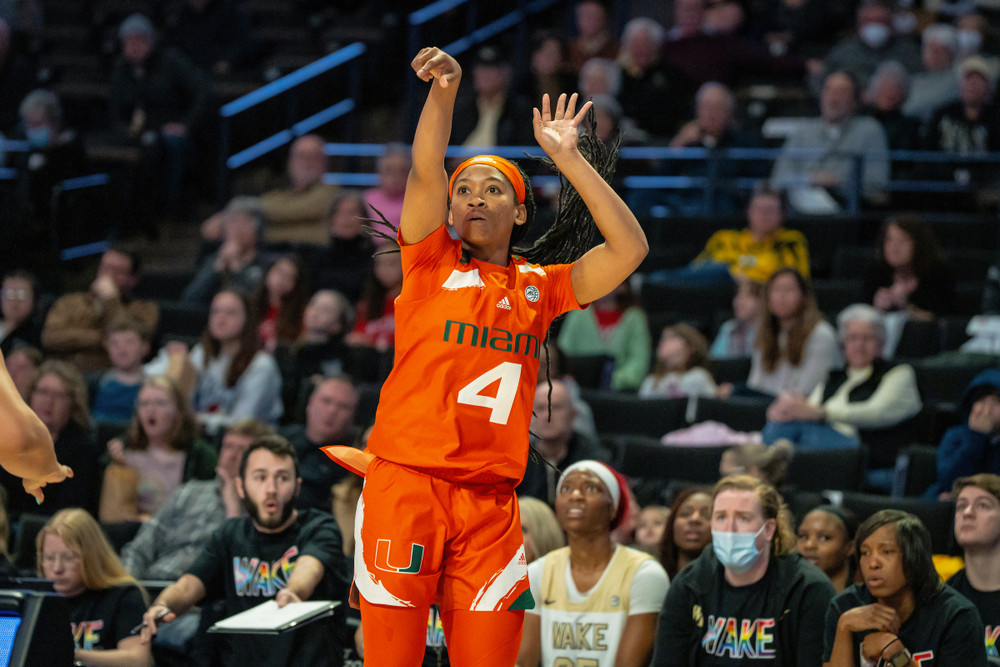 Senior Haley Cavinder opened up scoring for the Hurricanes, connecting on a 3-pointer to spark a 7-2 run for the visitors. Miami limited the Demon Deacons to just four points in the first quarter, forcing Wake Forest to shoot 18 percent from the field in the frame.
However, the Demon Deacons' offense exploded in the second quarter, embarking on a 12-0 run to take its first lead of the game, 16-9, at the 6:55 mark. Following a timeout by Miami, the Hurricanes' showed renewed energy, putting together a 10-0 run of their own, which included seven defensive stops, to take a 19-16 lead.
Both teams shot a pair of free throws in the final 90 seconds of the half to enter the locker room tied at 21.
Wake Forest stretched its lead back out to 10 with three consecutive 3-pointers from three different players. Sophomore Lashae Dwyer stopped the bleeding for Miami, scoring four straight points to pull the Hurricanes to within six.
Down six entering the final 10 minutes, Pendande went to work in the paint, scoring six of Miami's first eight points in the quarter to tie the game at 44-all.
With 18 seconds to play, Pendande was called for fouling Wake Forest's Jewel Spear and the guard connected on two free throws to put the Demon Deacons back on top. A Miami turnover and two more Wake Forest free throws solidified the win for the home team.
"We can't have that first quarter where we look like we're in a bit of a fog at Clemson," Meier said. "This is the league. We were behind most of the second half, but we came back and put ourselves in a position to win and we have to close those out."
Miami stays on the road, taking on Clemson on Feb. 2 at Littlejohn Coliseum. Tipoff in Clemson, S.C., is set for 8 p.m. and the game will air on Bally Sports.
Single-game tickets are available for purchase online or by calling the Miami Hurricanes ticket office at 1-800-GO-CANES. For more details, dial that number or email canestix@miami.edu.