Tigers Halt Canes' Road Winning Streak
CLEMSON, S.C. — Fast starts were key for the Miami Hurricanes during their recent three-game road winning streak as the Canes outscored Virginia Tech, Virginia and Georgia Tech by a combined 27 points in the first half.
But it was Clemson who was running downhill from the outset Saturday. The ninth-ranked Tigers scored touchdowns on three of their first four drives and held the ball for nearly 21 minutes of the first half. They never trailed en route to a 40-10 win over Miami at Memorial Stadium.
Clemson improved to 10-1 overall, 7-1 in ACC play. The Canes dropped to 5-6 and 3-4 in conference play.
Miami's defense stiffened in the second half, forcing three turnovers as the Canes cut the deficit to 16 points early in the fourth quarter. But it wasn't enough as Clemson captured its 40th straight home win, which is tied for the ninth-longest streak in college football history — 18 behind the Canes' incredible Orange Bowl streak from 1985-94.
"We got ourselves in a situation where we had the ball, down a couple scores, but then a couple mistakes and the game got away from us," head coach Mario Cristobal said. "The defense kept us in the game, the defense gave us an opportunity. Again, down by 16 points and you have the ball, and good field position, you have a chance to make this a really good game in the fourth quarter, and we came up short."
Quarterback Jacurri Brown threw for 53 yards and ran for 22 yards, while fellow quarterback Jake Garcia threw for 15 yards and Miami's lone touchdown, a one-yard toss to tight end Kahlil Brantley. Cornerback DJ Ivey picked off a pass and recovered a fumble. Safety Kamren Kinchens had another monster effort with 13 tackles and a forced fumble, while linebacker Wesley Bissainthe posted eight tackles. Andres Borregales continued his strong season with a 44-yard field goal.
Tigers quarterback DJ Uiagalelei threw for 227 yards with two touchdowns and one interception, also leading the team in rushing with 89 yards and one score. Running back Will Shipley rushed for 61 yards and one touchdown. Linebacker Jeremiah Trotter, Jr. recorded nine tackles and one sack.
The Tigers outgained the Canes 447 to 98 in total yards and ran twice as many plays as Miami (84 to 42).
On the opening drive of the game, Uiagalelei converted three first downs (two passes, one run) to move the ball to the Miami 10-yard line. Two plays later the quarterback hit wide receiver Davis Allen for a six-yard score and an early 7-0 Clemson lead.
The Tigers forced a punt and marched right back down the field as Uiagalelei capped a nine-play, 57-yard drive with an eight-yard scoring run. Clemson had a two-touchdown lead with 4:05 left in the first quarter.
Trotter sacked Brown on third down on Miami's ensuing drive and Clemson took over at the Canes 49. But defensive end Jahfari Harvey sacked Uiagalelei for a six-yard loss on the last play of the quarter to force the Tigers' first punt. Brown hit tight end Will Mallory for a five-yard gain for Miami's initial first down. But on the next play, safety Jalyn Phillips intercepted Brown on a tipped pass and Clemson was set up on the Miami 27. Uiagalelei later lofted a three-yard scoring toss to tight end Luke Price and the Clemson lead was 21-0.
The Tigers again drove inside the red zone but defensive end Akheem Mesidor registered a third-down sack to force a 32-yard field goal attempt by B.T. Potter on the final play of the first half. The kick was good and Clemson headed into the break with a 24-0 lead.
Miami opened the second half with a solid drive, highlighted by a 40-yard scamper by Brown. But Trotter stopped running back Jaylan Knighton on 4th and 1 at the Clemson 26. The Tigers crossed midfield and eventually had Potter attempt a 60-yard field goal, but it fell short.
Aided by a roughing the passer call, the Canes moved the ball into Clemson territory and then Brown found Mallory for a 27-yard catch and run to the Tigers 16. But the drive stalled there and Borregales nailed a 44-yard field goal to get Miami on the board.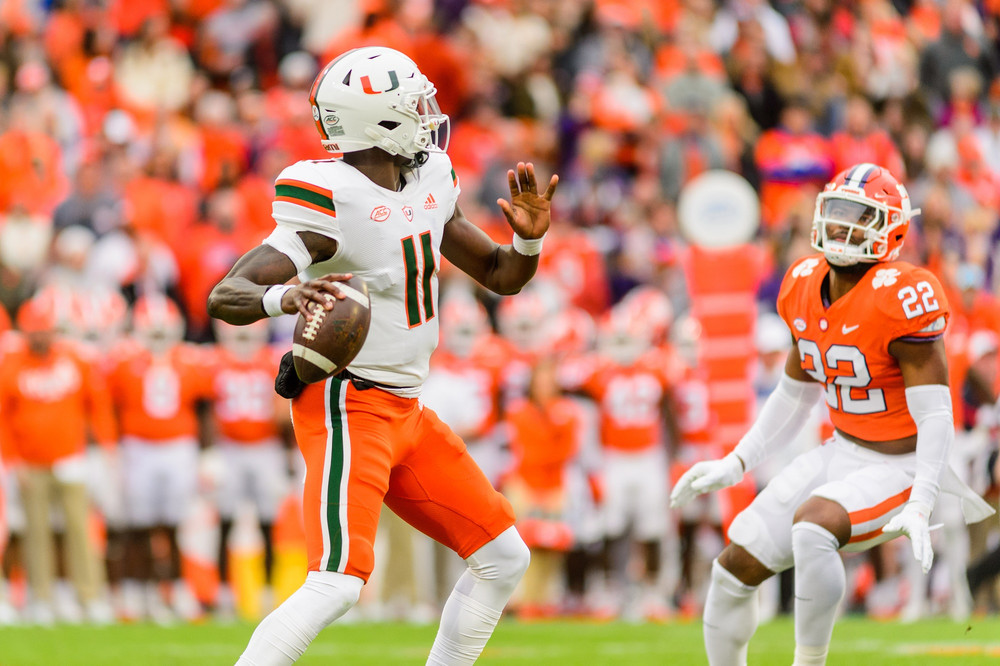 On the next drive Ivey picked off Uiagalelei, giving the Canes the ball back at their own 20. Miami couldn't move the sticks but forced another turnover on the next possession as Kinchens jarred the ball loose from Allen, and Ivey recovered at the Canes nine-yard line. But on the next snap Brown was sacked in the end zone by Tigers cornerback Toriano Pride, Jr., increasing Clemson's lead to 26-3.
Miami's defense kept up the pressure. Mesidor nailed Uiagalelei from his blind side and defensive tackle Jordan Miller scooped up the ensuing fumble and rumbled 26 yards to the Clemson 10. Garcia came in for Brown at quarterback and on 3rd and goal threw a one-yard touchdown pass to Brantley. The Canes were back within 16 points.
But Clemson stretched the lead later in the fourth quarter when Shipley scored on a three-yard touchdown run. Tigers linebacker Trenton Simpson forced a fumble by Garcia on the next possession, which was recovered by defensive tackle Tre Williams. That led to a one-yard scoring run by running back Kobe Pace to make it 40-10.
Miami wraps up the regular season next Saturday night at Hard Rock Stadium against Pittsburgh. Kickoff is 8 p.m. on ACC Network.