Canes Roll Past Jackets in Atlanta
ATLANTA — Meet Jacurri Brown , who today became the first true freshman quarterback to start a game for the Miami Hurricanes in eight years. A conference game on the road, no less, against a fired up opponent honoring its seniors.
It had all the makings of a big moment. Brown was ready for it.
Brown was calm and efficient. He threw the first three of what promises to be many touchdown passes. He helped marshal a Miami rushing attack that ran roughshod over Georgia Tech. And perhaps most impressively, he didn't turn the ball over against a team that entered the game ranked second in the nation in turnover margin.
Brown's play, coupled with terrific defensive and special teams efforts, propelled Miami to a 35-14 win over the Yellow Jackets Saturday evening at Bobby Dodd Stadium.
One of those days you'll never forget.@Jacurri_Brown11 pic.twitter.com/kSbXMk71ng

— Canes Football (@CanesFootball) November 13, 2022
Miami improved to 5-5 overall, 3-3 in the ACC with its third straight road conference win. Tech fell to 4-6 and 3-4 in ACC play.
Miami racked up 226 yards on the ground — 118 by running back Jaylan Knighton — and averaged 5.3 yards per carry as a team. The Canes picked off four passes – three by safety Kamren Kinchens , who returned the last theft 99 yards for a touchdown. Punter Lou Hedley pinned Tech inside its own 10-yard line three times. It was a complete effort in all three phases.
"I think everybody in there is proud of our team for bouncing back the way they did and just being resilient, showing up to work and putting together a really good game, almost a complete game," head coach Mario Cristobal said. "Got some performances by a ton of guys. Obviously, Jacurri got the start, did a lot of good things and Jaylan Knighton ran really, really hard. Credit to the offensive line down three or four starters and rushed the ball well, allowed one sack. Obviously, Kam Kinchens tied a school record [with three interceptions]."
Brown, who grew up just a few interstate stops away in Valdosta, Ga., completed 14 of 19 passes for 136 yards and three scores, hitting seven different receivers. He also rushed for 87 yards on 19 carries.
"It felt amazing," Brown said. "Felt like everything I went through from being younger to up until this point was worth it, all the hard coaching and everything like that, was all worth it."
Overall, Miami gained 353 total yards and converted on 7 of 12 third-down attempts.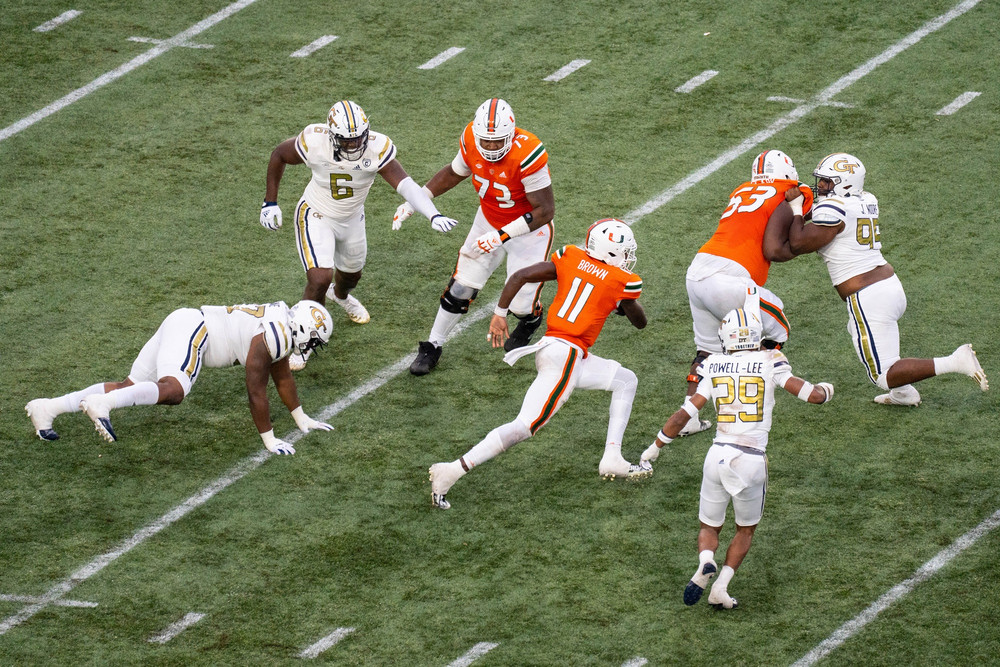 Knighton's 118 yards came on just 16 carries with one touchdown. Kinchens, in addition to his three interceptions, led the Canes with eight tackles. Cornerback Tyrique Stevenson also had a pick. Miami collected eight tackles for loss, including 1.5 by defensive lineman Mitchell Agude. Hedley averaged 46 yards on his five punts, limiting the Jackets' average field position to their own 21-yard line.
Georgia Tech registered 363 total yards but could only manage two scores. Zach Pyron, also a true freshman quarterback, threw for 114 yards with one touchdown and two interceptions. Fellow quarterback Zach Gibson threw for 120 yards with one touchdown and two picks. Wide receiver Nate McCollum caught eight passes for 101 yards and one score.
Brown, the first true freshman starting quarterback since Brad Kaaya in 2014, had seen action in several games this season but entered the game with just 37 passing yards and 118 rushing yards.
"If you watch his high school tape, he does a good job throwing it," Cristobal said. "He does a good job running it. And he runs it with power and he has great ball security. Always has. He did a real nice job today."
On the game's opening drive the Canes kept the ball on the ground and it worked – nine rushing attempts on the first 10 snaps moved the ball all the way to the Tech 22. And that set up the next snap perfectly as Brown lofted the ball from the shotgun to a wide-open Will Mallory, who glided into the end zone for an early 7-0 lead. It was Brown's first career touchdown pass.
Miami freshman @Jacurri_Brown11 throws his first career touchdown pass.@CanesFootball | @ACCFootball pic.twitter.com/QHfaCcYs1H

— Bally Sports South (@BallySportsSO) November 12, 2022
The Jackets quickly crossed midfield after Pyron found McCollum for 16 yards to the Miami 41. Tech then picked up another first down on an offsides penalty. But on 3rd and 12 from the Canes 22, Pyron looked deep for McCollum again and Kinchens picked off the pass. Miami had the ball back at its one-yard line.
The teams traded punts and Miami had the ball back again inside its 10-yard line. Brown picked up a key third down with a 19-yard pass to wide receiver Frank Ladson, Jr. Given some breathing room, the Canes went right back to the ground attack. Knighton scampered 13 yards for one first down and 10 yards for another. Brown gobbled up 13 yards on a designed quarterback run.
The Canes faced 3rd and 2 from the Jackets 8 and running back Luscious Stanley pushed ahead to the four-yard line for first and goal. Brown then found another one of his tight ends, Jaleel Skinner, for another wide-open touchdown. After a 14-play, 93-yard march it was 14-0 Miami.
The teams traded punts again and Hedley's second effort was a beauty, pinning Tech back at its one-yard line. But the Jackets responded with their best drive of the first half as Pyron connected again with McCollum on a nine-yard touchdown pass, capping a 15-play, 99-yard march. Tech had halved the Canes' margin at the half.
On Tech's third drive of the second half, Pyron found McCollum, who shed a tackle and raced 42 yards to Miami 49. Pyron then rumbled 19 yards before the Jackets attempted a flea flicker. It backfired as Stevenson leaped high to snag the pass from Zach Gibson for the Canes' second interception of the night.
Brown rushed for 17 yards to give Miami some breathing room and the Canes had the ball on their 40 as the fourth quarter commenced. Hedley was called on to punt again but again pinned Tech deep at its five-yard line with 13:03 remaining.
Three plays later Pyron tried to throw long again and was victimized by Kinchens a second time. His interception gave Miami the ball back at its 48. On 3rd and 9 Brown threw a quick out to wide receiver Brashard Smith, who zig-zagged his way for 13 yards and a massive first down. Two plays later Brown broke contain and high-stepped down the right sideline for 24 yards. The Canes were back in the red zone.
On 3rd and 4 from the Tech 8 Brown dropped back, surveyed the field and found wide receiver Colbie Young in the back of the end zone. The Canes had a two-score lead in the type of game where a two-score lead seemed insurmountable.
The Jackets turned the ball over on downs at their 43 and the Canes methodically covered the rest of real estate, capping their fourth touchdown drive with two-yard scoring plunge my Knighton. It was 28-7 with 4:29 left.
Tech drove the length of the field but Kinchens' third pick and first career touchdown put an emphatic exclamation point on a big road win.
KAM KINCHENS PICK SIX!!!!!!!!!!!!!

Miami 35, Georgia Tech 7 | 2:36 4Q pic.twitter.com/10yu5qxZ5Z

— Canes Football (@CanesFootball) November 12, 2022
"After the second one, I wasn't really thinking too much about another one, then Lucious (Stanley) came up to me and was like 'You already got two and you dropped one. You might as well just catch another one,'" Kinchens said. "I went out there and it came."
Miami hits the road again next Saturday at No. 10 Clemson. Kickoff time has not been announced yet.