Borregales, Taylor Earn ACC Weekly Accolades
CORAL GABLES, Fla. – Andres Borregales and Leonard Taylor III of the University of Miami football team both garnered ACC Player of the Week recognition, as announced Monday afternoon by the conference office.
Borregales won ACC Specialist of the Week for the second time this year, while Taylor earned ACC Defensive Lineman of the Week plaudits.
A sophomore kicker from Miami, Borregales went 4-of-4 on field goals in the 14-12 quadruple-overtime win Saturday at Virginia. He hit a game-tying field goal at the end of regulation and then added another make in each of the first two overtime periods, the latter one extending the game to a third extra session.
Three of Borregales' four makes, including both in overtime, came from 37-plus yards. He became just the eighth ACC kicker in the last two seasons to hit four-plus field goals in a game without a miss. In addition, the 5-foot-11, 170-pounder booted his lone kickoff into the end zone for a touchback.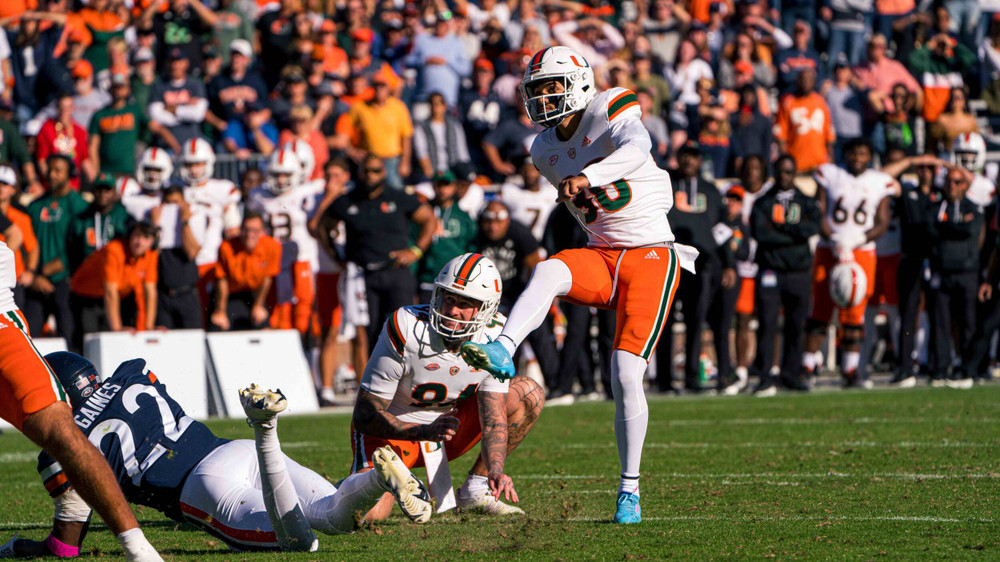 Taylor, a sophomore from Miami, registered a dominant showing against the Cavaliers, notching six tackles, 1.5 sacks and four tackles for loss. His play—including twice as many TFLs as any other player on the field, a game high in sacks and the co-second-most tackles among Hurricanes—helped Miami keep Virginia out of the end zone the entire day.
The 6-foot-3, 305-pounder is one of just four Power Five players to record at least six tackles, 1.5 sacks and four TFLs in a game this season, as well as one of just three ACC players to do so over the last two years. Only three other Hurricanes—Jaelan Phillips, Gregory Rousseau and Marcus Robinson—have recorded that stat line in the last 18 years (2005-present).
Seven Hurricanes have now totaled eight ACC Player of the Week distinctions this season. Borregales and Taylor follow Colbie young (Receiver) on Oct. 24, Lou Hedley (Specialist) and Akheem Mesidor (Defensive Lineman) on Oct. 17, Tyler Van Dyke (Quarterback) on Oct. 10, Borregales (Specialist) on Sept. 12 and Jalen Rivers (Offensive Lineman) on Sept. 6.
#ACCFootball Players of the Week! ⬇️

🏈: @UNCFootball: QB + WR
🏈: @FSUFootball: RB + OL
🏈: @CanesFootball: DL + Specialist
🏈: @UVAFootball: LB
🏈: @LouisvilleFB: DB
🏈: @PackFootball: Rookie

📰: https://t.co/O7SpXMeGGx pic.twitter.com/fgqScGeyQS

— ACC Football (@ACCFootball) October 31, 2022