"This is Something Positive to Build On"
CHARLOTTESVILLE, Va. – The moment he popped up, Jake Garcia was mobbed by teammates.
It was a moment of celebration, of pure joy, and more than likely, a bit of relief, too.
For more than 60 minutes, the Hurricanes offense hadn't been able to put the ball in the end zone. But on a fourth-overtime, two-point conversion attempt, Garcia managed to do just that.
The quarterback – making his first start after Tyler Van Dyke was hurt last week – scrambled, stretched, and reached for the pylon, his effort helping give Miami a much-needed 14-12 win over Coastal Division foe Virginia at Scott Stadium on Saturday afternoon.
The play was reviewed, but that hardly mattered. It just gave Miami a chance to revel twice.
And given the challenges the Hurricanes have faced in recent weeks, it was hard to fault them.
Against Duke, they turned the ball over eight times. They started the month navigating a three-game losing streak. And injuries – to Van Dyke and more than a few others – have taken a toll.
To be able to outlast Virginia and leave Charlottesville with a win, however it happened, was plenty reason to celebrate.
"I can't say enough about the resiliency of the team, which was something that we felt certainly needed to be upgraded based on some of the recent things in some of our games," head coach Mario Cristobal said after the game. "I'm really proud of our guys for [their] effort, toughness and playing hard the whole way through…The best part was that the sideline, no matter what happened, they just continued to get together, support each other, push each other and lift each other up. I'm really proud of the support they showed, knowing that [we were] in one of those games you might have to win 3-0 or win it in four overtimes. This is something positive to build on and we'll be getting right back to work tomorrow."
Added Garcia, "It was a great and surreal feeling to see it there and to know that you are walking away with a win after everything. I would like to give huge props to our coaches, offensive line, running backs, and our defense. Our defense did a great job holding it back today. It was a great feeling to know that we ended the game like that today."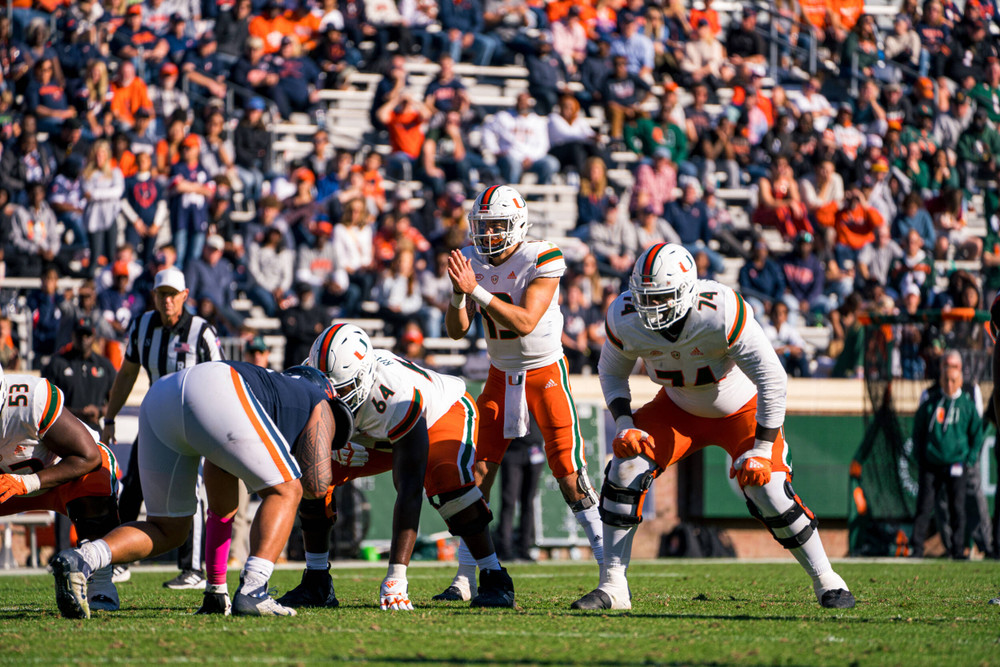 While Saturday's win was a testament to Miami's resiliency as a team, it was a testament, too, to the grit of one Hurricane in particular: kicker Andy Borregales.
A season ago, Borregales – then a freshman – missed a game-winning kick against Virginia as time expired.
On this day, though, the sophomore hit a pair of field goals to end both the first half and regulation before connecting on two more field goals in overtime to keep the Hurricanes alive.
He hit first from 38 yards, then 20 yards, then 42 yards and, finally, 37 yards, with each kick coming in a key moment.
In the final seconds of the first half, Virginia tried to ice Borregales twice, calling two timeouts, one of which came just as the kicker sent the ball airborne. None of it mattered.
Borregales was unfazed, his demeanor even prompting a mid-game tweet from his brother – former Hurricanes kicker and Lou Groza Award winner Jose Borregales – who jokingly called on Virginia to continue trying to throw the younger Borregales off his game.
"I wasn't nervous because of my kicking experience last year playing Virginia," Andy Borregales said matter-of-factly. "I am on a 'make or miss' mentality. It's natural human instinct to be nervous, but it comes down to trusting the guys in front of you. I trust Mason Napper our long snapper and Lou Hedley our punter. They trust me to put through the lines, I trust them to make sure that protection is good. I owe all my glory to them, all ten guys in front of me."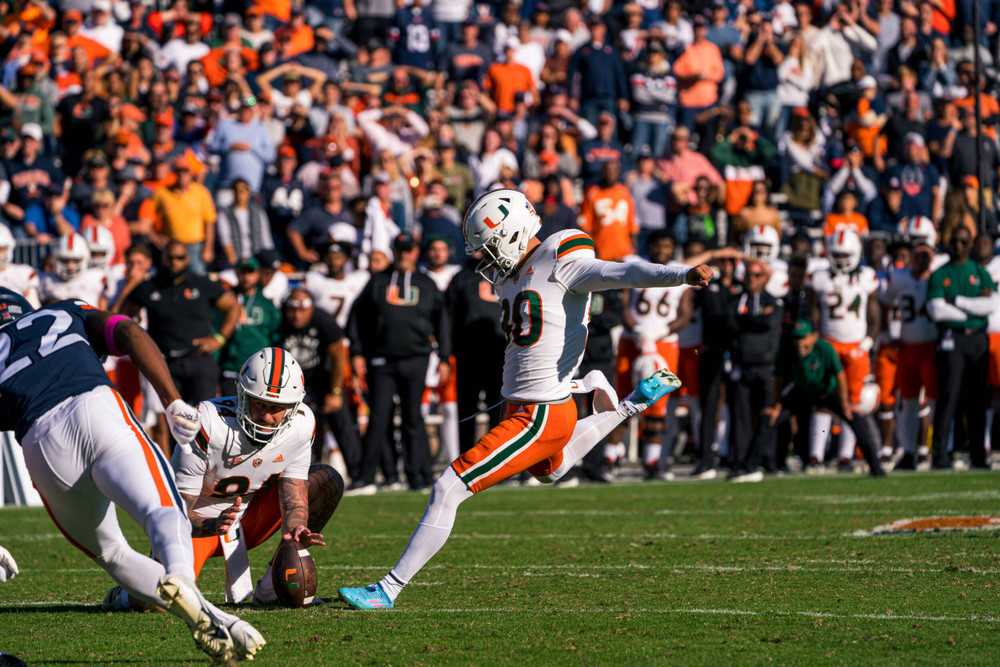 Garcia's and Borregales' heroics, though, wouldn't have been possible without a stellar effort from the Miami defense, which kept Virginia from putting the ball in the end zone, too.
The Hurricanes held Virginia and record-breaking quarterback Brennan Armstrong to 327 yards through four quarters and four overtimes. He was sacked five times, Miami totaled 11 tackles for loss and the Cavaliers were just 5 of 16 on third-down conversion attempts.
It wasn't a perfect day – Armstrong did rush for 67 yards – but it was a winning effort that Cristobal said was worth noting.
"I think today, as opposed to maybe a couple of weeks ago, as opposed to maybe week three of the season, we were able to put four quarters of really good defense together," Cristobal said. "Especially at halftime, when they came out with their adjustments, hit us on a big play, still find a way to get a stop…Then the success of the stops in overtime, just that defense, really, I mean talk about stepping up and you saw the amount of guys that played, that got reps today with the guys that were down. A great job, man."
But for all the celebrating that may have happened on the field at Scott Stadium and in the locker room, the Hurricanes know there won't be much more time to dwell on this win.
On Sunday, Miami's players and coaches will return to Greentree, their focus turned to one of the most highly anticipated matchups of the season: their annual showdown against rival Florida State.
The Seminoles, like the Hurricanes, will enter the game on a winning note and every expectation is that no matter their records, the game will be hard-fought and intense.
"[This game] was pretty tough, but you just got to put your head down and work. These are the moments you work for," said Hurricanes running back Henry Parrish Jr., who finished with 23 carries for a game-high 113 yards. "All the OTs and all the hard work you put in in the offseason, it showed up today. You've just got to get back to the field and correct the mistakes and get back to work."