Takeaways from Miami's Game Against North Carolina
MIAMI GARDENS, Fla. – During the course of their off week, the Hurricanes worked to improve.
Head coach Mario Cristobal said practices were physical and there was a "camp-like" approach. Quarterback Tyler Van Dyke spent time with offensive coordinator Josh Gattis and quarterbacks coach Frank Ponce looking to regain his footing after a tough outing. And team leaders said difficult conversations were had about the need to contain explosive plays and start quickly.
The hope was that all those efforts would help Miami open conference play with a win.
But while the Hurricanes were competitive and rallied late in their Coastal Division matchup against North Carolina on Saturday, ultimately, the Tar Heels held on for a 27-24 win.
The Hurricanes, who now have a stretch of seven conference games ahead of them, will again return to Greentree looking to continue improving so they can remain competitive in the division.
Here, a look at some of what Cristobal said the Hurricanes can take from their game against North Carolina.
1. The Hurricanes were resilient
Cristobal and his players haven't sugarcoated it. The loss to Middle Tennessee two weeks ago was incredibly tough. But the Hurricanes were determined to find ways to bounce back from it.
On Saturday, though Miami fell behind and made some critical mistakes, the Hurricanes were resilient, giving themselves an opportunity to potentially tie or win the game on the game's final drive.
Miami came up short and while Cristobal again reiterated that Miami isn't looking for any moral victories this season, he did note he was pleased with his team's effort Saturday.
"I'll just go right to it: we knew we had work to do getting here at Miami and that's what we're all about," Cristobal said. "Moral victories aren't it, especially when you have opportunities. We gave ourselves an opportunity in the fourth quarter to have the ball and potentially tie or win the game. We came up short there as well. Do we see effort and better resiliency? Yes. Are there very fixable, should-not-go-sideways situations? Yes. And do you address those directly and bluntly? Absolutely. There's no sugar-coating it. Just really upset.
"But I'm proud because the guys were grinding and they kept coming, no matter what. They really had the right attitude and right mentality, a really good pregame, and really good physicality."
2. Van Dyke bounces back for a career day
There's no doubt expectations were high for Van Dyke entering the year.
The third-year sophomore closed out the 2021 season by throwing for more than 300 yards in six straight games and was named the ACC Rookie of the Year.
But the quarterback had one of the roughest outings of his career in Miami's last game, a loss to Middle Tennessee State in which he threw two early interceptions.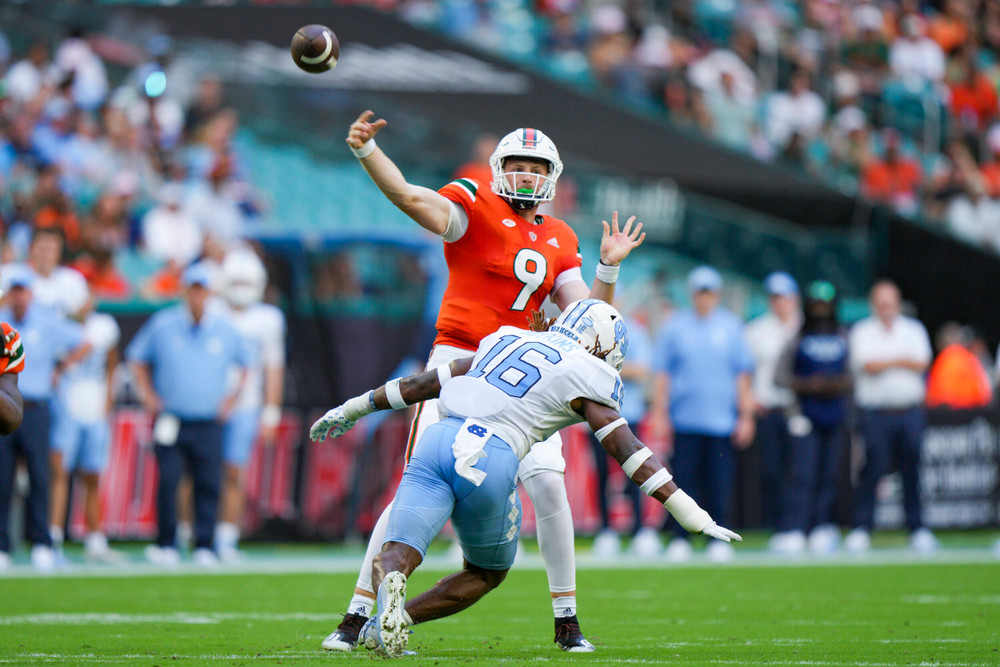 Van Dyke didn't finish that game, but started against UNC.
He delivered a career performance.
Van Dyke completed a school-record 42 passes on a school-record 57 attempts to finish with 496 yards and three touchdowns. It was the second-most passing yards in a single game behind only former Hurricanes quarterback Stephen Morris, who threw for 566 yards against North Carolina State.
"Tyler got so hot that we said 'Let's just go with it,' and he did a really good job," Cristobal said.
Said Van Dyke, "I think it was just positivity. I really worked on that during the bye week and had probably the best practices I've ever had that week. It really reflects on the offense and how we play. None of the stats matter if we lose a game. I didn't do enough to win the game for the team. Just have to go back in the building and work on it…If I make a bad throw, I have to keep my head up and keep leading, instead of  getting down on myself when I make a bad throw. Just keep leading and be positive."
3. The running game had a tough afternoon
The Hurricanes have missed having Jaylan Knighton and Henry Parrish Jr. healthy of late and were hopeful their returns would spark the Miami ground attack.
That didn't quite happen.
The Hurricanes managed just 42 rushing yards and multiple run plays were stuffed in goal-line situations that cost Miami much-needed points.
The focus on improving there, Cristobal said, will continue.
"I have to get on the film and see what's up. Some things look like they're there and all of a sudden, it's one yard or no yards or two yards," Cristobal said. "You run power and you've got a good double team and you feel like you have a good kick out and it should be a successful play. Wide zone versus some of those things should be good, but we're short. We're short on something. Sometimes, the double team is too thin. Sometimes, a guy allows penetration. Sometimes, we're not reading it the right way. We're out of sync in the run game. It's not a matter of effort, but we've got to do a better job. We tried every which way to get the ball going on the ground – split zone, counter, power, wide zone. I mean, you name it."
4. Defense makes plays
North Carolina quarterback Drake Maye has established himself as one of the top young passers in the ACC, but the Hurricanes were able to make things uncomfortable for him at times Saturday, particularly in the second half.
Maye finished the day completing 19 of 28 passes and throwing for 309 yards and two touchdowns. But he also threw two interceptions, with Saturday marking the first time in his college career Maye has been picked off twice. He was also sacked five times.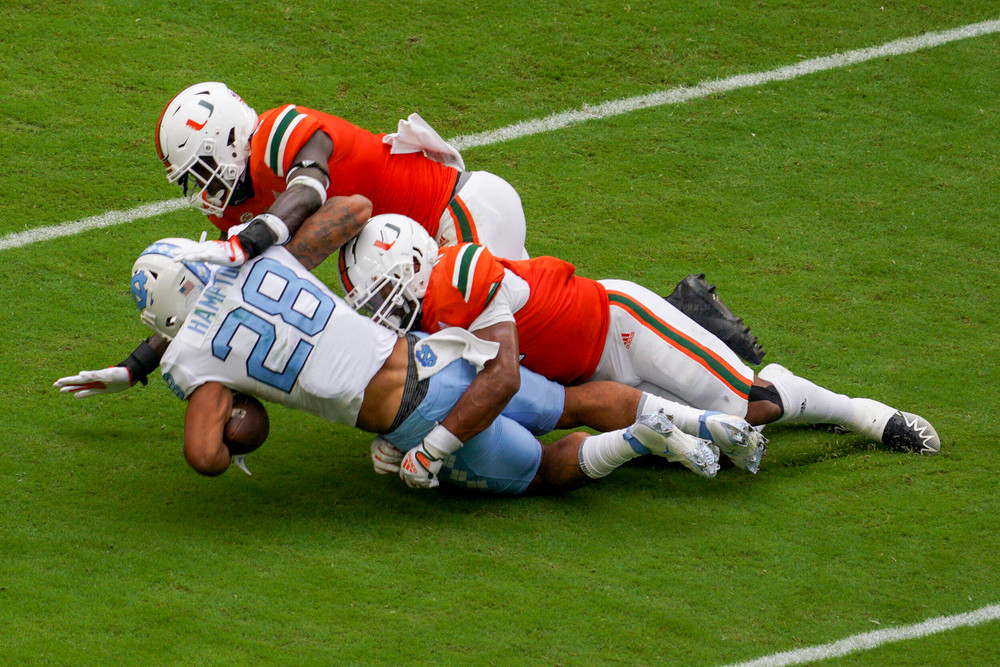 In the second half, the Hurricanes held the Tar Heels to just 142 yards, while on the day Miami totaled nine tackles for loss.
"We just started playing assignment football and we stuck to it and we showed discipline, which goes with it," Cristobal said of the defensive effort in the second half. "That's probably the best way to describe it. We showed more discipline in the second half and started executing at a higher level."
5. On to Virginia Tech
While the last three games haven't gone as the Hurricanes envisioned, on Saturday, players made it clear there's still plenty of football to play.
Miami still has seven straight ACC contests ahead of it, starting with another Coastal Division showdown against Virginia Tech on the road.
And on the day the Hurricanes celebrated the 35th anniversary of their 1987 national championship season, Cristobal reiterated his goal of helping Miami return to that level.
"They're one of the reasons I came to Miami, yes sir. I've been watching Miami football since I can remember, going to the Orange Bowl. That's why we are here. We're all about it. We're all about the work and the lumps that come with it. It stinks and it's painful to deal with but, you know what, that's what we are here for. And we're gladly ready for whatever comes with it to make sure we get back to a certain level and that's what we're going to do."