Canes Gear Up to Kick Off ACC Play
CORAL GABLES, Fla. – For the better part of the last two weeks, they've looked inward.
And they've worked tirelessly. In meeting rooms. In film study. And of course, on Greentree.
The last time the Hurricanes took the field at Hard Rock Stadium, they were left stunned by an upset-minded Middle Tennessee State team that came to Miami with something to prove.
Now, with non-conference play behind them and a stretch of eight straight Atlantic Coast Conference games ahead, it's the Hurricanes who want to show they've grown and improved.
"I'd say the mood is hungry. We've got to get back out there and get started rolling again, get this thing rolling," said fifth-year senior tight end Will Mallory. "Guys are fired up and hungry to get back out there and play. So as far as the room, the offense, to get things going, you've got to focus on what you have to do, your task at hand. You can't do anyone else's job. We've got to get really fundamental, very, very particular in every technique and do what we're coached to do. If we do what we're coached to do, we do what we've schemed up and we do it at a high level, that's when good things happen. So we've got to focus on ourselves."
Added fourth-year redshirt sophomore defensive end Jahfari Harvey, "That loss hurt. We're just hungry to get a win after that one. We had 24 hours to think about it, but it still hurts to this day. We're just ready to go play somebody. We had a bye week, so we had two weeks to think about it and work. We're just ready to go out there and play some good football."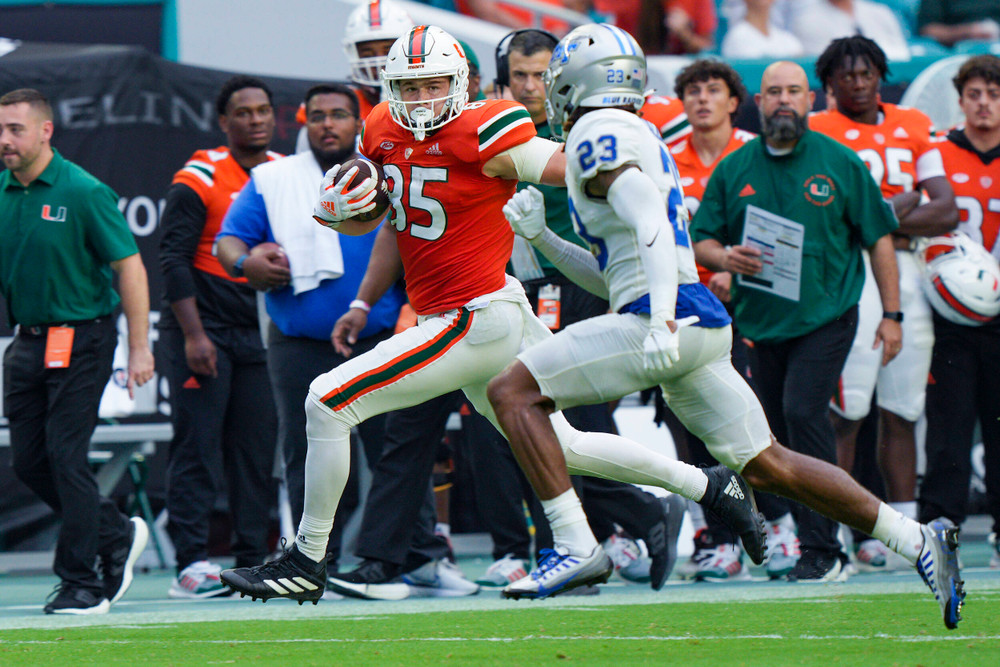 After two weeks of working and waiting for its next opportunity, Miami (2-2, 0-0) is finally set to open conference play Saturday at home against Coastal Division foe North Carolina.
The Tar Heels (4-1, 1-0) come to Hard Rock Stadium having won two of their last three. In its last outing, North Carolina totaled 527 yards of offense in a dominant 41-10 win over Virginia Tech and quarterback Drake Maye, a freshman, posted another big performance.
Maye, who has emerged as the ACC's top passer early in the year, completed 26 of 36 passes for 363 yards and three touchdowns against the Hokies. On the season, he's completed 70 percent of his passes and thrown for 1,594 yards and 19 touchdowns.
The Hurricanes know Maye poses a significant threat, especially given that Miami's defense is trying to bounce back after giving up touchdown passes of 71, 69 and 98 yards against Middle Tennessee State.
Working to eliminate those kinds of big plays has been a focus during the bye, Hurricanes head coach Mario Cristobal said.
"Well, there were about four plays that resulted in about 315-plus yards. Explosive plays hurt us…Typically, explosive plays are the result of an offense making a big play or a bust on defense," Cristobal said. "I don't know if things have to be rehashed, in terms of whether a guy got beat or we didn't communicate well enough. It's the same stuff. It hasn't changed in two weeks, in terms of what actually happened. More important is what have we done going forward to address it…assessing it, attacking it, with practice, with a plan. A form of communication, technique work, scheme work, [and finding] ways to help our guys be in situations where they can be successful has been the answer and the approach for us."
Another area the Hurricanes say they've prioritized improvement on during the bye? Finding ways to score quickly and not put themselves in an early bind.
In three of its first four games, Miami has found itself playing from behind, with opponents scoring first. Middle Tennessee, in particular, jumped to a 24-3 lead that proved too much for the Hurricanes to overcome.
That can't happen against a team like North Carolina, Miami's players acknowledged.
They – and Cristobal – said the issue has been addressed.
"Players have gotten together and said 'Man, what can we do to start fast? It's something we need to do between us, talk to the coaches about and see if there's something we can come to and fix,'" said third-year sophomore defensive lineman Elijah Roberts. "It's been fixed. People have been talking about it, met with the coaches and stuff like that. I don't expect us to have any more slow starts like that."
Said Cristobal, "Anytime you have an issue like that, you certainly work at it and make [it] an emphasis in practice, meetings, and walk-throughs. Expect to work on getting a better result as opposed to just hoping it does get better. Yes, it has been addressed. Yes, it has been worked on."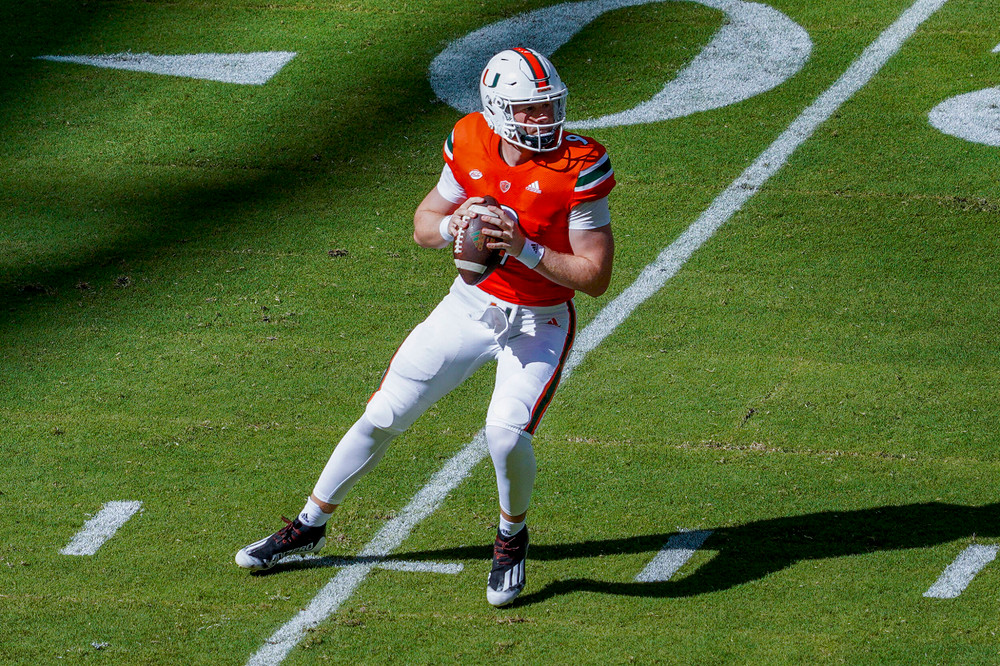 Miami's offense, which has dealt with a series of injuries and has struggled in the Hurricanes' two losses, has also used the bye week to focus on improving.
Quarterback Tyler Van Dyke, who a season ago made the first road start of his college career in Chapel Hill, will get the start against the Tar Heels on Saturday after struggling against Middle Tennessee.
Like the rest of the Hurricanes, the quarterback says he, too, has used the last two weeks to get better.
"Obviously, it was a rough day for me and the offense. You've just got to move on from it, honestly," Van Dyke said. "You've got to learn from that experience and come back here and work, work even harder and get better from it. That's what we did last week. We had a really good week last week as an offense and we're just trying to build on that and stack these days and do it every single day. That includes Saturdays, where it matters most."
But the Hurricanes made it clear: what happened in their last game wasn't on Van Dyke or any single player. They've all had room to grow.
That's been the focus. And Saturday against North Carolina, they can show that growth.
"I think, obviously, that loss wasn't good for anybody. It was a loss," said veteran punter Lou Hedley. "But moving forward, that's just it – [we're] moving forward. It's our first game in the ACC and it's up to everyone, all the veterans on the team to get the ball rolling. Look at this game as [going] 1-0 in our first ACC game. Real excited to just get started on ACC competition."