Takeaways from Miami's Game Against Middle Tennessee State
MIAMI GARDENS, FLA – It was supposed to be a chance for the Hurricanes to bounce back, an opportunity to show they'd fixed the mistakes that proved costly in their first loss of the season.
Instead, Middle Tennessee State came to Hard Rock Stadium looking for its first win over a top-25 opponent and the Blue Raiders got exactly that, jumping to a quick lead and connecting on several big plays to eventually notch a 45-31 upset of the Hurricanes.
After the game, Hurricanes head coach Mario Cristobal didn't mince words.
"They coached better than us. They played better than us. They were better," Cristobal said of Middle Tennessee. "We didn't do a good enough job. There's no excuse. We're going to look in the mirror and do something about it. We won't allow any cracks to happen from the inside. We all came here for a purpose and a reason. We've got a lot of work to do."
Here, more of what Cristobal said the Hurricanes can take from their game against the Blue Raiders…
1.  A slow start took its toll
Hurricanes quarterback Tyler Van Dyke had a pair of interceptions on Miami's first two drives Saturday and Middle Tennessee more than took advantage.
The first, which came deep in Miami territory, led to a 28-yard field goal. The next was returned for a 15-yard touchdown. In minutes, the Hurricanes found themselves playing from behind.
"We've practiced well. Thought pregame went as it always goes. We push them hard in pregame," Cristobal responded when asked about the start. "We got the ball and we had the interception, held [them] to a field goal and then a batted ball for a touchdown, so they created some momentum early. Our special teams really didn't create something until later in the game, so field position wasn't what it was, and we didn't get the run game going like we always do. The red zone [in the] first quarter, I believe, we ended up with three points. So we went another quarter without scoring a touchdown."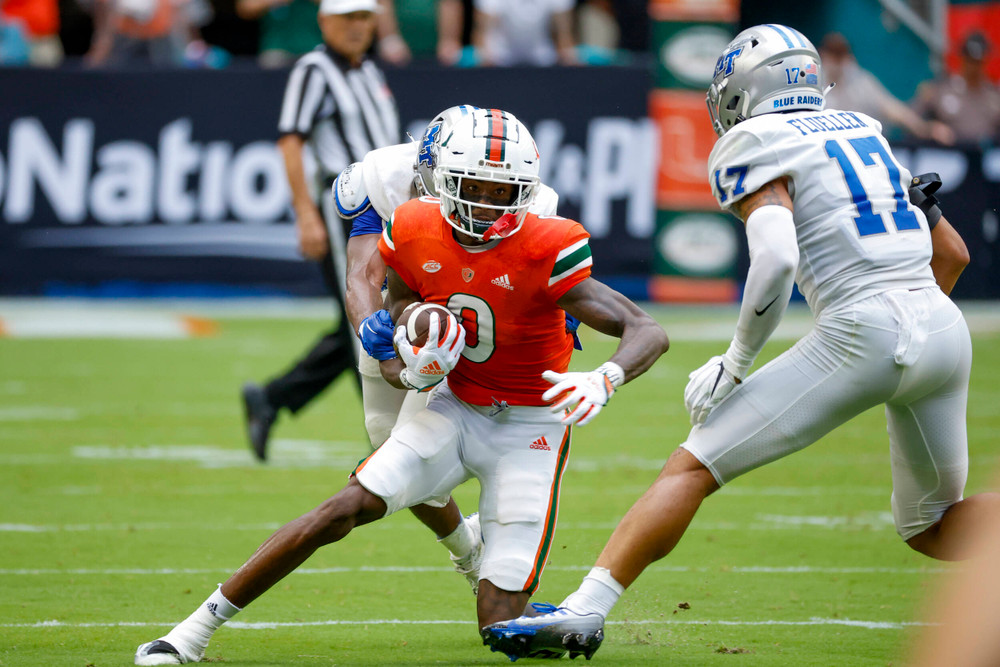 2. Middle Tennessee capitalized on big plays
It wasn't just the start that made things tough for the Hurricanes on Saturday.
Middle Tennessee's air-raid offense and its big plays did damage, too.
Two plays after the Hurricanes pulled within 10-3 at the 4:52 mark of the first quarter on a 39-yard field goal from kicker Andy Borregales, Middle Tennessee quarterback Chase Cunningham connected with DJ England-Chisholm on a 71-yard scoring pass that pushed the Blue Raiders' lead back to 14 points.
Touchdown passes of 69 yards and 98 yards would follow later, making it difficult for Miami to close the gap.
"They caught us in man coverage and got behind us. Credit to them for scheming up. We've got to do a better job coaching up our guys with technique. Then we've got to play better," Cristobal said.
He continued, "You can check the film. There's no sugarcoating it. We've got to obviously scheme better or analyze our matchups better to help our players be as successful as they can be. They got behind us. Good throw, good catch, but they got behind us."
3. The offensive troubles continued
Last week at Texas A&M, the Hurricanes struggled in the red zone and managed just three field goals in a 17-9 loss to the Aggies.
Those struggles continued against Middle Tennessee.
Miami was 7 of 20 on third-down conversion opportunities and while the Hurricanes scored three offensive touchdowns, they came up empty on two trips to the red zone and had just 60 rushing yards.
"Our run game was nowhere near what it has been. [They] had an extra man in the box, but we still didn't block them as well as we need to. We didn't hit them as hard as we need to. We didn't scheme it up as well as we need to. Credit to them for putting an extra guy in the box," Cristobal said of the rushing game.
Van Dyke, who was 16 of 32 for 138 yards, had two interceptions and a touchdown before redshirt freshman quarterback Jake Garcia entered the game. He finished 10 of 19 for 169 yards.
Each quarterback was sacked twice.
"Scheme change. It's different. Some things are different," Cristobal said of Van Dyke's play. "Obviously, over 65% of his receiving production is gone. An injury to Xavier [Restrepo] is having us develop guys that are working hard to get better. We've got to do a better job setting him up for success and doing things offensively that allows us to have a more successful and a more productive pass game."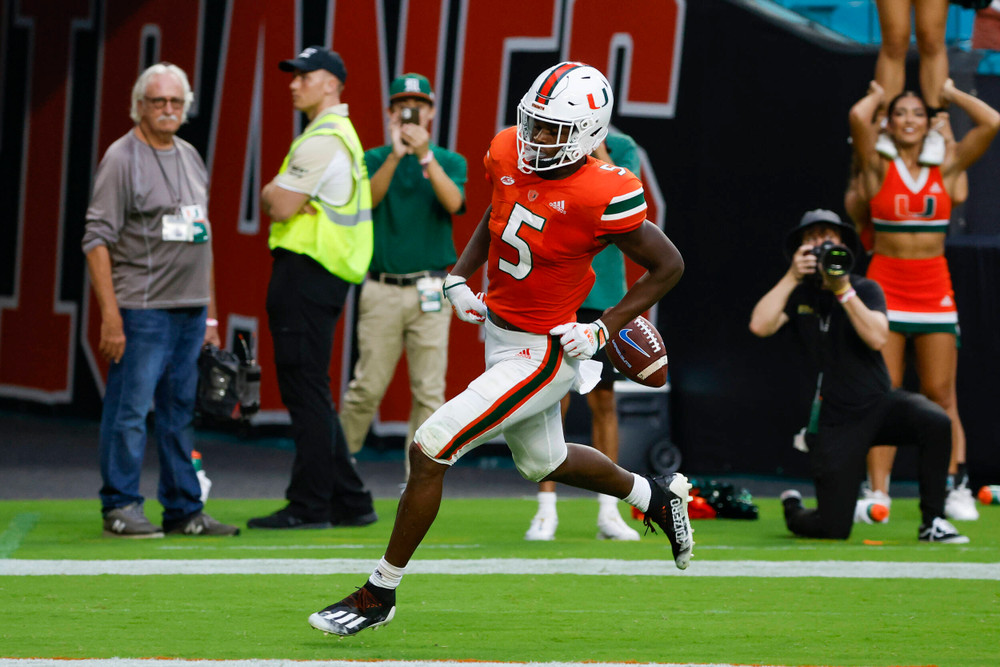 4. Key'Shawn Smith emerging as a big-play option
Through Miami's first four games, third-year sophomore receiver Key'Shawn Smith has shown his ability to make big plays.
That continued Saturday when he scored on a 91-yard kickoff return in the fourth quarter that pulled the Hurricanes within two touchdowns. He also had a team-high 81 receiving yards and finished the day with a game-high 299 all-purpose yards.
5. A bye, then ACC play awaits
More than once after Saturday's loss, Cristobal made it clear the Hurricanes have "a lot of work to do" during their upcoming bye week.
That conference play begins when Miami returns to Hard Rock Stadium on Oct. 8 to face Coastal Division foe North Carolina only adds to the sense of urgency.
Cristobal said there's already a plan in place to not only help injured players recover, but to maximize the amount of learning and work that happens on Greentree during the next few days.
"We have a plan to practice a certain way we always do during the bye week. We've had very good success after bye weeks at previous stops so that plan does not change," Cristobal said. "Guys have to step up in situations and position groups that are injured. We practice hard during the bye week. It's a very competitive bye week in terms of good-on-good and the amount of work that we do, but we are also smart about it. Guys that are injured…we try to get them well. And we'll get a jump on our next opponent, knowing the issues. Obviously with today's issues, we've got a lot of work to do."