Back Home and Back to Work
CORAL GABLES, Fla. – Late last Saturday night, before the Hurricanes even left Kyle Field on the campus of Texas A&M, Miami head coach Mario Cristobal made a simple, succinct declaration.
"We've got to get back to work and get better," he said after Miami's first loss of the season.
That's what the Hurricanes have worked to do this last week.
Miami did a lot right in its first road game.
It seemed generally unfazed by a loud crowd of more than 107,000 passionate fans. It outgained the Aggies and found ways to pressure their quarterback. Miami's rushing game was also effective for much of the evening.
Unfortunately, though, the Hurricanes made their share of mistakes and those proved too costly to overcome in what was ultimately a hard-fought 17-9 loss to Texas A&M.
For the last week, the 25th-ranked Hurricanes have focused on fixing those mistakes. Their first opportunity to test those efforts comes Saturday when they return home to Hard Rock Stadium to close out nonconference play with an afternoon showdown against Middle Tennessee State.
The goal for Miami is simple: find a way to go 1-0 this week.
"We always assure that when you leave a game, whether you win or lose, you still assess 'Was it your very best?' and whatever it was, you have to elevate it. For us, it's always going to be that," Cristobal said. "Losing a game, for myself personally, it doesn't get any more difficult than that, especially when you played at a place you coach at. It probably hits a million times harder and that's okay, as long you're using that as continued motivation to get back to process and get better.
"You still have to go back…How can we get better? How can we improve? That's the only way to make progress towards your goal. We feel like we have made progress. We feel like we are improving the areas that showed up in negative way on Saturday. But there's no flinching. There's no hesitation as it relates to that. It really is full speed ahead, with really nothing on our minds but improving."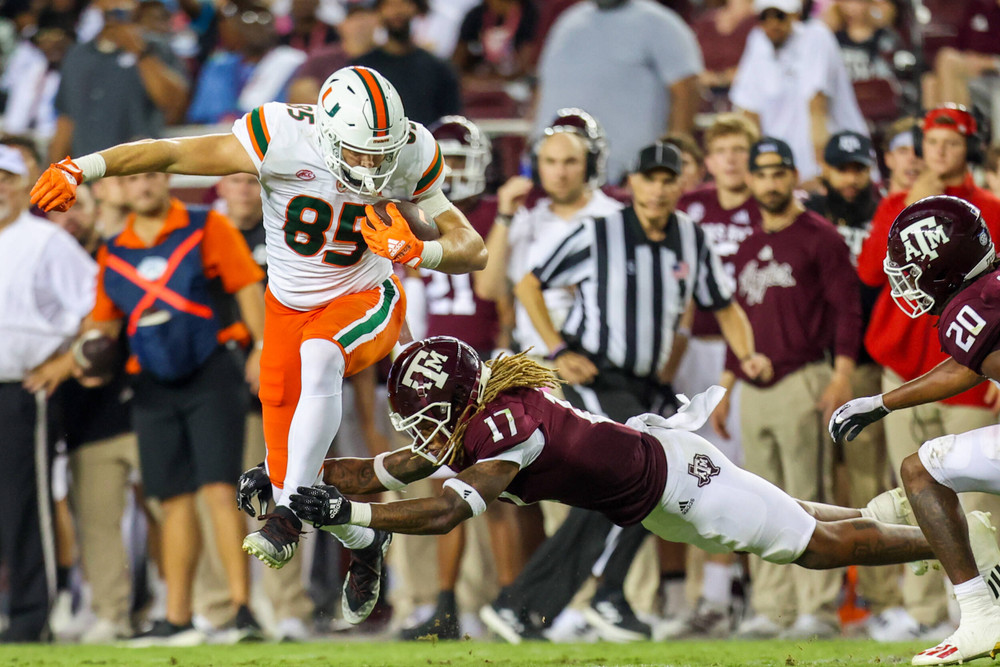 Two of the areas the Hurricanes have no doubt focused on this week? Improving their efficiency in both the passing game and in the red zone.
While Miami (2-1) outgained Texas A&M 392-264, the Hurricanes had just three field goals from kicker Andy Borregales to show for it. Drives sputtered because of penalties and miscues.
Making things tougher was the fact the Hurricanes were without top receiver Xavier Restrepo, who is sidelined with a foot injury. Miami's available receivers dropped a handful of quarterback Tyler Van Dyke's passes.
Van Dyke finished the day 21 of 41 for 217 yards.
The Hurricanes know they have to be better on that front.
"We each have to focus on our execution. That's the thing. That's what it comes down to. It's the little details," said fifth-year senior tight end Will Mallory, who had a team-high 56 receiving yards against Texas A&M. "Every little bit is something that we have to really, really focus on. We have to improve on that. All of us feel we've got playmakers. We've got nothing but belief in everybody. We're going to keep spreading that ball around."
Said offensive coordinator Josh Gattis, "We've obviously got some deficiencies there from a depth standpoint, some challenges we're facing. But we've got to be better. We've got to be better consistently. That's across the board. That's ball placement. That's quarterbacks. That's running backs. That's tight ends. That's receivers. Too many balls were on the ground. Too many open opportunities…Obviously, when you lose someone as important as Restrepo, he's our leader, captain, there's a significant difference in that room. We have to overcome it. There are no excuses. There's challenges and we have to overcome it with opportunities for everyone."
Miami's defense, meanwhile, did a solid job of pressuring Aggies quarterback Max Johnson throughout the game, sacking him three times and hurrying him three more times.
The unit will look to do the same this week against a Middle Tennessee (2-1) offense that likes to move quickly and pass the ball.
Blue Raiders quarterback Chase Cunningham has completed 71.9 percent of his passes through Middle Tennessee's first three games. That ranks 12th nationally. He's also thrown for 592 yards and four touchdowns.
Running back Frank Peasant, meanwhile, has totaled 218 rushing yards and five touchdowns.
Both will pose their own unique challenges for Miami on Saturday.
"That offense, traditionally, it's been hard to get sacks against. You can affect the quarterback, but it's hard to get sacks against because it's built to get the ball out quick," Hurricanes defensive coordinator Kevin Steele said. "It's catch and throw, catch and throw, catch and throw. We're going to have to make sure that we affect the quarterback in some different ways. We've got to get our hands up. We've got to make him throw through windows that are tight, not doorways. That's key. And then we have to be tight in coverage and tackle well in space because they create a space game."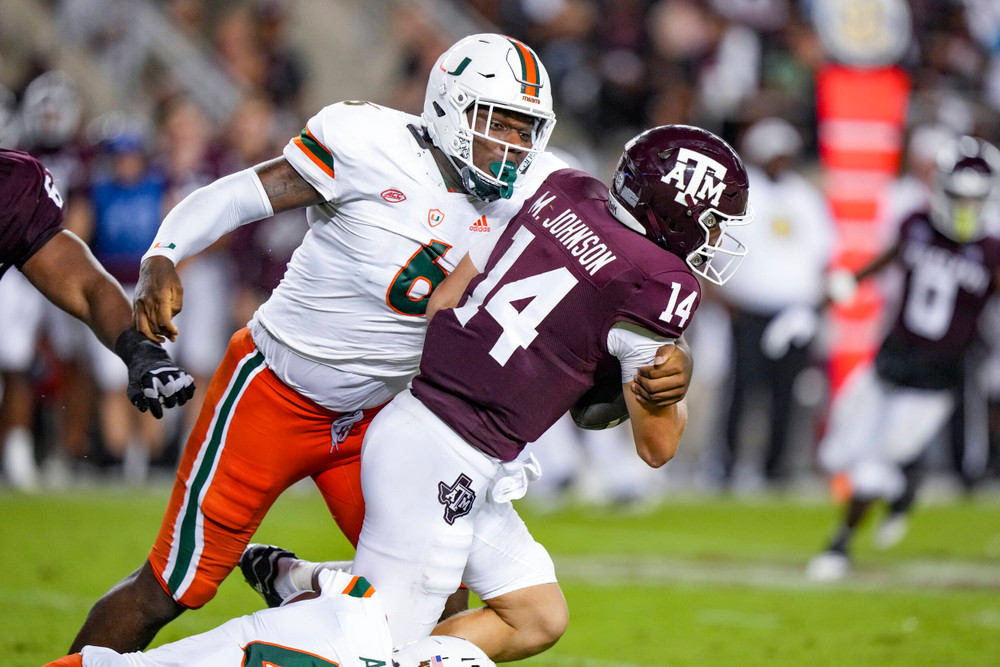 For all of the Hurricanes, Saturday's game is more than just an opportunity to bounce back from the first loss of the season.
It's an opportunity to continue growing and improving, to continue becoming the team they know they can be.
And in the days leading up to their matchup against Middle Tennessee, that's been the focus.
"Everybody's been locked in, ready for Saturday coming up. That's all our focus is on now. We are where our feet are," defensive end Jahfari Harvey said. "Just coming to practice every day with the right mindset, everybody's coming to work, trying to make tomorrow better than yesterday…
"We're just taking it, like I said, day-by-day. We're never satisfied. I feel like there's a lot of things to clean up. You can never play a perfect game, so every day, we're coming in here, working, watching film, putting in extra work. Just trying to get better. We're focused on us, focused on playing the best Canes ball, we can always play a better game."