Canes Gear Up for First Road Test
CORAL GABLES, Fla. – In their first two games, they've enjoyed the luxury of playing at home.
They've been cheered by family, friends, classmates and fans at Hard Rock Stadium. They've been in familiar surroundings. There's been no need to pack or adjust to a time difference.
All of that changes this week.
For the first time this season, the 13th-ranked Hurricanes will be tested on the road and that test will come in one of the most raucous environments in all of college football: Kyle Field on the campus of Texas A&M University.
The home of the Aggies seats more than 102,000 fans and is one of the five largest college football venues in the nation. And Texas A&M fans – widely referred to as the 12th Man – are known for filling every available seat in that stadium, week in and week out.
It doesn't matter who the opponent is, Aggies fans are loud. They're disruptive. And this week, they'll be an element the Hurricanes will have to contend with, along with their opponent on the actual field.
"If you've never seen it before, never practiced in noise before and if you let it get in your head, it will affect you tremendously," Hurricanes head coach Mario Cristobal said. "If you practice in it, if you really stress the importance of how you signal, how you communicate without having to verbally correct…
"We understand they create an unbelievable atmosphere, which is exciting for our guys, quite honestly. It's exciting…When you're growing up and you play college football, you want to play in games like this. You recognize their tradition. You respect it, them, and their program and you can't wait for the opportunity to go find out where we are as a program."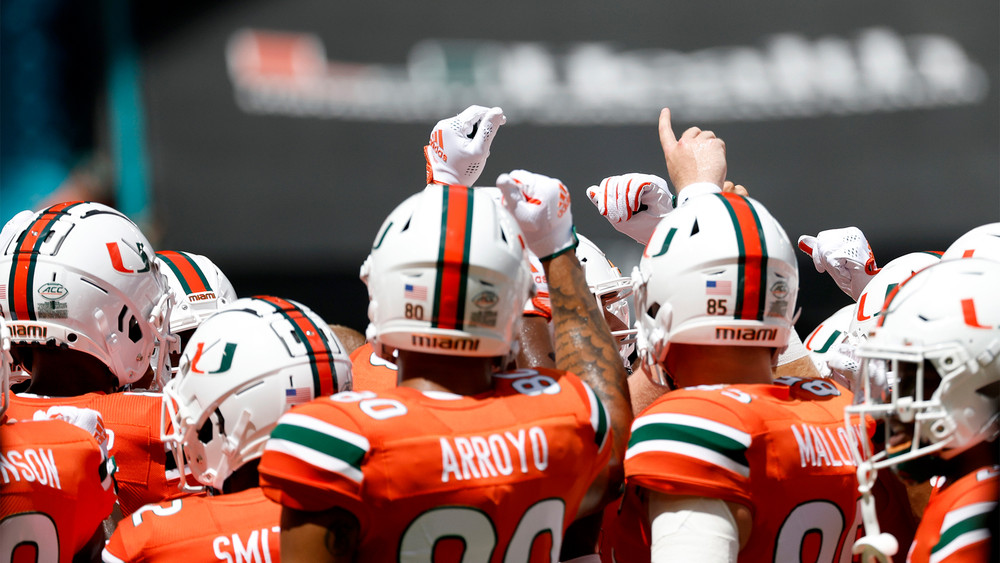 That mentality – and the chance to play in front of a nationally televised audience as well as 100,000-plus fans – is one the Hurricanes (2-0) say they're embracing.
During practices leading up to Saturday night's game, which is set for a 9 p.m. kickoff on ESPN, the Hurricanes have turned the volume up on outdoor speakers to try and simulate the crowd noise they'll face at Kyle Field.
Is it the same? More than likely not, but the Hurricanes say it's still been plenty helpful.
"Trust me, there's times I can't talk to the other players on the field because the speakers are so loud," Miami offensive coordinator Josh Gattis said. "But we've got to handle that. We've got to handle that. We've got to do a great job with our verbal and visual communication, whether that's signals, communication on the field, everything. Everyone's got to take an enhanced effort at preparation this week."
Added cornerback Tyrique Stevenson, "We're going to go into a hostile crowd, one of the loudest stadiums in college football. We're going into a big game. Just don't let the game be bigger than what it is. We're practicing, just like them. We're working, just like them. We prepare for moments like this."
As formidable an environment as Kyle Field may be, the Hurricanes – and the rest of college football – saw last week that it's not necessarily impenetrable.
Appalachian State, a foe the Hurricanes bested last September, stunned Texas A&M and left Kyle Field with a hard-fought 17-14 win that nearly knocked the Aggies out of the AP Top 25.
The Mountaineers outrushed the Aggies 181-89, outgained them in total yards 315-186 and held the ball for more than 41 minutes, limiting 24th-ranked Texas A&M (1-1) to just three possessions in the second half.
That, the Hurricanes know, made a difference, particularly against an explosive A&M team loaded with speedy playmakers on both sides of the ball.
Replicating that kind of offensive efficiency could be a key for the Hurricanes if they too are to leave Kyle Field with a win.
"It's tough to score when you don't have the ball. I could see that," said Hurricanes quarterback Tyler Van Dyke, who has completed 73 percent of his passes through Miami's first two games and has thrown for 454 yards and three touchdowns. "Every throw is important. Every throw needs to be on the money and if it's not, you have to just forget about it and throw the next ball. We have a good plan."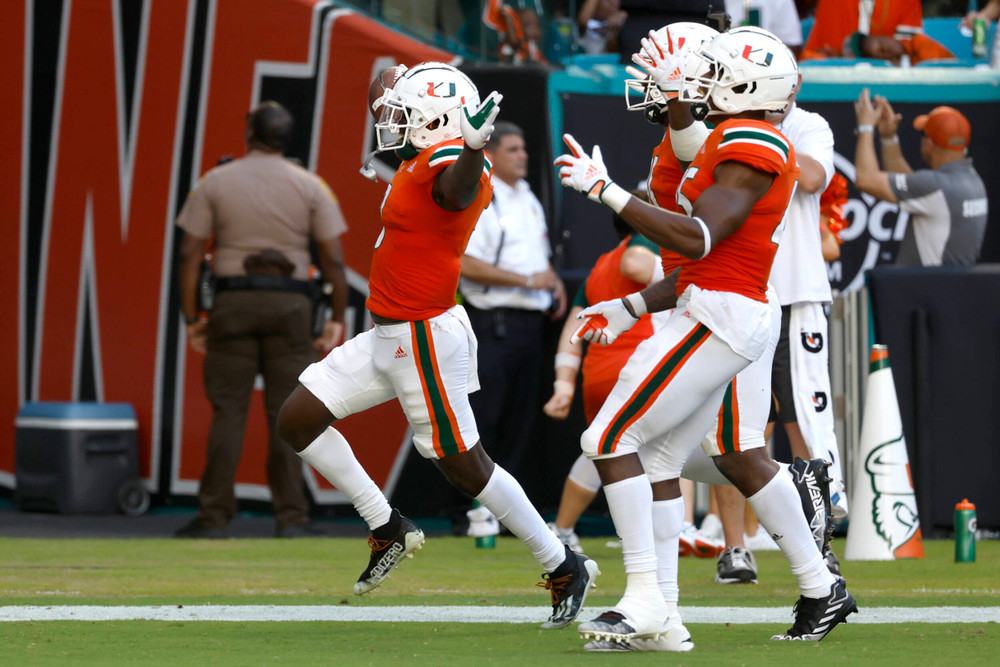 It won't just be Miami's offense that will have to be at its best Saturday.
The defense will have to contain an offense that totaled 497 yards in Texas A&M's 31-point season-opening win over Sam Houston State. And it will have to do find a way to contain running back Devon Achane, who last season had a team-high 11 touchdowns and led the SEC with his average of 7.0 yards per carry.
Though Achane was limited to just 66 yards in last week's loss to Appalachian State, he still scored on a 26-yard rushing touchdown and showed off his big-play ability on a 95-yard kickoff return that resulted in another Aggies touchdown.
Miami may also have to deal with some uncertainty at quarterback.
Redshirt sophomore Haynes King has made just four starts at A&M after a season-ending injury last year.
He struggled against Appalachian State, which could open the door for Aggies head coach Jimbo Fisher – an opponent the Hurricanes know well from his time at rival Florida State – to make a change and give Max Johnson, a seasoned transfer from LSU, the start.
The Hurricanes know they have to be prepared for either possibility.
"Coach Fisher is Coach Fisher. You can go back and watch Florida State tape and you can watch last year's tape and you're going to see the basics [are] the same," said Miami defensive coordinator Kevin Steele. "The body of work, who they played, it's still his offense. Obviously, the challenge is great. They're very talented. Very, very talented. It's at home, in College Station. That's a different place to play…You have to factor in and prepare for crowd noise, all those kinds of things."
Added defensive end Jahfari Harvey, "You always have to be ready for anything they throw at you. Stop the run, get after them on third-down. That's the plan every week."
It will be, in every sense of the word, a test Saturday.
But the Hurricanes will head to College Station knowing it's an opportunity, too – an opportunity to improve, to remain undefeated and as they have in the first two games of the season, an opportunity to learn more about themselves before ACC play begins soon enough.
"Any time you go on the road, you've always heard that term 'business trip.' What does that really mean? The best way to put it, I guess, is that you work on toughness and discipline and resiliency and execution throughout the course of the winter, [the] fourth-quarter program, springtime, the summer, fall camp and everything else," Cristobal said. "You've got to make those things real. That's what you have to pack in your bags before you take a trip to a place an excellent football team like Texas A&M…
"I think every day is a learning experience with our guys. Every single day for us is new. I think we'll learn as much this week as we have the past week and the week before that."