Takeaways from Miami's Win over Southern Miss
MIAMI GARDENS, Fla. – Mario Cristobal has been his alma mater's head coach for nine months.
During that time, the Hurricanes have gone through spring drills, offseason workouts and preseason camp. And the coach has, undoubtedly, had countless conversations with his players in an effort to get to know them better.
But on Saturday afternoon, just minutes after Miami's 30-7 win over Southern Miss, Cristobal pointed out that two games into this young season, he and his staff are still trying to use every minute possible to learn how to best connect with and coach the Hurricanes.
That's why, maybe, Miami weathering some in-game adversity wasn't exactly terrible.
Now Cristobal and the Hurricanes know how players will respond.
"I think every minute that we get together is really, really important," Cristobal said after the Hurricanes overcame a sluggish start to pick up their second win of the season. "And we've been together for seven, eight, maybe nine months now. We're just trying to see how guys are and how they react and how to coach them to the best of our ability and how to give them the best chance for success. So you want to struggle in some way, shape or form. You just don't want to cause it to yourself and that is the biggest difference."
Against Southern Miss, the Hurricanes learned they had the ability to make adjustments. They saw, too, that there are areas where they need to continue working to be better, especially as they begin preparing for their first road game of the season.
Here, a look at some of what 13th-ranked Miami can take from its win over Southern Miss…
1.  A slow start didn't sink the Canes
After a big win over Bethune-Cookman in the opener, the Hurricanes knew they faced a tougher test against Southern Miss, which has one of the nation's top running backs on its roster and is known for an aggressive, blitzing defense.
And for a half, the Golden Eagles gave the Hurricanes plenty to think about.
They pressured quarterback Tyler Van Dyke and forced him into his first interception of the season. They scored the first touchdown of the game. And they tested Miami in a way the Hurricanes hadn't been tested just yet.
The good news? The Hurricanes responded, scoring 27 unanswered points – including 20 in the second half – to improve to 2-0.
"There were some pretty good halftime adjustments, particularly by the defense, to go out and have the second half they did," Cristobal said. "They shut down the run and shut down the pass."
Said receiver Michael Redding III, "It's okay to fail. Sometimes you want to face adversity so you can learn from it. And the more times we make mistakes, the more mistakes we learn from. The biggest thing is not to make the same mistake that you made last time and make sure that you learned from that first mistake…We were the ones making mistakes. We had to fix them. That's why we had a slow start in the first half."
2. Tyler Van Dyke had his ups and downs – but was still effective
Van Dyke came into the season facing some heavy expectations.
After being pressed into duty last year in the wake of an injury to former Hurricanes quarterback D'Eriq King, Van Dyke went on to throw for more than 300 yards in six straight games and earn recognition as the ACC Rookie of the Year.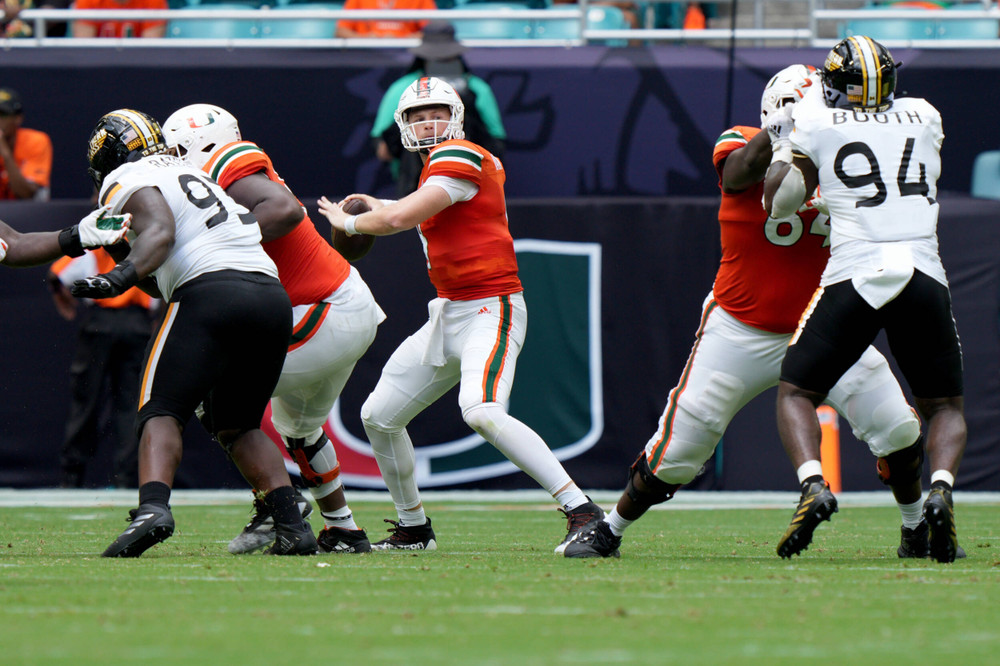 But he acknowledged Saturday he missed some throws he typically makes and said it's important that he continue to improve, especially given the test that awaits in College Station.
"I have to make better throws," Van Dyke said. "We're not going to win next week if I played like I played today."
Still, even with his struggles, Van Dyke completed 20 of 29 passes and threw for 253 yards with a touchdown. That's something the quarterback knows he can build on and he said he would, pointing out he planned to go from Hard Rock Stadium to Miami's practice facility on Saturday night to get right back to work.
3. A little trickery goes a long way
That touchdown Van Dyke completed? It was a 35-yard beauty to Key'Shawn Smith on a flea-flicker that pushed Miami's lead to 24-7 with 4:56 left in the third quarter.
It was the first receiving touchdown of the season for Smith, who has proven himself a big-play threat on kickoff returns early in the year, and was one of the plays that changed the tone of the game.
"That was probably my best throw of the day," Van Dyke said. "Key'Shawn did a great job. He got past the defense, a little bit of separation and he did a great job of holding onto the ball. It was a great call by [offensive coordinator Josh] Gattis after the punt return."
4. Henry Parrish Jr. stepping up
Third-year sophomore running back Henry Parrish Jr. joined his hometown program after two seasons at Ole Miss and has quickly made an impact.
After scoring three times in Miami's opener, Parrish finished with a game-high 97 yards against Southern Miss and once again found his way into the end zone.
In Miami's first two games, Parrish has totaled 205 rushing yards and four touchdowns.
He said being able to do that in his hometown, in front of family and friends, has been a boon.
"It feels amazing. The University of Miami. I'm playing in my backyard," Parrish said. "I've just got to take it step by step, process by process, and execute…I just put my head down and work, prepare every day…I'm ready to grind. That hard work, you've got to love it."
5. Defense delivers a dominant second-half performance
As Cristobal noted, Miami's defense was a force in the second half.
The Hurricanes kept Southern Miss off the scoreboard in the third and fourth quarters, held the Golden Eagles to just 91 total yards in the second half, and forced three second-half turnovers.
One of the players who stepped up during that stretch? Defensive lineman Leonard Taylor, who notched a sack and a tackle-for-loss on back-to-back plays in the third quarter that led to a quick three-and-out for the Hurricanes defense.
Van Dyke and Smith connected for their touchdown on Miami's ensuing possession.
"Really, I felt like I didn't do too much in the first half, so I was talking to myself in the locker room like 'I've got to get right,' telling my teammates I had to make some plays," Taylor said. "Then I went out there and made it happen."
6. Defensive line makes some big plays
Taylor wasn't the only Hurricanes defensive lineman to pick up a sack on Saturday.
Jacob Lichtenstein – a transfer from USC – recorded his first sack in orange and green, as did freshman defensive end Nyjalik Kelly.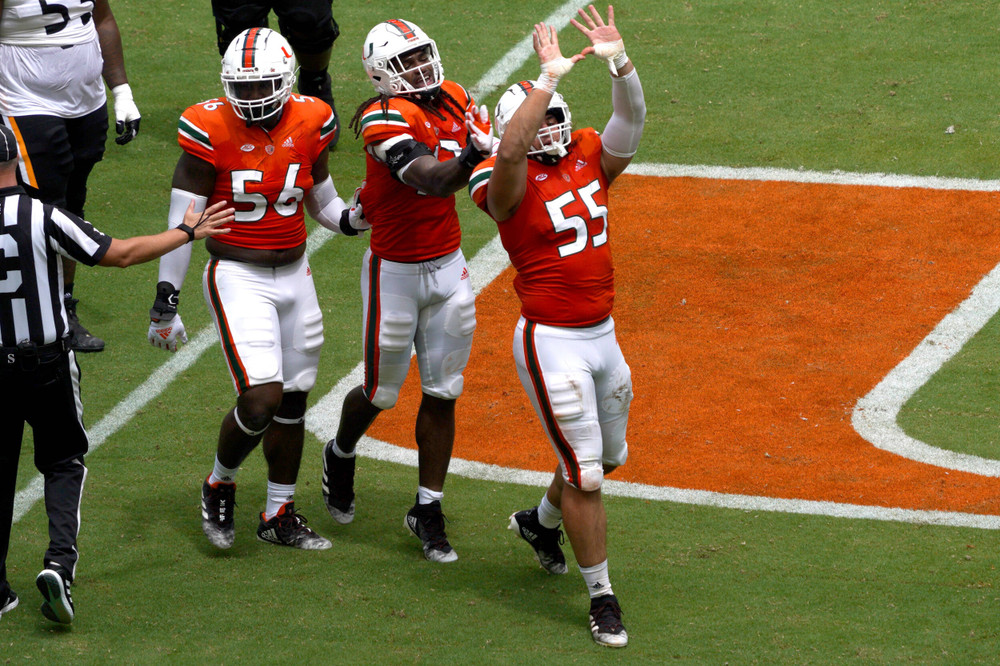 Meanwhile, defensive lineman Antonio Moultrie forced a Golden Eagles fumble that was recovered by fellow lineman Chantz Williams.
That turnover led to a Miami field goal.
7. Borregales remains perfect
Speaking of field goals, kicker Andy Borregales had another perfect outing Saturday.
After connecting on all his point-after attempts in the opener, the sophomore converted on all three of his field goal opportunities Saturday, hitting from 30 yards, 33 yards, and 40 yards.
He was also three of three on point-after attempts and touchbacks on five of his seven kickoffs, averaging 63.6 yards.
After the win, Cristobal noted that while the Hurricanes want to do a better job of finishing drives with touchdowns, he knows the weapon Borregales can be.
"It is good to have that, that Andy does that," the coach said.
8. Hello, Lou
In Miami's opener against Bethune-Cookman, punter Lou Hedley – a preseason All-ACC selection – wasn't called on beyond his holding duties.
When finally called on on Saturday, Hedley showed why he's expected to be one of the nation's top punters this season.
His first punt of the day went 53 yards and he finished averaging 44.5 yards and pinned Southern Mississippi inside the 20-yard line twice.
9. Frank Gore Jr. contained and Southern Miss' running game limited
Frank Gore Jr. – the son of Hurricanes legend Frank Gore – was a force for Southern Miss in the Golden Eagles' opener.
He rushed for 178 yards – second most in the nation last week – and showed his versatility by running plays in the wildcat against Liberty and catching passes out of the backfield.
The Hurricanes expected he'd be a challenge on Saturday, but the defense did a solid job, limiting Gore to just 10 rushing yards and 13 receiving yards.
None of Southern Miss' running backs fared much better, with the Golden Eagles totaling just 24 rushing yards.
"Their six guys in the box are really, really good," Southern Miss head coach Will Hall said of the Hurricanes.
10. Time to hit the road
After playing their first two games in front of friendly crowds at Hard Rock Stadium, the Hurricanes will find themselves in one of college football's most raucous venues: Kyle Field at Texas A&M.
The home of the 12th Man seats more than 100,000 and has been known to make it difficult for visiting teams to communicate.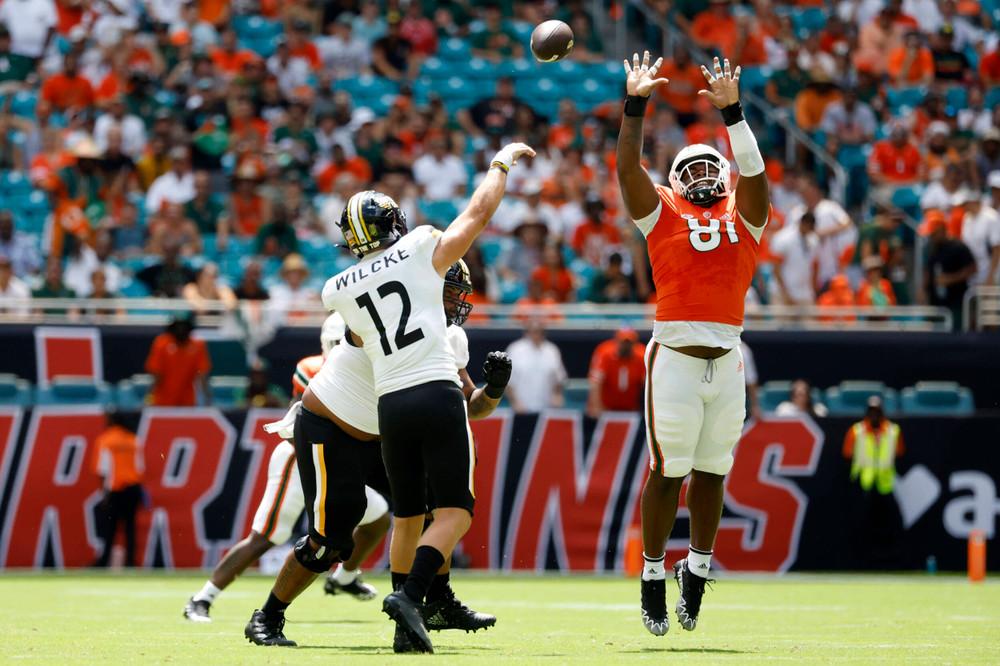 But it won't be just the crowd that poses a challenge this week.
The Hurricanes will be facing a Texas A&M team that fell from No. 6 in the AP Top 25 to No. 24 after a stunning 17-14 loss to Appalachian State in College Station.
In a myriad of ways, the Hurricanes will be tested. That's why players like Van Dyke and Redding said they were wasting no time getting back to work after Saturday's win.
Cristobal made it clear the rest of the Hurricanes will be working to improve, too.
"I have a tremendous amount of respect for [Texas A&M head coach Jimbo Fisher]. They are a very talented football team. Most importantly, we need to go back and assess our film," Cristobal said. "Where are our holes? Where could we have been better today? Where can we firm up the things that we can be better at so we can operate at a high level in a very hostile environment, as we know, against a really talented football team?"