Canes Respond After Early Test
MIAMI GARDENS, Fla. – The Hurricanes expected a test in their second game.
Their opponent – Southern Mississippi – has one of the nation's top running backs on its roster. Its aggressive defense likes to pressure quarterbacks. And last week, the Golden Eagles gave Liberty everything it could handle through four overtimes before the Flames eked out a win.
So it shouldn't exactly have been a surprise that upset-minded Southern Miss came out with a purpose when it took the field against 15th-ranked Miami on Saturday at Hard Rock Stadium.
The Golden Eagles scored the game's first touchdown, sacked Hurricanes quarterback Tyler Van Dyke four times, forced him into his first interception of the young season, and gave Miami plenty to talk about in the locker room at halftime before the Hurricanes put together a dominant second-half effort.
That effort – which included Miami scoring 20 unanswered points in the second half – ultimately made the difference in the Hurricanes' eventual 30-7 win over the Golden Eagles.
It also showed Miami (2-0)  it has the ability to not only make effective adjustments, but that it can handle challenges when they come, too.
Those are things that will make a difference as the schedule toughens and conference play begins next month.
"Obviously, we want to score every drive and we want to move the ball with ease," Van Dyke said. "I want to make every throw…but adversity, we needed that for the rest of the season, just to experience that a little bit before we go to the next game."
Said first-year Hurricanes head coach Mario Cristobal, "We're just trying to see how guys are and how they react and how to coach them to the best of our ability and how to give them the best chance for success. So, you want to struggle in some way, shape or form. You just don't want to cause it to yourself. That is the biggest difference."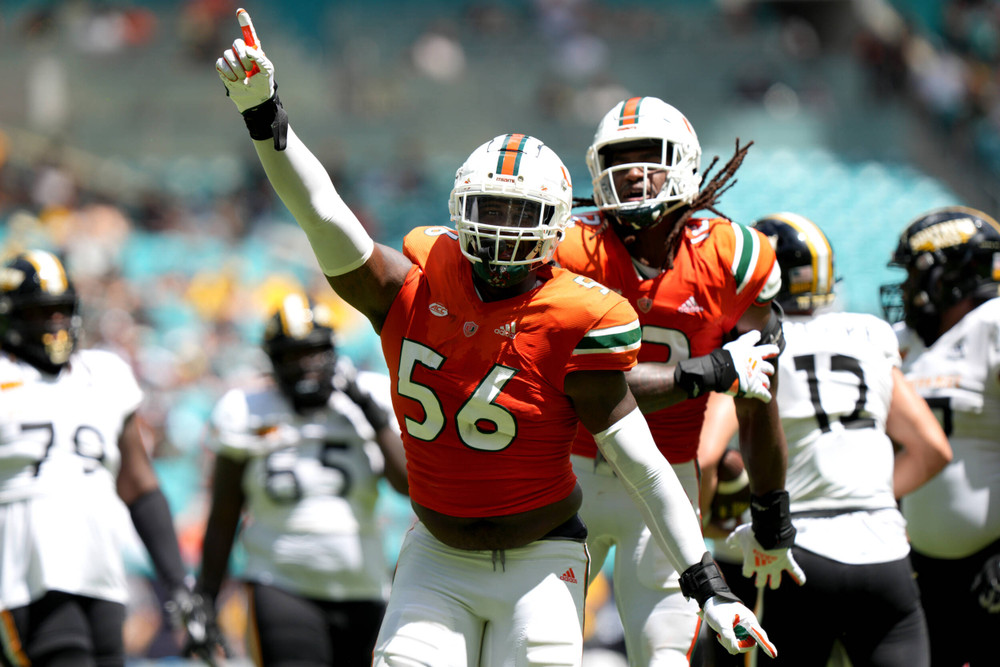 Miami, which took a 10-7 lead into halftime, set the tone for the second half quickly, with the defense forcing a three-and-out on the Golden Eagles' first possession of the third quarter.
Thirteen plays later, Hurricanes running back Thaddius Franklin capped a 77-yard scoring drive with a 7-yard touchdown run.
The rest of the third quarter brought more of the same.
After another quick three-and-out by the Miami defense, Van Dyke used some flea flicker trickery to connect with Key'Shawn Smith on a 35-yard touchdown pass that pushed Miami's lead to 24-7 after Andy Borregales' extra point.
Southern Miss (0-2) would get no closer – even though the Hurricanes saw two of their later drives end with field goals, not touchdowns.
In all, Miami's defense held Southern Miss to just 91 yards in the second half, with just four of those coming on the ground. Frank Gore Jr., who totaled 178 rushing yards in the Golden Eagles' opener, managed just eight yards against the Hurricanes.
Miami also forced three Golden Eagles turnovers in the second half, including a pair of fumbles in the fourth quarter.
Still, as well as Miami played in the second half, the Hurricanes know they have the potential to be even better.
That's why Cristobal stressed the need for Miami to use every practice between now and next week's highly anticipated game at Texas A&M to improve.
"There were some pretty good halftime adjustments, particularly by the defense, to go out and have the second half that they had," Cristobal said. "They shut down the run and shut down the pass…We scored 20 points in the second half, but we didn't finish drives…We are 1-0 for the week, that's your goal, but certainly, we want to play more polished, more precise football. So, we need to practice better and we've got to keep coaching better. And we've got to keep working it better. We have to go get better, but we went 1-0 [this week]."
His players echoed that sentiment, with Van Dyke and receiver Michael Redding III both noting after the afternoon win that they planned on getting back to work immediately – as in Saturday night.
"I'll probably go back to the facility tonight and throw a little bit, just get that right before next week," said Van Dyke, who completed 20 of 29 passes and threw for 253 yards with a touchdown and an interception.
Added Redding, "If you want to be a great football team, [you] come together and get extra work in. You find ways to get better…We're trying to get better."