Canes Look to Build on Early Success
CORAL GABLES, Fla. – The season opener, it turns out, was quite memorable for the Hurricanes.
They totaled 605 yards of offense, scored touchdowns on nine of their 10 red-zone opportunities, forced three key turnovers, and ultimately, started the year with a 70-13 win over Bethune-Cookman.
But as eye-popping as some of the numbers were, Miami's coaches and players feel there's still plenty of room for the 15th-ranked Hurricanes to grow.
That's been their focus as they've prepared for Saturday's noon matchup against Southern Mississippi at Hard Rock Stadium.
"It starts and ends with the way you practice and [your] conditioning," said Hurricanes head coach Mario Cristobal, the two-time national champion former Miami offensive lineman who last week won his debut as his alma mater's coach. "As you can tell, I want and need more out of the way we practice. We're making progress, but it's not enough.
"We're going to demand more of ourselves and we're going to teach. We're going to keep coaching and teaching and learning, all of us together as a program. Keep elevating the things that we talked about because you have to practice it."
Considering that Miami had a balanced offensive showing – rushing for 305 yards while passing for another 300 – that might seem a lot to ask, especially since no receiver dropped any of the passes thrown their way and four different ball carriers scored touchdowns.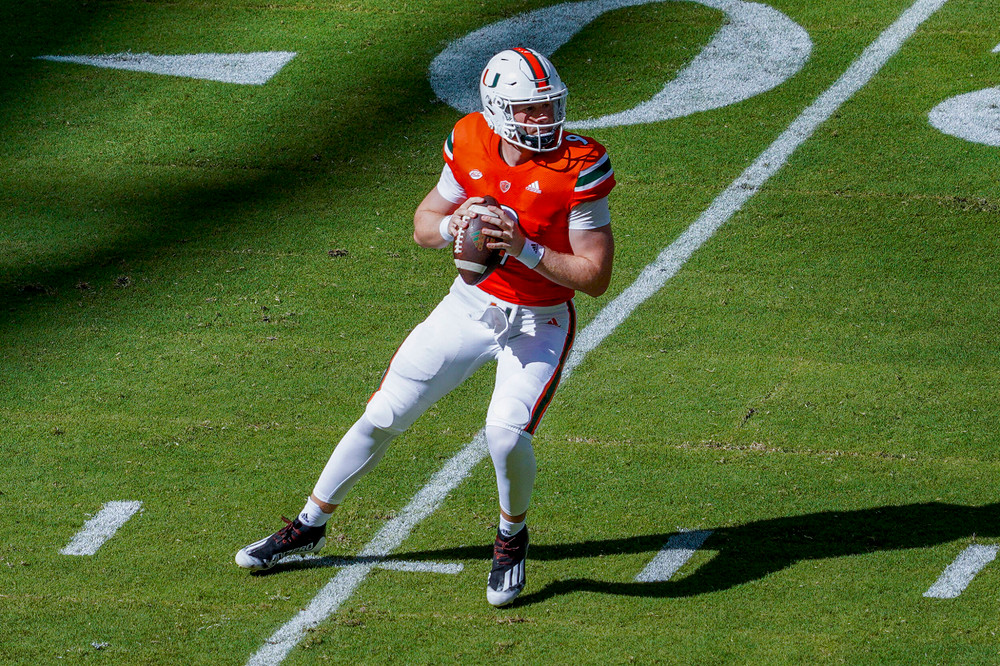 But Miami offensive coordinator Josh Gattis said he felt the Hurricanes "left a lot of meat on the bone" and could have turned some of their gains into bigger plays, or even touchdowns.
That, not how well Miami played, was the focus of the offense's first meeting after the win
"We've got to show up hungry and more eager to learn this week," Gattis said. "That's going to be the challenge, handling that success, but still keeping ourselves in a humble mindset; that we're going to be a direct reflection of our process. If we focus on the process of winning each week, the results will come with it."
For the Hurricanes' offense, that's going to mean handling an aggressive defense that likes to come after opposing quarterbacks hard.
Against Bethune-Cookman, neither quarterback Tyler Van Dyke nor Jake Garcia was sacked, a point of pride for Miami's offensive linemen.
That group is intent on keeping that streak going against Southern Miss, knowing if it can do that, the Hurricanes will be in good position to remain undefeated early in the year.
"They're going to blitz a lot, so we have to be able to pick those up," said third-year redshirt freshman Jalen Rivers, who on Tuesday was named this week's ACC Offensive Lineman of the Week. "We've got to be able to be disciplined and make sure we communicate as well. Without communication, we'll probably kill our running back and quarterback. I feel like that's the biggest thing going into this game."
Miami's offensive playmakers aren't the only ones who've worked to improve this week.
While the Hurricanes held the Wildcats to just 13 points, Bethune-Cookman managed eight plays of at least 20 yards, including a 34-yard touchdown pass and a conversion on 3rd-and-23 that led to a field goal on the Wildcats' opening drive.
Miami's defenders want to make sure numbers like those are limited this week and know they'll face a challenge – and a somewhat familiar face – in the process.
Southern Miss running back Frank Gore Jr., the son of Hurricanes legend Frank Gore, rushed for 178 yards in the Golden Eagles' four-overtime 29-27 loss to Liberty last week.
Only one running back in the nation, Illinois' Charles Brown, rushed for more – and only by a yard.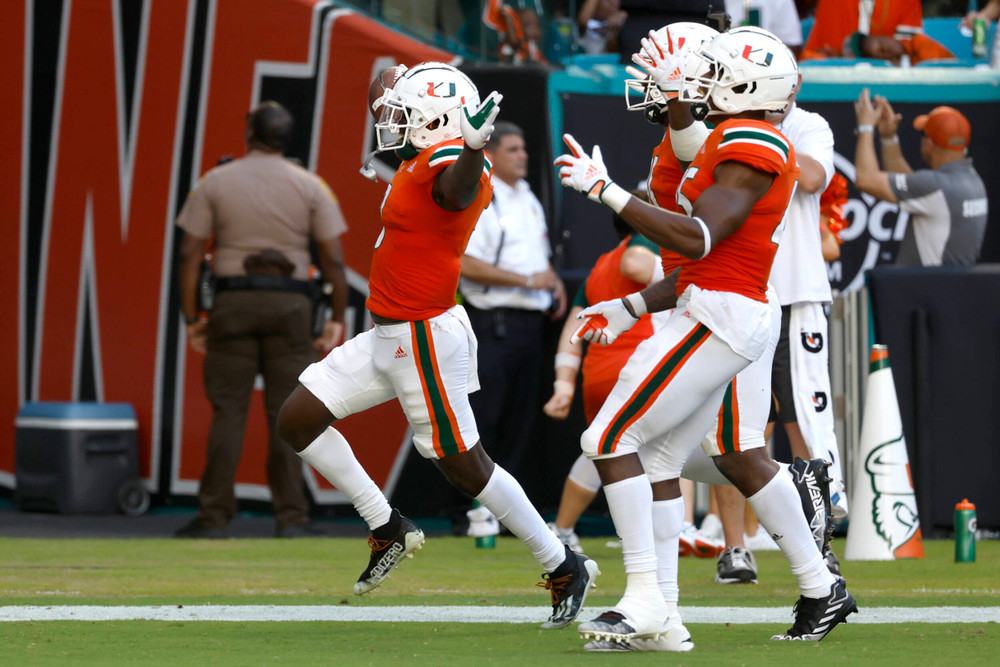 There's no doubt limiting Gore's production will be a point of emphasis Saturday, especially since he's a threat to not only run the ball, but to catch and throw it, too.
"The great ones…they see it. They feel it. They're patient," Cristobal said. "They know when to hit it, when to throttle. And they finish. They finish. He's a contact-plus-two and three yards type of guy. First guy rarely brings him down. Very versatile. Obviously, they use him in all kinds of stuff, back in the wildcat, can chuck the ball around. He's a good receiver as well. Really dangerous football player, really good football player.
"We all know who he reminds us of."
For both Miami's offense and defense, the season opener was a solid start.
But the goal now is continued improvement, to go 1-0 on a week-by-week basis. Correcting mistakes, no matter how insignificant they may seem, is the goal.
Doing that, Van Dyke said, will continue to help the Hurricanes become the championship-caliber team they believe they can be.
"Making sure every little detail is right, whether it's blocking, steps, alignment. Had a few penalties on offense, just try to limit that," the quarterback said. "The little things."
Said Cristobal, "I can tell you the areas of focus, the ones that we mentioned on Saturday and the days following that…we need to be a better tackling team. We had made so much progress we felt this summer and in the springtime and in fall camp and in our scrimmages. And then it showed up in spurts on Saturday…That's got to show up. Communication's got to show up. Technique in the secondary's got to show up. Finishing drives. We finished drives on offense, but we left some big, explosive plays on the table by not finishing downfield, upfront, and on the perimeter."