Balanced, Efficient Offense Sets Tone in Opener
MIAMI GARDENS, Fla. – All throughout fall camp, it was a constant focus.
The Hurricanes knew they had more than a few talented playmakers on the offensive side of the ball. What they needed to establish, though, was consistency from those playmakers.
One game into the season, it seems progress is definitely being made on that front.
In their 70-13 win over Bethune-Cookman on Saturday, the Hurricanes totaled 605 yards of offense, scored touchdowns on nine of 10 red-zone opportunities, converted on all seven of their third-down chances and totaled 31 first downs.
Adding to that, neither starting quarterback Tyler Van Dyke nor reserve Jake Garcia were sacked. And Miami's receivers, a unit looking to regroup after the departures of record-setting veterans Mike Harley and Charleston Rambo, didn't drop any of the passes thrown their way.
Yes, the 16th-ranked Hurricanes came into the game against Bethune-Cookman a heavy favorite, but it was still an efficient, impressive effort for the offense – something it knows it can build on moving forward next week and beyond.
"We executed at the level that we expected to execute against a team that we have a lot of respect for, that has a lot of good players and that plays hard," said Mario Cristobal, who posted a victory in his debut as his alma mater's head coach. "But we also had a personnel advantage. When you play any opponent, you have to make sure that the complete and utter focus is on you. You have to do what you're supposed to do…
"We like to be a balanced offense and we want to score as many points as we possibly can, while having control of the game, which I think is really important. You have to play this thing as a team. Sometimes, you go light it up and go tempo and light that thing up for a bunch of points. And sometimes, you have to play to the strength of your team, which might be helping the defense out some. Today was a good example of having a balanced offense and just continuing to keep our foot on the gas."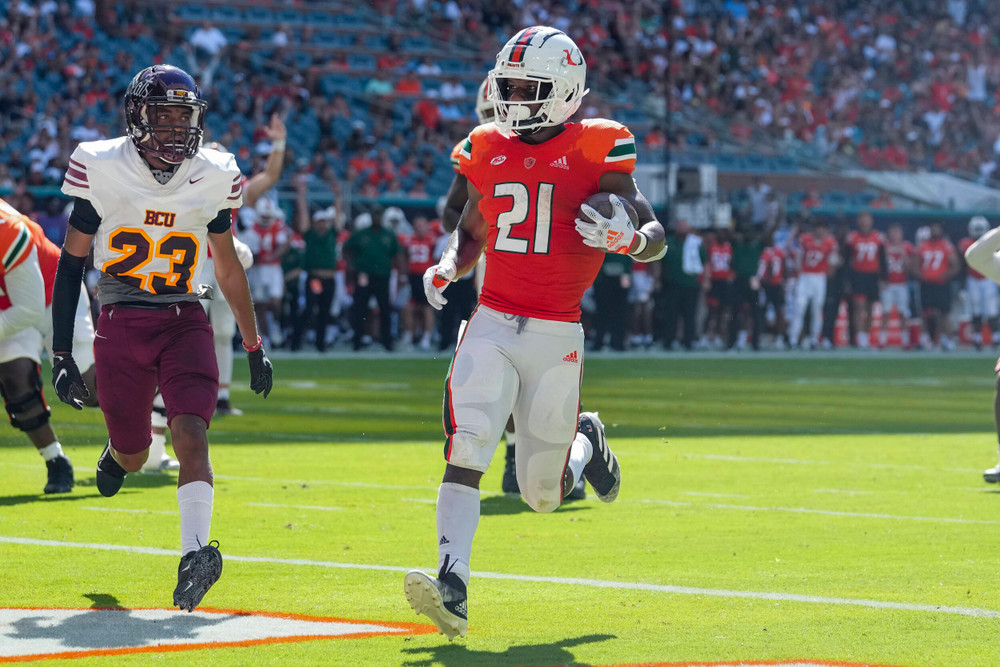 Though seven of Miami's nine offensive touchdowns came on the ground, the Hurricanes turned in a balanced performance totaling 305 rushing yards and 300 passing yards.
Henry Parrish Jr., a transfer from Ole Miss, finished with a game-high 108 rushing yards with three touchdowns. Sophomore Thaddius Franklin, Jr. added 78 rushing yards and a pair of scores and Lucious Stanley – who arrived in Coral Gables earlier in the week – had six carries for 44 yards.
That the Hurricanes accomplished all that without veteran backs Jaylan Knighton and Donald Chaney, Jr., both of whom are nursing injuries, made the effort even more impressive.
"The offensive line took control of the line of scrimmage and the backs ran hard," Cristobal said. "We got downhill in the form of power. We train these elements all day long and that was a very nice day for us out there compared to what we've been practicing."
But Miami's offensive line didn't just create opportunities for the Hurricanes' running backs.
It gave both Van Dyke and Garcia plenty of time to work.
Van Dyke, the reigning ACC Rookie of the Year, completed 13 of 16 passes for 193 yards and two touchdowns, while Garcia was 8 of 8 for 107 yards with a touchdown.
Xavier Restrepo had a game-high and career-high 100 receiving yards and a touchdown, highlighted by a 52-yard grab that, three plays later, led to one of Parrish's scores on the ground.
In all, 10 different Hurricanes caught passes Saturday afternoon and Miami's starting quarterback appreciated their efforts, especially given some of the struggles the receivers endured during fall camp.
"No drops today. We started fall camp not great in that category. It's been uphill since, so I'm proud of those guys and how we played," Van Dyke said. "I know they're going to keep getting better, too."
Added Restrepo, "That's what we're supposed to do as receivers, catch the ball…I'm definitely proud of my guys and we're going to stay on them. Like [offensive coordinator Josh Gattis] said, 'Don't ever get too full.'  We're just going to stay hungry, get to work tomorrow and just improve."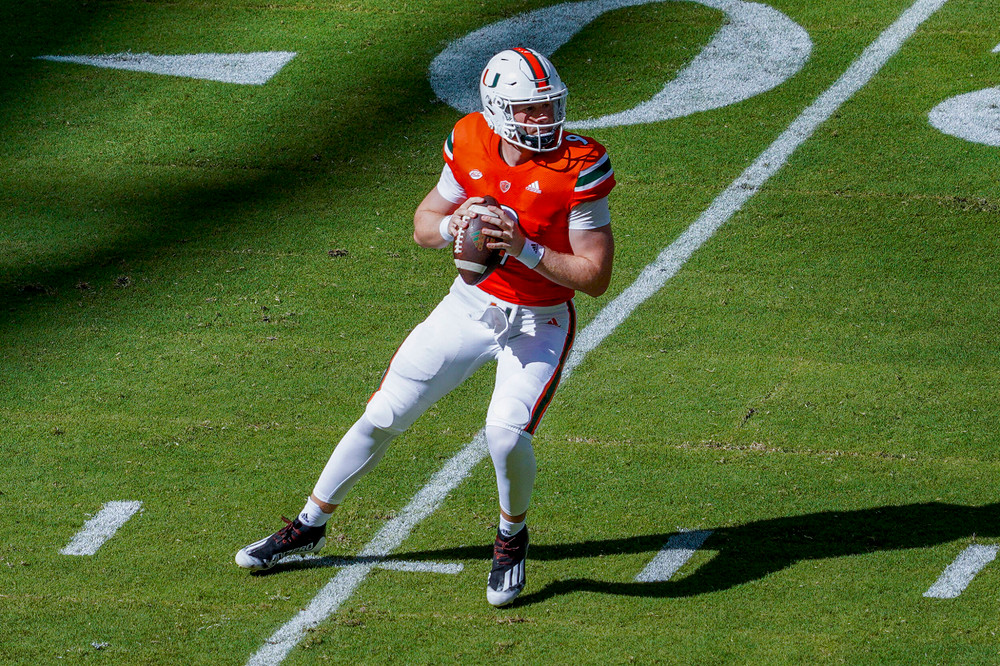 That mindset is one Cristobal, no doubt, will appreciate.
As well as the Hurricanes played Saturday, there were things their coach said he'd like to see them continue to work on as the season progresses.
Miami fumbled the ball deep inside Bethune-Cookman and wasted an opportunity to score. And the Hurricanes totaled six penalties for 48 yards.
Those are things that can't happen as the schedule gets more difficult and conference play looms next month.
"Things that stand out that we have to work on that showed up in not such a positive way are a couple penalties that need to be avoided that we can't waste…On first and goal, obviously we fumbled the ball there and that's inexcusable," Cristobal said. "We went under center and that didn't work out with a new center. I should've done a better job coaching that. There were a couple substitution errors. Aside from that, there was a lot of balance and big plays on both sides of the ball. We took control of the game early and I am really proud of the second and third-team guys who went in there and executed at a high level and sustained the momentum to close out the football game. We're 1-0 and there were some good things and some stuff to work on. We're looking forward to getting back to work tomorrow."